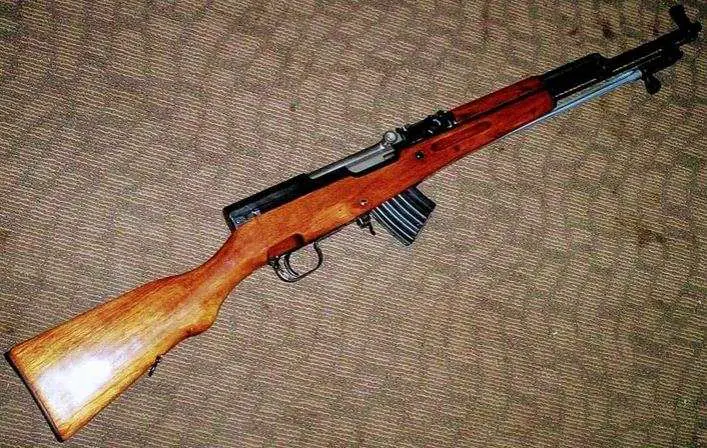 The SKS Rifle was one of the most popular rifles imported during the last century, and with good reason. First designed in the mid-40s by Sergei Gavrilovich Simonov, it's a more accurate rifle, not to mention more affordable, than the average AK-47 is.
Both rifles were developed in the Soviet Union around the same time, and both utilize the same 7.62X39 Soviet round.
It's popularity in the United States is one thing, but figuring out how to modify this rifle and with which mods is something totally different.
What are the best SKS mods and upgrades?
The best mods for the SKS are those that tend to fix the few shortcomings of the SKS Rifle. Things like a removeable magazine, a clip pouch on the buttstock, and adding an optic rail to allow for better precision are great places to start. Moving on from there, we can look at an upgraded stock to help preserve the stock that came with the gun (and make it more useable) and add a bipod for the stabilization of longer shots.
You wouldn't generally add all of these upgrades because they don't all make sense together. For example, you wouldn't add the clip pouch if you plan to utilize external magazines.
Let's take a more in depth look at these best SKS upgrades:
SKS Buttstock Ammo Pouch —
One of the main limitations to the SKS Rifle is the lack of ammunition held in the rifle's internal box magazine. One of the best ways to fix this, on the cheap, is to add a pouch to your rifle's buttstock to help you carry more of its clips.
This way you can add several 10 round clips so you can have extra ammo to get back into the fight.
Of course, I also recommend having some sort of duty belt pouch with clips in it as well, but having some on your rifle is the best case scenario for speed reasons, and then you can re-fill your buttstock pouch with new, loaded clips, from there if you need them after things calm back down again.
This pouch is found conveniently on Amazon, here.
Read our article about the history of the SKS, here.
SKS Optic Rail —
The SKS is actually a pretty accurate rifle. But, having the option for an optic really helps you dial it in.
Until recently it was difficult trying to find an optic rail that fit the SKS, but a few years back Matador helped to change that. To my knowledge this is still the best SKS optic rail.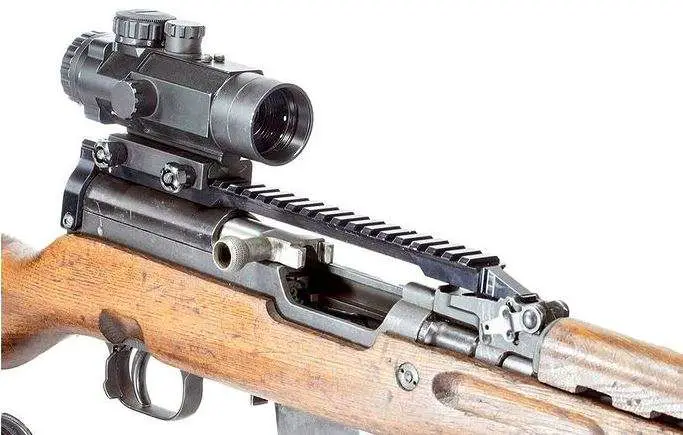 As you'll see in the above picture, however, you will lose the ability to use the clips to load the rifle, but there is another option which we'll get to next.
This SKS optics mount from Matador is available on Amazon.
SKS External Magazine —
Another of the limitations of the SKS rifle, if you'd consider it a limitation, is that the internal box magazine only holds 10 rounds of ammo.
There is an option for you to install external magazines that hold 10, 20, 30, and even 40 rounds depending on what you're looking to do with your SKS.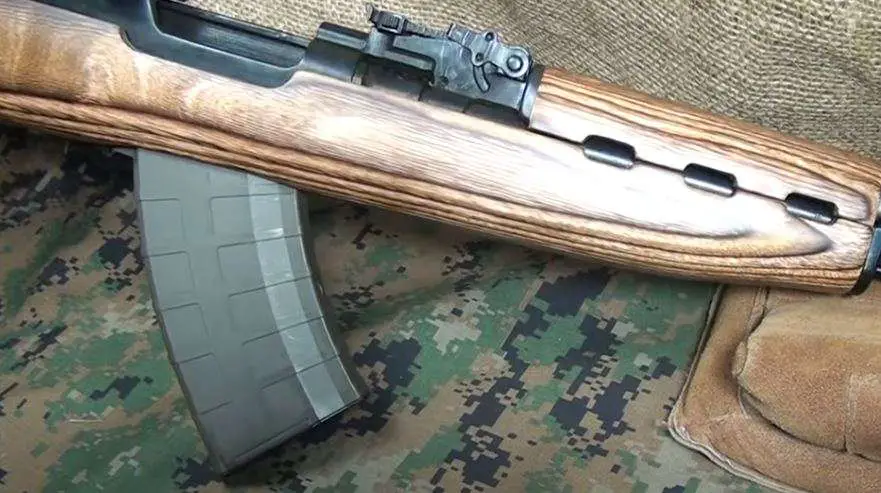 These magazines are available from a few different sources. My favorite places to shop for magazines are Palmetto State Armory and Gun Mag Warehouse for their massive mag selection.
Both the ProMag and Tapco options are excellent, but always check with your local laws before buying, as magazine capacity restrictions are always on the gun control table, as of late.
SKS Stock —
One of the best things about the SKS Rifle is that nothing you do to upgrade it is going to be permanent (just don't drill any holes). Just about anything you do to your SKS Rifle can easily be reversed.
This is great for collectibility purposes. If you have an original SKS and want to keep the original parts in pristine condition because their value has gone up considerably since the 1990s, you can buy aftermarket parts and then switch them back if you ever decide it's time to sell.
While this isn't always the case, an all-original gun will be worth more money than a heavily modified one. This is one of the reasons why I suggest updating your SKS' stock, while keeping the old stock for safe keeping.
Now I'm not saying that the SKS is going to be something that's worth a ton of money one day, because I don't think that's the case at all. There were too many of them imported for that to be the case.
Still, keeping the old furniture helps you retain the value. And if you sell it as is with all the parts the value increases more.
An added benefit of going with the Choate Dragunov pictured above, is that you also get an adjustable length of pull which is great if you're 6'4″ like I am and need that adjustability.
SKS Bipod —
A bipod to help you stabilize your shots will go a long way depending on what you're trying to do with your rifle.
The sad thing, is that finding a good bipod for your SKS is not going to be easy. Much of what is out there that will fit on your bayonet lug is garbage.
All is not lost, however, if you do some homework and find a system that is right for you.
So, you have a couple of options here, but I'm not actually going to lead you to a specific product because I have not actually taken these steps myself and therefore it is all research at this point.
Still, there are options. Those options are as follows:
You could get one of the aforementioned bayonet lug bipods that are really hit or miss. There are a few with decent reviews, but none of them will last you all that long based on what I've read. Again, I've never mounted a bipod to an SKS so take this section with a grain of salt.
You could get a bipod with a barrel mount clamp built in. These can also be hit or miss, and the SKS barrel outer diameter can vary ever so slightly from one inch of the barrel to the next.
You could buy a picatinny barrel mount and then buy a much nicer bipod. Again, the barrel diameter may be different from one inch to the next, but you can buy a much nicer bipod this way that will hold up over time.
Buy a stock with a way to attach a bipod.
It's hard trying to find a picitinny barrel mount that will fit on an SKS barrel, because they have a smaller OD (outside diameter) than other rifles or shotguns where this might come in handy.
This one is on Amazon, has great reviews, and isn't even 10 bucks as of this writing.
But that's about all the help I'm willing to give you on choosing a bipod until I actually get one mounted myself. Hopefully soon.
Conclusion:
There are plenty of options to upgrade your SKS rifle. They can range from mild to wild, and anywhere in between.
To choose the best SKS rifle mods, you really need to have an understanding of what you plan to do with your rifle. But that'll be a topic for another day.
Learn about the 7.62X39 ballistics on our rifle ballistics chart.