Need a great gun belt? Check out Exos
Exos Gear won me over some years back when I first tried out their backpack. It's held up well and is still a staple in my hiking gear. So I was excited when, a year ago, Exos offered up their Amish-made bridle leather gun belt for testing. Like the pack, it's still going strong.
Here is a leather gun belt that oozes good taste, with options for looks that are urban, woodsy, or somewhere in between. It can't help but be sturdy too, with .205 inches in thickness and 1.5 inches in width, comprised of two layers of 14-ounce bridle leather.
The leather is treated with tannins and preservatives that lend a satiny finish on the outside and a matte but rough-out texture on the body-facing side. It's fastened to the buckle with something any western riding enthusiast will appreciate—Chicago screws. They guarantee a solid bite, unlike snaps which can tend to come undone.
The steel roller buckle makes adjustments easy. Even after a year of wear using various holes depending on the rise of my pants and how much pizza I'd consumed, there are no crease marks on the holes of my brown stitched belt. After several days of hard duty on the range, with a competition holster, double mag pouch, and tourniquet holder attached, it has finally developed a slight crease on where the belt travels under the center and rear belt loop. But otherwise, it's held up remarkably well and still looks new. The stitching has never offered to fray.
Adjustment holes on this belt are intelligently spaced at 0.75-inch intervals, making adjustments for IWB carry easy and customizable.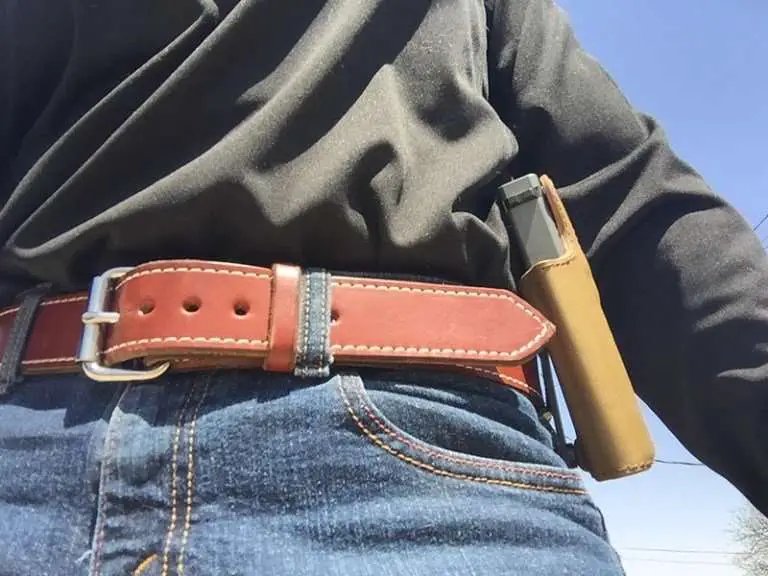 There is no visible branding during wear, something those who don't care to be walking ads will appreciate. On the body-facing side, where the belt and buckle join, "Exos Gear" and the size in inches is stamped.
Speaking of sizing, Exos keeps it simple. Just measure from the middle of the buckle to the hole you use when wearing your holster on or under your current belt. Even-numbered increments, starting at 32 inches for a 28-inch waist, up to 50 inches for a 46-inch waist, are available.
Wearing this belt under a shirt for concealed carry, I usually push the buckle a bit to the left to keep the gun from pushing it out even farther, creating a curious mountain shape under my shirt. But that's true of any belt, in my experience, for a smallish person doing appendix carry. No one's going to inspect a gig line under an untucked shirt, after all.
The belt I've been wearing is the summer tan model with stitching. Other colors of this leather gun belt are black and chocolate brown. All of these can be ordered with or without stitching from Tactical Intent or other online outlets.
Stitching on all colors is white, with the exception of the black belt, which has matching stitches. A fellow writer recently chose the brown, no-stitching model. It's more subtle in appearance than any of the stitched models, aiding the discreetness of his AIWB carry. If you can't find the model you're looking for on distributor Tactical Intent's website, try their Amazon listing for this belt. The price at Tactical Intent is $34.99; or $39.84 with free shipping at Amazon.
The Exos gun belt is American made, durable, good-looking, and makes a great gift for anyone who wears a sidearm, open or concealed. Love your Second Amendment.