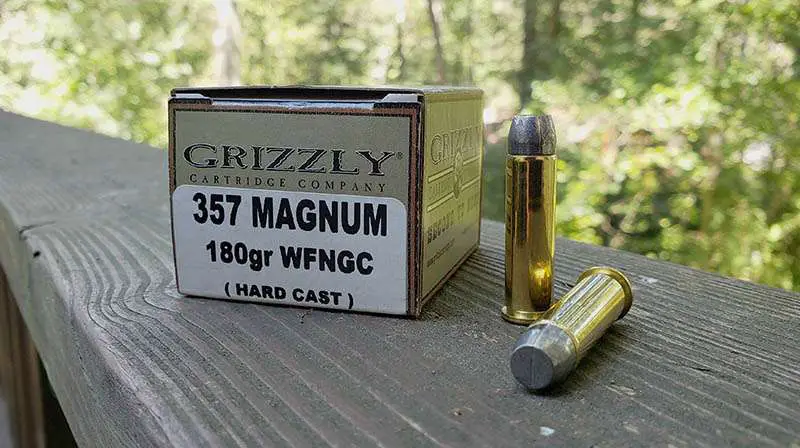 There are a lot of differing opinions on the ability of the 357 Magnum round for bear defense. Whether or not you believe it's a capable round or not doesn't diminish the fact that some people will use it as their sidearm in the woods no matter what.
The truth of the matter is that 357 Magnum is suitable for bear defense against the right type of bear, but only when the right loads are used. This article is meant to look at what I'd consider to be the best 357 ammo for bear defense.
Generally speaking, while 357 Magnum would be better than a pointy stick for bigger bear like grizzly, I'd probably only use it for black bear defense east of the Mississippi.
What is the best 357 ammo for bear defense?
Buffalo Bore 180 grain Heavy 357
Grizzly Cartridge 180 grain hard cast
DoubleTap 200 grain hard cast
And if you'll notice anything in common with the above mentioned cartridges, it's that they are heavyweight, hard cast bullets.
Let's discuss what to look for more in detail.
What to look for in a bear defense round:
No matter what caliber you settle on for bear defense, the projectile needs to have the ability to penetrate far enough into the animal's body that it does the needed damage internally.
For this reason, the hollow points that you might use for self-defense against a human attacker are insufficient. Your average hollow point bullet will expand far before it gets to the needed depth in the animal to do any real damage.
For bear defense, the best idea is to carry a heavy, hard cast bullet that is designed to stay together after it enters the animal. This ensures the necessary energy transfer takes place throughout, as it rips through the bear's tissue, muscle, and critical organs.
Let's take a look at some rounds of ammo that do just this:
Buffalo Bore 180 grain Heavy
Buffalo Bore is usually the go-to in the industry for dangerous animal defense and I'd have no problem using these for my black bear defense if needed.
My problem is that I haven't been able to find Buffalo Bore ammo in the local store for over a year now, but can regularly find some of the others on this list.
The 180 grain lead flat nose projectiles are good at creating a deep wound in the heavy muscled animal to ensure that you come out on top if at all possible.
Learn more about this cartridge on their website.
Grizzly Cartridge 180 grain hard cast
These are my personal picks for the best 357 ammo for bear defense (pictured above) and what I carry in the Blue Ridge Mountains when hiking. Don't let the name fool you, these are not meant for grizzly bear, that's just the name of the company.
These 180 grain projectiles have the perfect balance between weight and speed, and offer up excellent power for black bear.
The wide, flat nose helps to transfer energy upon impact and being a hard cast bullet, it'll keep its shape better than a regular FMJ round will throughout the bear's body.
Velocity is rated at 1350 feet per second at the muzzle, which translates to about 650 pounds of energy.
Learn more about this cartridge on their website.
Double Tap 200 grain Hard Cast
This 357 magnum load from Double Tap is the only one listed here that is more than 180 grains. Because it's a bigger projectile it moves at a slightly lower, yet still respective, velocity.
This one is rated by the company for 1200 feet per second at the muzzle, with 560 pounds of energy when fired from a 4 inch barrel.
I have the least amount of experience with this round than the others. Learn more about it on their website.
What not to do with your bear ammo
A lot of folks will stick their hard cast ammunition in the chosen revolver and call it quits without ever actually shooting this ammo.
And, I agree that this ammo is expensive and hard to decide to actually shoot it. But the thing is, this ammo will handle totally different in your gun than your standard 158 grain hollow point, or lighter load, will handle.
This is a hotter load because in order to still reach desirable velocity for effectiveness, they need to be loaded to higher specifications.
Because let's not forget, you're shooting a much heavier projectile.
You need to shoot at least a couple of rounds to make sure you can still be effective shooting it and to feel what it's like. It might recoil slightly harder into your hands than your standard ammo will.
Conclusion:
I can't say enough that the type of ammo you use for various tasks is important. While 357 Magnum wouldn't be my first choice for bigger bear out west, smaller black bear can be stopped with a 357 magnum round.
Next, check out my list of what I consider to be the best 357 Mag revolvers.