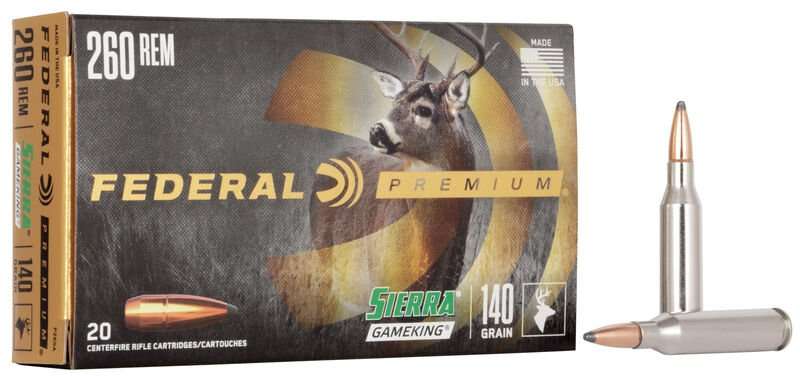 The 260 Remington centerfire rifle cartridge was introduced to the shooting public in 1997 by Remington.
Remington's 260 rifle cartridge case is based on the 6.5-08 wildcat, which was a 308 Winchester case, necked down to accept .264″ caliber bullets.
The 260 Remington is an excellent, accurate, low recoil, flat shooting cartridge and it is more than capable of taking most big game animals in the lower 48 states at various ranges.
The 260 Remington when hand loaded with 140 grain bullets at a velocity of 2,800 feet per second, will deliver a little over a ton of bullet energy at a distance of 100 yards.
The 260 Remington when loaded with 120 grain bullets recoil is quite tolerable.
It is pleasant enough to shoot for most shooters that are recoil conscious and recommended for young shooters and hunters who want a little more power than the 6.5×55 Swedish Mauser or a slightly heavier bullet than the low recoiling 243 Winchester that is based on the same cartridge case.
To achieve maximum accuracy from your 260 Remington rifle there are several things you need to do correctly that will help increase your rifle's overall accuracy capabilities.
First: Properly mount your riflescope.
Second: Properly break-in your rifle barrel.
Third: Properly sight-in your rifle.
To accurately calculate ballistics for your rifle with ballistics programs you need to measure your rifle's scope mounted height.
260 Remington Ballistics:
This 260 ballistics chart shows 130 grain Hornady ELD Match:
| | | | |
| --- | --- | --- | --- |
| | Muzzle | 100 YDS | 200 YDS |
| Velocity (FPS) | 2840 | 2675 | 2516 |
| Energy (FT/LB) | 2328 | 2066 | 1827 |
| Drop (Inch) | / | +1.7 | 0 |
This 260 Remington Ballistics chart shows 140 grain Federal Sierra GameKing Boat Tail Soft Point
| | | | |
| --- | --- | --- | --- |
| | Muzzle | 100 YDS | 200 YDS |
| Velocity (FPS) | 2700 | 2487 | 2284 |
| Energy (FT/LB) | 2266 | 1922 | 1621 |
| Drop (Inch) | / | +2.1 | 0 |