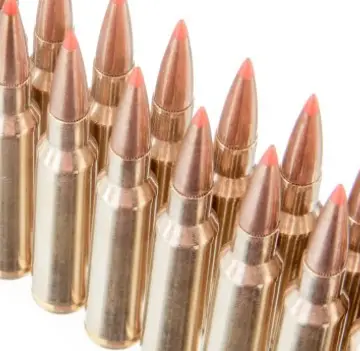 6.5x55mm Swedish Mauser:
The 6.5X55mm Swedish Mauser was developed in 1893 by a joint Swedish/Norwegian commission and officially adopted by those countries as the military cartridge the next year. Soon thereafter it became a popular sporting cartridge and was used for target shooting, including Olympic free rifle competition.
It was virtually unknown in the United States until the 1950s when cheap surplus military rifles began to flood the American firearms market. These bolt action rifles were quite accurate and would be sporterized and used for and used for hunting.
The 6.5X55mm cartridge itself is an accurate and flat shooting cartridge, that's capable of taking most of the game in the Continental United States. When loaded with 140 grain bullets, 2,600 fps (feet per second) velocity is achievable and adequate enough for deer out to the 300 yard mark.
When loaded with lighter bullet weights, say 120 grains, the recoil is minimal and pleasant to shoot. It's recommended for shooters that are recoil sensitive.
6.5x55mm Swedish Mauser Barrel Specifications.
Common Barrel Lengths – 22″, 24″, 26″ and 28″.
Common Barrel Twist Rate – 1 in 8″.
Bore Groove Diameter – .265″.
Bore Land Diameter – .256″.
6.5x55mm Swedish Mauser Reloading Specifications.
Bullet Diameter – .264″.
Maximum Case Length – 2.160″.
Trimmed Case Length – 2.150″.
Primer Size – Large Rifle / .210″ Diameter.
Maximum Cartridge Overall Length – 3.150″.
6.5x55mm Swedish Mauser Loading Data Hints.
The 6.5x55mm Swedish Mauser responds very well with powders that have burn rates similar to and like i.m.r. 4320, very accurate and consistent velocity.
6.5x55mm Swedish Mauser Reloading Data.
Hodgdon Reloading Data Center.
6.5x55mm Swedish Mauser Ballistics, Trajectory, and Hunting Applications.
 

This is a down range trajectory chart for the 6.5x55mm Swedish Mauser cartridge with the scope mounted 1.5 inches above the bore center line plus if you were using this load, its effective hunting bullet energy range with well placed shots on,
Varmint / Predator size game, such as Bobcat, Cougar, Coyote.
Deer size game, such as Antelope, Blacktail, Hogs, Javelina, Mule, Whitetail.
Elk size game, such as Caribou, Black Bear, Sheep.
Moose size game, such as Brown Bear.
–Bullet diameter .264″
–Bullet weight 140 grains
–Bullet ballistic coeffecient .441
–Bullet velocity 2,600 feet per second

 

Range

100 yds.

200 yds.

300 yds.

400 yds.

500 yds.

+

+ 2.4

0

– 9.8

– 28.1

– 56.8

1788

1514

1277

1073

898

 Varmint

+

+

+

+

+

+

 Deer

+

+

+

–

–

–

 Elk

+

–

–

–

–

–
For more rifle cartridge ballistics, check out our rifle ballistics chart.