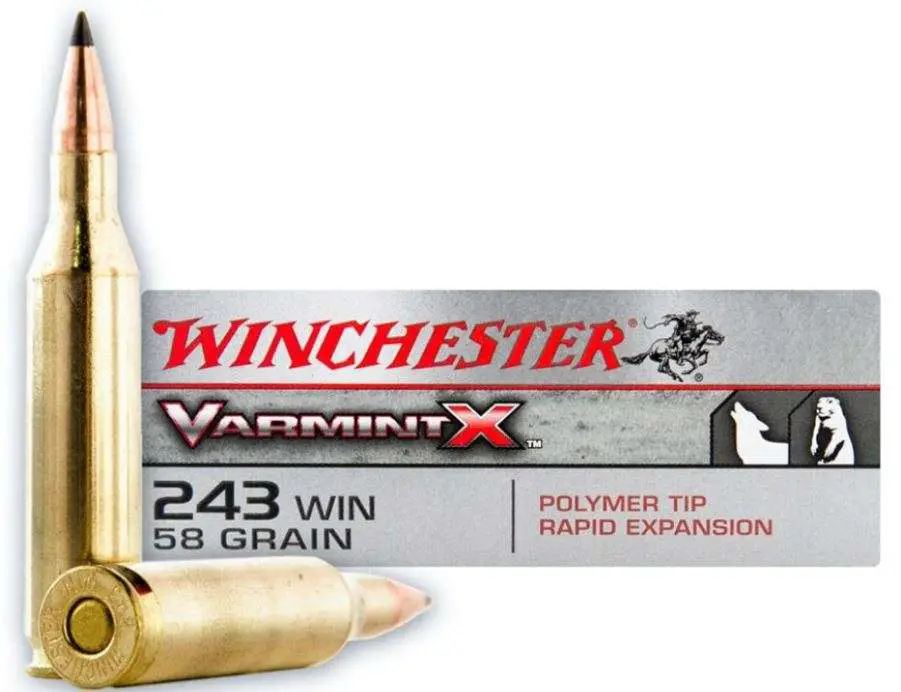 Two of the most popular rifle cartridges available in today's market are the .223 Remington and the .243 Winchester. Both are excellent rounds for what they're designed for, but one of them is better at certain things than the other is, while the other is great in other circumstances.
Below, we'll take a more in depth look at each caliber, the ballistics they offer, as well as some of the rich history behind each one. Then, at the end of this article, I'll pick a winner based on my own applications.
Before we get there, let's have a brief overview:
223 Remington VS 243 Winchester Ballistics
Out of a 24″ barrel and a scope mounted 1.5 inches above the bore's center line, the 64 grain .223 Remington has a ballistic coefficient of .257, travels 3,020 feet per second and produces 1,296 feet pounds of energy at the muzzle.
Out of a 24″ barrel with a scope mounted 1.8 inches above bore's center line, the 95 grain 243 Winchester bullet's ballistic coefficient is .355. The projectile travels at 3,185 FPS at the muzzle and produces 2,139 feet pounds of energy.
223 vs 243 Trajectory
Overall, the 243 Winchester is a flatter shooting cartridge than the .223 Remington is. At 200 yards, our charts show that the 243 is still positive about one inch, whereas the .223 has dropped about an inch.
Both are relatively flat shooting cartridges, however at 200 yards the 243 is a better performer as it retains much of its velocity and able to medium-sized game at further distances than the .223 is.
223 Rem VS 243 Win Recoil
Recoil can be a hard thing to calculate because it can vary greatly depending upon the load you're using, the rifle you're shooting it in, the weight of the rifle, the recoil absorption (like buffer spring in an AR-15), etc.
That being said, the .223 will recoil less than the .243 does, in theory. Again, it can be a subjective thing, as well as so many different factors that can go into it.
It should be said that neither cartridge produces a significant amount of recoil felt at the shoulder and either would be a good option for a newer shooter not yet used to recoil, or the person who is recoil sensitive.
223 Remington VS 243 Winchester Ballistics Chart
| | | | | | |
| --- | --- | --- | --- | --- | --- |
| Caliber/GR | Muzzle Vel | Muzzle Energy | 100 YD Vel | 100 YD Energy | 200 YD Drop |
| 223/64 Gr | 3,020 | 1,296 | / | 1,003 | -1.2″ |
| 243/95 Gr | 3,185 | 2,139 | 2,908 | 1,784 | +1.1″ |
223 Remington History and Use
The 223 Remington is a centerfire rifle cartridge that is essentially a .22 caliber, rimless, bottleneck cased design that can be reloaded.
This round was introduced back in 1964 for commercial purposes and originally chambered for Remington's model 700. About one month after its release, the United States military adopted the cartridge for use as the 5.56 M193 ball cartridge that was used in the M16, and later the M4 rifles.
A few years later the cartridge was accepted by and considered to be the NATO rifle cartridge.
It should be said here that, while the 5.56 was developed out of the .223 cartridge, they are both technically different rounds, loaded to different specs.
As such, rifles chambered for 5.56 can and will shoot .223 just fine, but rifles chambered for .223 should only be shooting .223 Remington.
The most common bullet grain weight for the .223 is 55 grains, but there are others ranging from about 35 to 77 grains, depending on what you're doing with your gun.
Rifles chambered in .223 Rem have a wide range of uses, from self-defense with the AR-15, to hunting deer and hogs. The 223 is also one of the top varmint hunting cartridges in the United States.
243 Winchester History and Use
The 243 Win is essentially a .24 caliber centerfire rifle cartridge with a rimless, bottleneck case design that is able to be reloaded.
It started its life as a wildcat that was based on the 308 Winchester case that was necked down to accept a .243 diameter bullet.
Warren Page, a shooting columnists for Field & Stream Magazine, was an avid wildcat enthusiast who convinced many hunters in his writing that 24 caliber cartridges would do great for varmints and deer as a combo cartridge.
Any decent rifle will need a good scope. Check out this one from Bushnell.
Winchester agreed, and made it available mainstream in 1955 in the Model 70 Featherweight Bolt Action.
Therefore, the 243 offers much in the way of hunting smaller varmints up to mule deer sized game.
Grain weights for the bullets can vary from mid-50s, up to about 100 grains.
243 Winchester VS 223 Remington – Which is Better?
All in all, it really depends on what you're trying to do with your rifle. If you require a bit more punch when you're hunting, the 243 Win is likely the best way to go. However, if you're like me and are looking for a more dual-purpose setup, then .223 may be the way to go.
Even still, I'd almost always opt for a rifle chambered in 5.56 NATO to give me more options at the gun store when it comes time to buy more ammo.
I even have an AR-15 that plays a part in my home defense strategy, that is chambered in 5.56.
Then again, there's also the part about when the SHTF like it has at the time of this writing with the coronavirus wreaking havoc on everything to include the amount of 223 not being found on the shelves, it may be a good idea to have a rifle in 243 Winchester.
Main reason being, every time I go to the gun shop to buy ammunition, I can't find any 223.
243 Win is widely available, however, and the prices have yet to be significantly gouged — even though it started out much more expensive than 223 did.
There is also something to be said for the ability to shoot a 95 grain bullet with the excellent energy offered by the .243 Winchester. If bigger game is on the menu, the 243 may be the way to go and is still a popular rifle round that can be found in most stores and online eCommerce outlets.
For me, the winner is .223 as a dual purpose round for the rifles I own, but at the end of the day, can it hurt to have both if you can afford it?
Right now with the SHTF scenario we're currently finding ourselves in, 223 Remington is pretty hard to find.
Next, check out our big rifle ballistics chart.