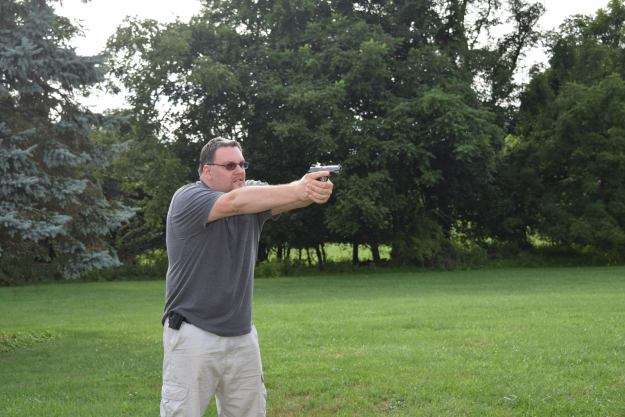 If ever there was an aspect of shooting sports that was so unsexy that nobody ever wanted to discuss it, it would be the topic of dry firing.
Then again, if ever there was an aspect of the shooting sports that makes the biggest bang for your training buck, it would also be dry firing.
This article answers the following question further in-depth, as well as offering a few other insights that you may not have thought about:
What is dry firing?
Dry firing is a form of practice that you can do with your gun to help you get better at shooting, which DOES NOT use any ammo.
Dry firing increases your shooting skills by showing you what you're doing wrong and helps you focus on how to fix it. Because it takes away the ammunition and therefore the flash and bang, you can diagnose what you're doing wrong, as well as overcome these issues all from the comfort of your own home.
It's important to remember that dry fire means that your gun is completely empty with no live ammo anywhere near where you are training.
There is little impact on your time and the money spent, but it yields a very big return on those commodities because it helps you see what you are doing wrong with your pistol to correct any bad habits you may have picked up.
Dry Fire Diagnosis:
When you dry fire your gun or use an inert dry fire gun like the SIRT Pistol (that link goes to concealedcarry.com where they sell those), you can see exactly what you're doing wrong, when, and isolate any changes that need to be made to fix it.
In fact, I almost completely got rid of my flinch by dry firing my gun, only, without any live fire at the range, in about a month. For about 10 minutes each day, I would pick up my gun to practice my shooting fundamentals in the comfort of my own house.
To do this, I emptied my gun and double-checked that the ammunition was out of it. I would then acquire all of my fundamentals as I aimed in at a target on the wall (sometimes just a light switch).
I'd press that trigger using proper grip and trigger technique, and wait for the trigger to break (The trigger break is the term used for when the shot would go off, but will just click because your gun is empty).
What happened? Did my sights veer off target? Did they stay on target but move ever so slightly? Did the front sight drop as I anticipated the shot breaking? How was my grip? Was it firm enough? Too firm that I was shaking?
These are all things that can be noticed when there isn't a loud bang and a muzzle flash. These are all things that can be fixed in the comfort of your own home.
In this article, I mentioned that the first time I ever dry fired I was 19 years old in my USMC Basic Training. Then, every year at the rifle range after that we'd still dry fire. The main reason why this was true was because bad habits could be developed, even with a rifle like the M16A2.
So in a nutshell, what is the purpose of dry firing? To improve your shooting even though there is no live fire taking place.
Now that we know what the purpose of dry firing your gun is, let's discuss —
How do I dry-fire my pistol?
There are a couple of different methods you can use to dry fire. The first method is also the most affordable and uses your own personal gun.
Simply make sure your gun is unloaded, rack the slide, aim it in a safe direction at a target on the wall, and press the trigger. Do this over and over for 10 minutes each day, or at least for 10 minutes several times each week.
But, just doing that isn't enough. You actually have to pay attention to what you're doing to apply the fundamentals of shooting. Doing this will help you get better.
Dry Fire Tools:
Then there are tools that you can use to help you get better. I won't get into all of them here, because it goes far outside the scope of this article. But, here is a list with the links to where you can learn more about them and buy them if desired:
The Glock E-Trainer and the BarrelBlok offer slight mods to your personal gun so you can still use them. The SIRT Pistol is an inert laser pistol that feels like a real gun, and the Mantis X is a rail attachment that tracks the movement of your muzzle just before the shots breaks.
I actually did a review on the MantisX, here.
Here is a video on the SIRT pistol from the guy who made it:
Dry firing at the range:
I stand apart from many people on this one. A lot of gun folks I see at the range look at me cross-eyed when they see me unload my pistol and start to dry fire from the firing line. But, I do this for a reason, and it's something I learned from two-time runner-up to the TV gun competition Top Shot, Chris Cerino.
A few years ago I took a combat pistol class from Cerino and in between strings when we were all loading mags he suggested that we dry fire from the shooting line to help work on fundamentals.
I noticed something from that. I developed a small flinch that caused my shots to break low almost every single shot that I assumed was because we put about 1,000 rounds on paper in two days. Dry firing helped me figure out what I was doing wrong and allowed me to fix it.
So I still dry fire my gun at the live fire range to help me out.
And in fact, each time I pick up a new gun, like at SHOT Show or anywhere else, I dry fire a couple of times to feel the trigger and get more acquainted with it.
Is it Safe to Dry Fire my Gun?
The short answer is yes it is safe to dry fire your gun. The extended answer is that just as long as you have a modern gun of any type, including rifle, striker-fired, hammer-fired, semi-automatic, or revolver handguns — yes it is safe to dry fire your gun.
This is not a bow we're talking about, which is not okay to dry fire.
Again, any modern-day firearm can be safely dry-fired. Just remember that each time you do dry fire your gun it counts as a shot in the life of your recoil spring.
Dry Firing isn't Just For Trigger Manipulation:
The final point I'd like to make is to bust a myth that I see other articles making, and it's that many of them say that dry fire practice is only to help your trigger manipulation.
While it certainly does help to get those trigger presses in for the sake of feeling the different degrees of the trigger cycle, like creep, wall, reset, etc., it goes much further than that.
For example, you can have the best trigger manipulation in the world but if your grip sucks you still won't be able to hit your target.
So, instead of saying that it's only for trigger manipulation, I like to say that dry fire practice is a holistic approach to achieve better shooting skills by making sure all of your fundamentals are in place.
These fundamentals are trigger manipulation, grip, sight picture, breathing, and more. Dry fire allows you to do it all, and you'll never even suffer from the ammo shortage we're currently finding ourselves in.
Because, again, the gun is UNLOADED.
Conclusion:
If you're not dry firing your chosen EDC gun you really should be. By nature, you have no choice but to get better when you do as it really allows you to focus on what you're doing both right and wrong.
Read this next: Why is my pistol shooting low or low and to the left?