The 6.5 Creedmoor erupted onto the long range shooting scene in 2007 and has since moved on to be one of the best selling rifle cartridges of all time. It's easy to see why it's so popular, it offers excellent downrange ballistics and is a flat shooting cartridge that is also used as a popular deer hunting cartridge.
To demonstrate this, here is a mule deer one of our writers took with his Savage Stealth in 6.5 CM: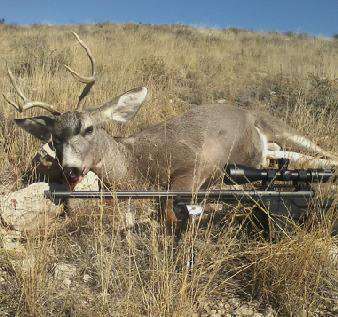 Check out our 6.5 Creedmoor ballistics chart, by pushing on that link.
But there is a lot of noise out there concerning the different rifles and which ones would be the best for any task.
Best 6.5 Creedmoor Rifles:
Ruger Hawkeye
Savage Stealth Evolution
PSA PA65
Ruger Hawkeye
The Ruger Hawkeye was the first 6.5 Creedmoor rifle I had ever shot, and I think it was all the way back in 2014 or 15. Back then the 6.5 Creedmoor had just started to see the surge in popularity that it currently has, and ammo was not only expensive, but hard to find.
The above picture is that exact rifle (if the pic looks familiar it's because it's from a review I wrote for guns dot com several years ago).
The Hawkeye is a rifle with a rich history that has been around for a long time with many different calibers to choose from. The 6.5 Creedmoor being one of them.
With the right optic on it, precision shooting is possible and made easy from the 22, 24, or 26 inch barrel (depending on the exact model), and the bolt cycles smooth.
There isn't much to say about the Hawkeye that hasn't already been said, but for a bolt action rifle that you can find in your store for about $1,000 – $1,200, depending on your exact model, you really can't go wrong here.
You can buy the rifle, add an optic to it, and be ringing long-distance steel right away.
My only recommendation is that you purchase one with a picatinny rail attached as the integrated Ruger optic mount can be a pain depending on the optic you plan to use.
What I mean, is that the above pictured rifle shows a Bushnell optic on it, even though I got a Nightforce optic for it. Imagine my surprise when I couldn't get it to work without special ordering extra parts.
So I ended up sticking the Nightforce optic on something else for its review, and the pictured Bushnell for the Hawkeye review.
Your mileage may vary and just as long as you don't use a scope with a massive objective lens and thicker tube, you should be fine.
Savage Stealth Evolution:
This is the most expensive rifle on my short list of what I'd consider to be the best 6.5 Creedmoor rifles, but is still in the attainable range.
In addition to having a hefty price tag, it's also … hefty. It weighs 11 pounds making it the heaviest rifle on this list, so you won't necessarily want to take it out on long treks, putting mileage on your hunting boots, where stalking prey is required
While I'm not entirely sure Savage still makes this rifle, you can buy used ones and there are still plenty of them available.
This 6.5 CM rifle makes long distance shooting very easy, and you'll actually look good while doing it.
An added bonus is the adjustable AccuTrigger that has a clean and easy break at just over 2 pounds from the factory.
You can read our Savage Stealth Evolution review here.
PSA AR-10
A lot of people will scoff at this one being here, but I have personally taken one of these rifles out and hit a steel target one mile away.
In fact, the pictured rifle is the one I used to shoot that target a mile away, and while it wasn't the easiest target shooting I've ever done, I can now check this firmly off of my bucket list.
The above-pictured rifle is essentially an AR-10, which is a semi-automatic firearm, and not necessarily known for use in long distance shooting.
Most would consider 1,000 yards for this rifle the max, but at the event I went to for Palmetto State Armory, they had two of them set up and a bunch of us kept hitting that mile marker.
It was a ton of fun, and something I recommend everyone get to do at some point.
If you were wondering what a target placed one mile away would look like, here ya go: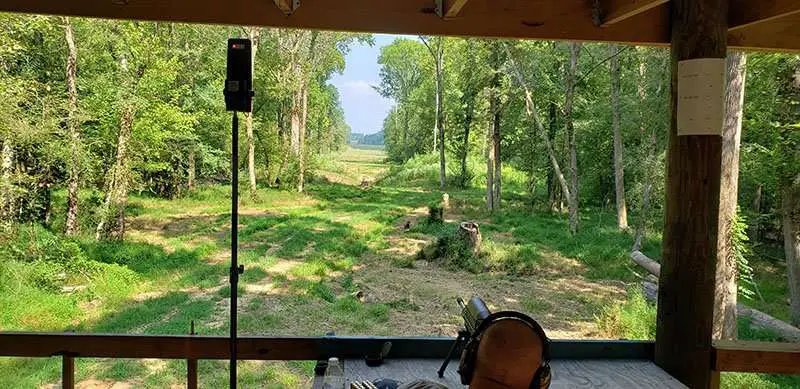 And if you can't see the target in the above picture, you're not alone. I couldn't see it either and I was there.
Here is another picture with my camera zoom maxed out all the way, hence the graininess in the picture.
Ignore all of the little targets that are placed at much closer distances, and look under the trees all the way in the back:
Yes, I took an AR-10 chambered in 6.5 Creedmoor and shot a target that was one mile out which is why I have no problem recommending this rifle for you here, as one of the best 6.5 Creedmoor rifles available.
It helped me to earn these challenge coins: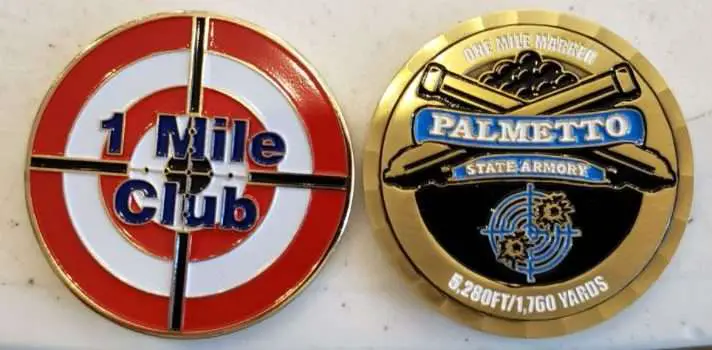 This particular rifle has the added benefit of being totally familiar to you if you have any experience with the AR-15 platform rifle. It's just a bit bigger.
This is also the least expensive rifle on this list coming in at right around $1,000. You could literally buy the rifle, add and zero your scope, and run with it.
Conclusion:
The 6.5 Creedmoor is an excellent long range rifle cartridge that can be used to effectively shoot medium to large sized game with the right cartridge, and will certainly be able to hit one mile out, and maybe further.