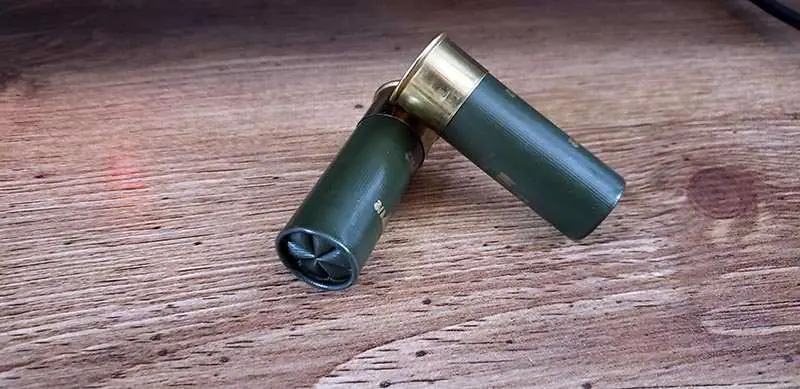 What is a shotgun shotstring?
A shotgun shotstring is produced out of a shotgun as a by-product of a choked shotgun barrel. It is a column of shot and its length varies as to the degree of choke in the barrel.
Its length is from first pellet in the lead to the last pellet at the tail traveling in the air after leaving the barrel of a choked shotgun.
Do all shotgun pellets leave the barrel at the same speed?
If the barrel has any choke at all, it is impossible for the pellets to all be going the same speed after hitting the forcing cone in the choke.
The choke will absolutely accelerate the pellets in the center mass of the shot column.
The harder the angle in the choke forcing cone the more acceleration you will have, hence, a longer shot-string.
The more acceleration from tighter choke constriction that you can see or measure, the longer the shot-string becomes that you cannot see.
Can you prove this?
People do it all the time they just don't understand it, if you have a chronograph a box of shotshells and some choke tubes of different choke constriction just chronograph 5 shells in each choke tube.
This will show you how much acceleration is added by choke. To get a true reading of the velocity of a shotshell you must not use any choke constriction at all.
What is the tear drop shape in a shot-string?
That is physics displaying itself as good as it gets.
That tear drop shape is a cone that was shaped by the forcing cone upon impact in the barrel. Remember in physics for every action there is an equal opposite reaction. If you take 2 cones and butt them up together, looks like a tear drop.
I have seen actual stop action photos of shot-strings some very old ones and some newer ones and I was wondering why it appears that there is a wall of pellets or a large clump at the rear of the shot-string and these vary.
Easily explained:
Remembering physics again, here we have another scientific fact coupled with variables. In the first part of explaining shot-strings we noted that the choke will accelerate pellets.
Using physics we decelerate pellets as well, the decelerated pellets by force travel back into the shot-string that is still in transition in the choke.
Now the variable:
The variable being the wad sealing the gases trying to contain all the pellets as it tries to accelerate from the expanding gases. It will start catching up to some of the pellets and collect them back into the wad's shot cup and depending on whether the whole shot column was accelerating from a short barrel or decelerating from a long barrel.
It will gather some and that is the clump of shot you see. The shorter accelerating barrel scenario will give you a much shorter shot-string every time.
What about the shot draft factor?
If you mean one pellet following another then passing it, it is almost impossible to apply such a factor. For the simple reason the shot in a shot-string is always moving away from each other and never being behind one another in a direct path.
This is simple to prove, when you are patterning a shotgun you are counting all the holes where all the pellets don't stay behind one another.
I still don't get it, you know the thing with accelerating and decelerating pellets in a shot-string can you show me?
Ok, get 4 marbles and make them all touch, take 2 that are to the side and grab them, separate them slightly away from each other still keeping all in contact, now push together the 2 you have a hold of.
Note the marble facing away from you goes forward and the one closest to you moves toward you, now imagine this same situation traveling at 1,200 feet per second and happening many times inside a choked barrel.
Now you should have a pretty good idea of what causes shot-stringing.
What about various shot metals?

#4 Hevi-Shot, shot-strings between 11 and 12 feet long at 40 yards.
#4 Lead-Shot, shot-strings between 11 and 12 feet long at 40 yards.
#4 Steel-Shot, shot-strings between 8 and 9 feet long at 40 yards.
What about choke tubes?

Full choke tube, longer shot-string.
Improved Cylinder choke tube, shorter shot-string.
In conclusion it is worth noting that with all the advances made with various shot, wads and barrels that shotgun shotstrings are trending for the most part getting shorter over time, and don't much matter these days.
Checkout our shotgun recoil calculator formula next, and then our guide if you're in the market for a new home defense shotgun.