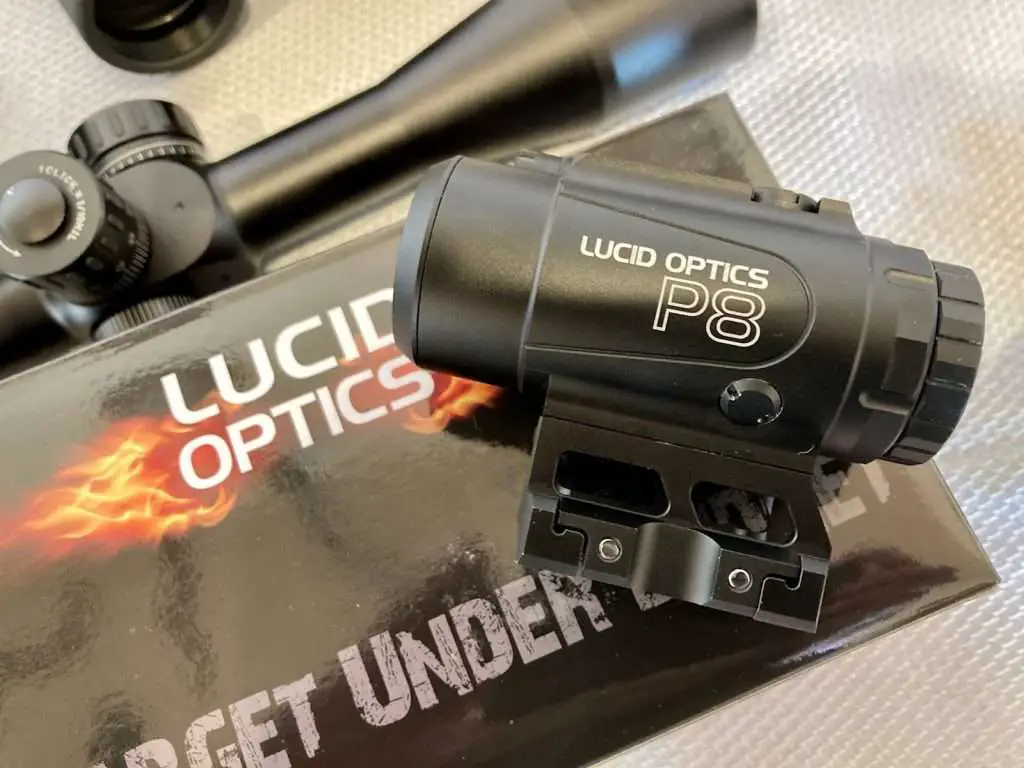 Lucid Optics Ballistic Summit held at the NRA Whittington Center just south of Raton, New Mexico, kicked off again this year in early September, a pleasant time to be in the mountains of northern New Mexico for sure.
This event is intended to give media outlets a look at current and upcoming products in the firearms and shooting world with the opportunity to give said products a good workout and look over. 
Lucid Optics, the sponsor the Summit is based in Riverton, Wyoming and has become known for quality optics and related accessories at an affordable price as their motto "On Target, Under Budget" denotes.
Founder and CEO of Lucid Optics, Jason Wilson, coordinated numerous manufacturers associated with the shooting industry for this year's event.
Key players and companies of the 2022 Ballistic Summit included the following:
Lucid Optics
New and upcoming in late 2022 from Lucid Optics is the P8 (pictured above), Prismatic 4X Optic. The really nice feature of this optic is that the reticle is blue, instead of the more commonly used red or green.
This allows for your eyes natural ability to pick up the blue spectrum of color with better focus, according to Wilson. This new optic should be available in late November and retail for around $400.
Additional product line from Lucid Optics includes:
Red Dot Optics, HD7, HDX, Lil Mo and M7
Rifle Scopes, L5, L7, MLX
Prismatic Optic, P7, P8 (available in late 2022)
Binoculars, B-8, B-10
Spotting Scope, SC9
Weapons Light, C3
Archery, A5 (5 Pin Archery Sight)
You will find many other accessories such as magnifiers, scope rings, targets, quick release mounts, tripods and tactical pens at lucidoptics.com.
Shaw Custom Barrels
Shaw Custom Barrels has been a family-owned business for over 100 years. The fact that their barrels are world class is no secret. Companies like CheyTac USA are using Shaw Barrels in their extreme, long-range rifles. 
Aside from offering custom barrels in over 180 calibers, Shaw also produces custom rifles that are extremely accurate. They offer both AR10 and AR15 platform rifles in numerous calibers along with quality bolt hunting rifles.
Firebird Targets
These signal devices from Firebird Targets provide immediate feedback of your accuracy to hit a small target at distance. The target disks have self-adhesive backing so that they can be placed directly on a target (steel targets work best) at a minimum of 50 feet.
A direct hit results in an explosive result what is both audile and visual.
Available in two sizes, 2 inch and 2.5 inch these targets offer and added level of satisfaction to any marksmanship exercise and can of course be utilized at distances as far as can be hit, in accordance with the shooter's ability.
Retail for a five pack of Fire Bird targets is $17 to $ 20 depending on the size. In a nutshell, these are just plain fun.  
Bilson Arms
Bilson Arms specializes in AR billet lowers, Cerakote finishes and gun design. Most recently however the company is gaining attention for their pivoting butt stock that will fit on any mil spec buffer tube.
The "Patent-Pending Pivotal Buttstock", comes complete with radial positioning indication and was designed to aid in rotational shooting positions.
The Pivotal Buttstock weighs only one pound and retails for around $235.
Retten.1
The Retten1 company has developed the Weapon Mounted Tourniquet or "W.M.T". as it is better known. According to company owner Jason Kollander, the device is the first weapon forend mount for a tourniquet on the market today. Sturdy aircraft-grade aluminum firmly holds the TQ in place.
The unique design allows the shooter to stay hands-on with the weapon while easily accessing a TQ single handedly.
In today's world every tool available in a threatening environment is worth consideration. Retail for the mount and a Generation 7 CAT (Combat Application Tourniquet) is $94.95.
AIRFORCE Airguns
After being afforded the opportunity to test one of the "Big Bore AIRFORCE Airguns" during the Ballistic Summit all I can say is, this is not the pellet or BB gun of your youth.
Firing the "Texan" model in .45 caliber I found this airgun will push a 350-grain projectile close to 1000 feet per second. Needless to say, this air powered gun is being used today for big game hunting.  
AIRFORCE Airguns provide a flexible platform designed to meet a variety of shooting needs including both small game and big game hunting. Many models are available to include target and competition airguns.
APF Armory
Looking for an AR platform in a hunting caliber offering? Or perhaps an AR for long range, competition, self-defense or law enforcement? Then you will want to check out APF Armory with 32 calibers and a wide selection of AR models to choose from. There are currently over 100 law enforcement agencies in the US utilizing APF firearms.
The company specializes in firearms manufacturing and also offers suppressors, receivers, bolt carrier groups, muzzle brakes, handguards, barrels and much more as part of their lineup.
In Conclusion
Many thanks to Jason and Jamie Wilson for sponsoring the Lucid Optics Ballistic Summit again this year and to the NRA Whittington Center in Raton, New Mexico. As always, the event was well run and gave all in attendance an excellent chance to try out new and innovative products in the shooting industry.