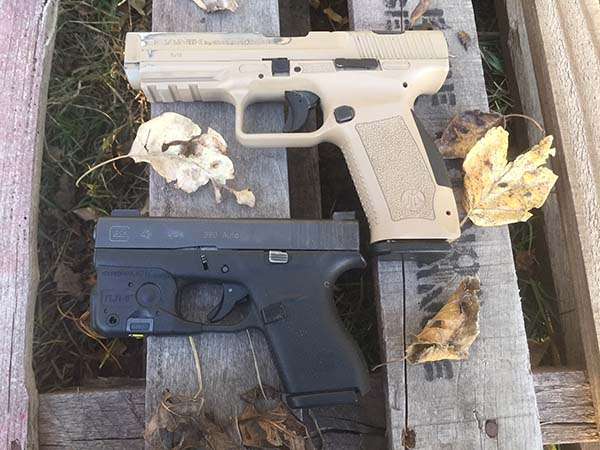 Several years ago a friend of mine showed me his brand new Crimson Trace laser he had just installed on his carry pistol. His reasoning behind his new contraption was that he wanted to be able to hit his target in a home defense scenario in the middle of the night.
I can certainly understand wanting to be more accurate so having a laser on your pistol makes sense. Right? Maybe not.
After going to the range with him a few times, I feel like it was more about the fact that he couldn't really shoot the gun all that well, but we won't get into that so I don't risk hurting his feelings.
While it's not my goal to tell you that a pistol laser is a crutch and that you shouldn't have one on your handgun, that's exactly what it is. But that doesn't mean you shouldn't have one.
There are legitimate reasons why a laser can sometimes make sense, more so for some people than others.
Let's take a more in depth look.
Pros to a pistol laser:
While I do believe that a pistol laser can be a crutch, it doesn't have to be. And, it can be good for some people to buy a laser for their pistol.
Bad Eyes
A set of aging eyes that don't work all that well is the first one up in the "pros" section of this article. The reason why is because a pistol with a laser, when zeroed properly, is actually quite accurate.
And if you struggle to find your sights, or if you struggle to get good sight picture (meaning target and sights) then you may not be accurate enough in a defensive scenario to come out on top.
But with a laser, you have to look at the target as you place the beam of light on it. The target can be easier to see than the sights are.
A word about zero
All of what I've said until now won't make a bit of difference if you don't make sure your pistol is zeroed properly with your laser.
You must take the time to zero the laser properly in order to gain that accuracy.
All I mean when I say zero, is that you need to make sure your laser hits the target in the same spot where your sights line up your shots. If you don't, you may be way off.
I got an Olight Baldr Mini with a green laser in for review one day and I wasn't even on target until I zeroed it in.
Shooting around cover or concealment
If you ever have to defend yourself from the other side of something, like a wall or car, having a different method of aiming your gun can be a good thing.
This can also be a con, because you may be giving away your position. We'll talk more about his later.
Cons to a pistol laser
There are more cons to a pistol laser than there are pros. Only you can decide if it's worth it for you to put a laser on your gun for defensive purposes.
Let's take a look at a few of them.
Visibility
What I mean specifically, is that you might not be able to see the laser itself for one of a couple different reasons.
Battery
Obviously if your laser's battery dies you won't be able to see it. And this is the big issue with the laser becoming a crutch, and, really, the reason why you should learn how to shoot your gun without it.
Outside brightness
If it is too bright in the setting that you're in, you might not be able to see your laser hit the object that you're aiming at. You may only be able to see it a few feet out, or maybe not at all.
Because of this fact you must learn how to shoot your gun without it.
An extra step
Some lasers require an extra step to turn on. While this can be good if you don't want yourself to be seen, it's something else you have to do before you take a shot. If you forget or take too long, it could be the difference between your victory and your loss.
To combat this, some laser manufacturers have made grip lasers. Meaning, that when you grip the pistol, the laser turns on. While this solves one problem, it leads to another which we'll discuss next.
Giving your position away
Remaining in as much of a tactical advantage as you can is the best idea. Whenever you turn on your weapon mounted light or laser, you can give yourself away because the beam has a starting point.
Any criminal who isn't high out of his mind will understand that the starting point has a person right behind it. Thus, you give your position away. If they didn't know you were there before, they do now.
Learn to shoot
I hope I've driven a point home by now, and it's that you really should be able to shoot your gun without relying on your laser.
The best bet, is that you learn how to shoot your pistol without your laser so you don't have to rely on it for accuracy, but know that it is there if you need it in one of those rare circumstances where it will help you out.
Buy a red dot
For me, a red dot makes more sense than a laser does. It has most of the pros, with less cons. Read more about the pros and cons of a pistol red dot, next.