I've owned my pump action, 12 gauge Tac 14 for a year now, and in that short period of time, it has become a favorite of mine. Being built on a Remington 870 means I have tons of choices for upgrading and modernizing the platform.
One golden rule about customizing this gun is simple: the end result must be over 26 inches overall. My custom Tac 14 is well over 26 inches OAL and is now easier to shoot faster, straighter, and over long distances. It also looks much cooler.
This remains true until the AFT decides otherwise, once again.
This kit available at Brownells puts a different take on all of what we have here.
What are the best Remington Tac 14 mods and upgrades?
Brace
Brace Adapter
Pistol Grip
Pump Light
Shell Carrier
Federal Flight Control
Tac 14 Brace Adapter
The first thing you likely notice is that this custom Tac 14 is now wearing a brace instead of a bird's head grip. The bird's head grip is excellent, but it does have its own set of limitations. The addition of a brace makes the gun much easier to handle.
To start this custom gun I needed an AR buffer tube adapter, and Ergo's 870 adapters came to the rescue. This simple piece replaced my Raptor grip and provided me a point of contact for both a AR-15 grip and buffer tube thread.
Tac 14 Brace
My brace of choice is the Tailhook Mod 2 from Gear Head Works. This brace is made from hard polymer and makes handling the hard recoiling Tac 14 much more comfortable. It grants the user a third point of contact and helps balance the gun for rapid follow up shots.
It's much easier to aim and take more precise shots with the Tail Hook Mod 2 brace. This model was originally on my 80 percent lower build, but I felt the design was much better for a heavier recoiling gun.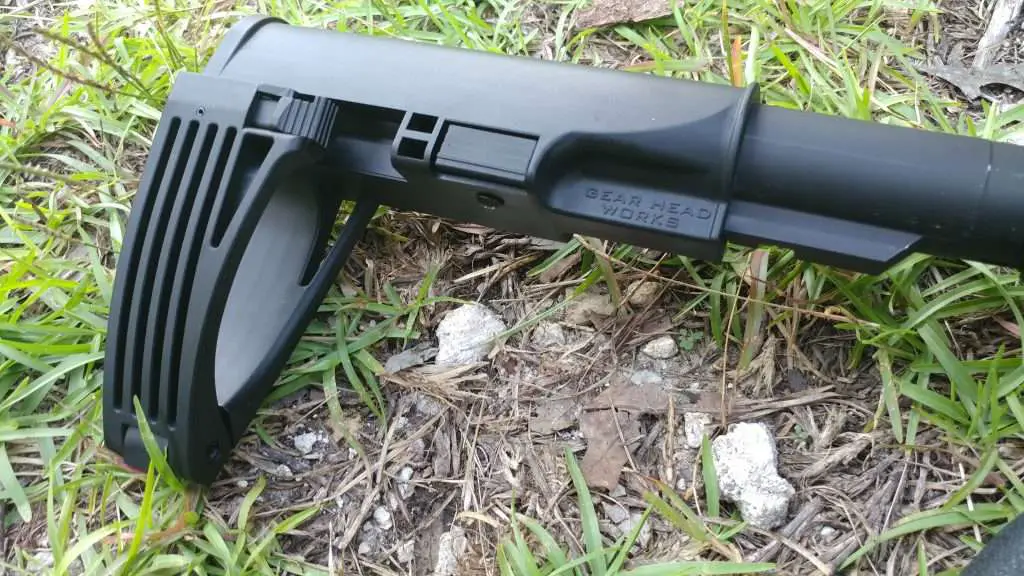 The best part about this brace is the fact it has four different positions of adjustment. It's like a carbine stock in that regard, but does use a proprietary tube that a stock cannot attach to. This keeps any ideas of constructive possession from being tied to the design.
Tac 14 Pistol Grip
The Ergo Sure Grip was chosen because of its somewhat soft design that helps dampen the effects of recoil on your hand. I like the Suregrip, and the flat top designs allow it to attach to the adapter effortlessly.
It has some finger humps which is something I usually dislike, but they didn't bother me here. The grip is comfortable and fills the hand. My hand didn't get tired or start to feel cramped in any way.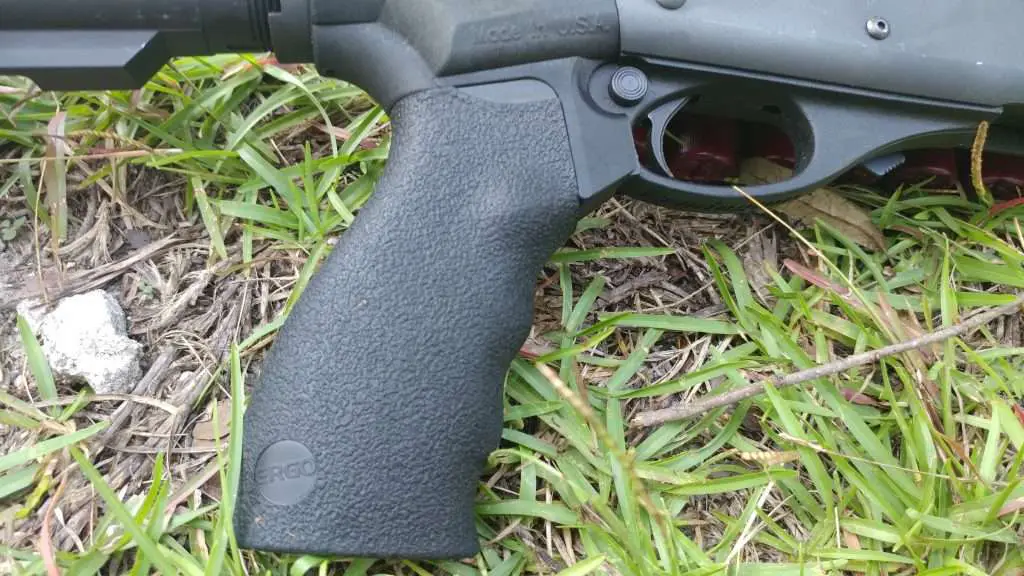 Tac 14 Pump
A home defense weapon needs a white light, right? My Custom Tac 14 is my home defense weapon, and I knew I needed a view of some kind. While researching the idea, the Surefire Model quickly became the only choice I saw worthy. It's rugged, reliable, and made by a company I'd trust with my life.
Since then, other models came out, like this one from Streamlight that looks pretty sweet, but I haven't tried yet.
The DSF 870 gives me a high 600 lumens, and low 200 lumens beam as an option for momentary on and off. The controls are ambidextrous and very easy to reach.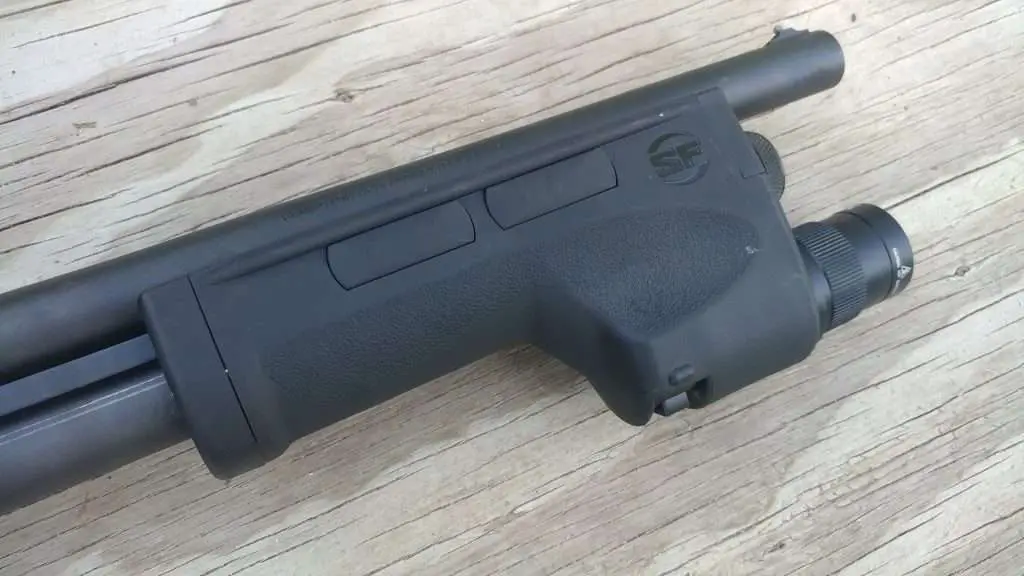 Tac 14 Shell Carrier
Extra ammo is always a must-have for shotgun use, and the Archangel side saddle gives me an impressive seven additional rounds. That allows me to keep the gun in the fight for an extended period of time. Of all the side saddle choices, the Archangel drew me in due to the ability to tighten the carrier's individual slots.
The ability to increase and decrease tension for each shell could be valuable if you decided to run slugs or an alternative load upside down. This was the first upgrade for my custom Tac 14, and it seems to be working very well.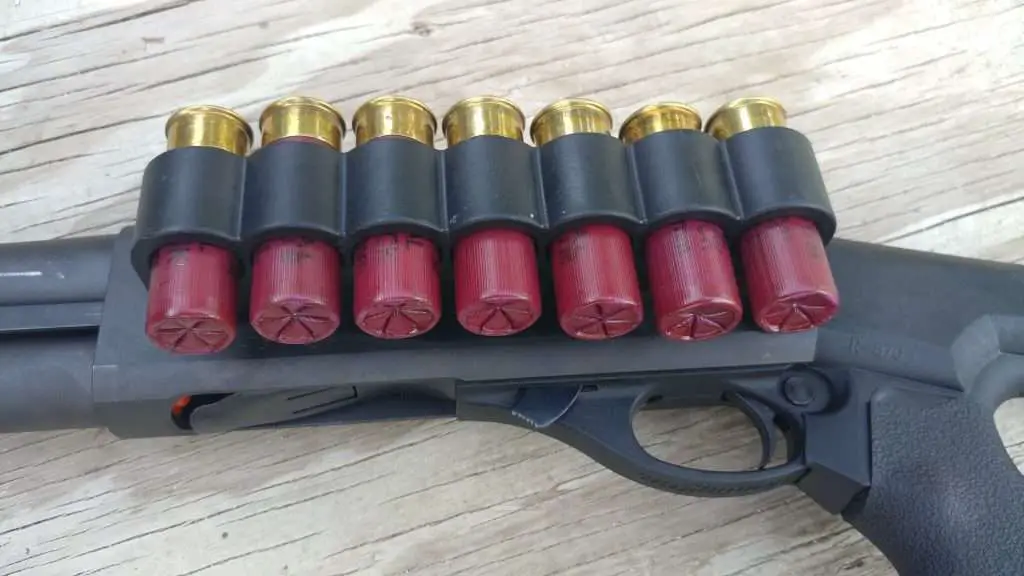 Tac 14 Ammo
The long name for this ammo is Federal Flight Control Law Enforcement ammo. It is a reduced recoil brand that gives shooters a very tight pattern over extended distances. This ammo also recoils lighter in shotguns and is quite affordable.
Read our review of Federal Flight Control, here.
Conclusion:
So there we have it, what I'd consider to be the best upgrades and mods for the Tac 14. It's a short, lightweight, but powerful weapon for home defense, or just for fun. It defies expectations, as well as the NFA–at least for the time being.
What was once a niche weapon and a range toy is now a handy close quarters fighting weapon.
*Editor's Note* Please make sure you stay up to date on all laws as this is a hotly debated topic right now. Braces may become illegal at some point in the near future and I cannot encourage you to break any laws.