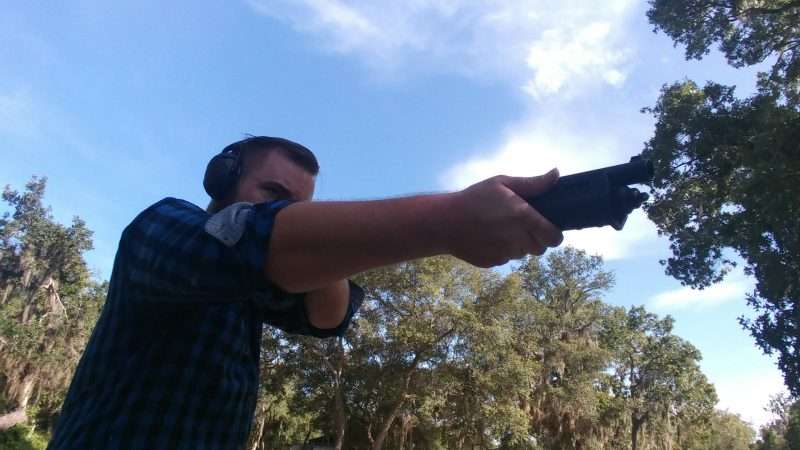 How to shoot the Mossberg 590 Shockwave —
One of my favorite guns is the Mossberg Shockwave. This PGO 12 gauge firearm is not technically a shotgun. Because it lacks a stock and never had one, the Shockwave is just a firearm.
This allows it to have a 14-inch barrel and remain NFA free as long as the over all length remains over 26 inches. Now, these guns are hard to handle, and to me, they were a fun range toy that spits their tongue out at the NFA.
But after a year of ownership, I'm starting to think it can be a little more than a range toy.
The Effective Shockwave
There are three things you need to make the Shockwave an effective weapon.
Number 1 is Upper body strength. Sorry to say, but you need to have a degree of decent upper body strength to control the weapon and to use it safely. I can't help you here, but a gym can.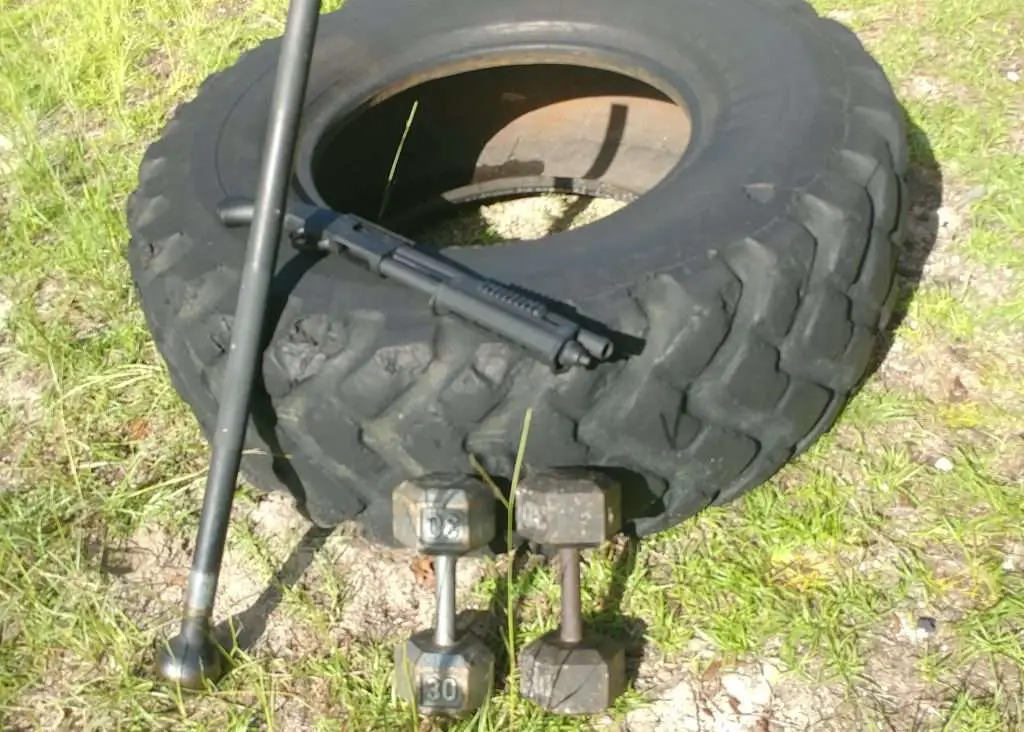 Number 2 is the right technique. We'll cover the proper technique in this article, and mastering it will make you more effective with the Shockwave, or similar PGO shotguns.
Number 3 is the right ammunition. Reduced recoil loads being the best choice for control. I like the cheap and simple Fiocchi reduced recoil buckshot. It feels almost like birdshot.
Why the Shockwave Sucks
Without a stock, a shotgun is hard to manage. The gun bucks and twists out of your hands, and doesn't want to sit still. Lost of recoil, muzzle rise and more. Mossberg goes as far as to suggest only hip shooting these things.
It's a lightweight gun so the recoil is pretty powerful, and in the wrong hands, this thing is plenty dangerous to the shooter.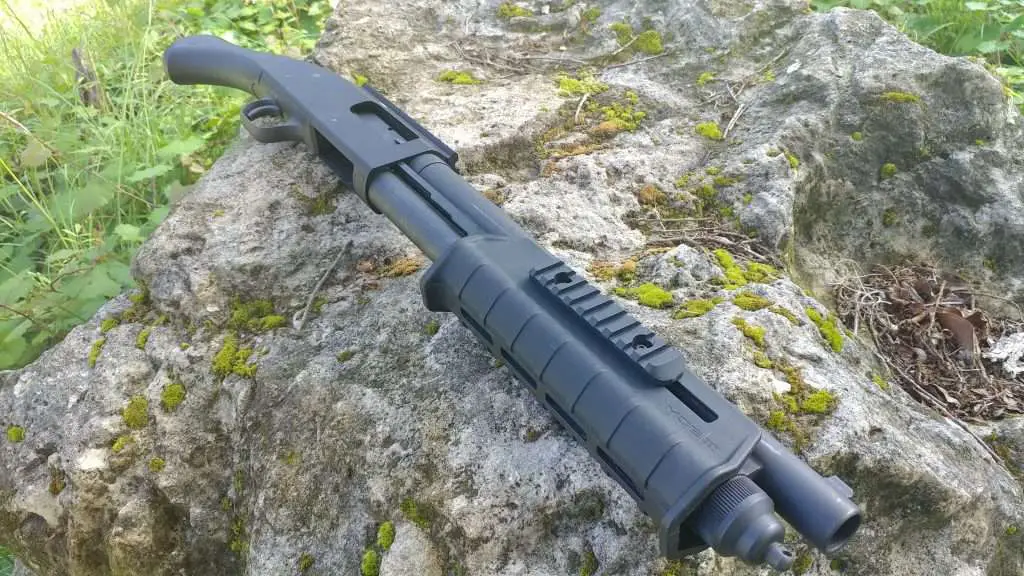 The only thing the Shockwave offers over a standard stocked shotgun is reduced weight and increased maneuverability. The Shockwave could be used in a tiny space with more ease than a stocked shotgun. It can be held to the body for better retention.
There is some merit to these guns, and similar firearms were once used for witness protection by the Marshal's service for a reason.
For their size, I don't think there is anything more powerful. If I were in and out of vehicles a lot or lived in Mad Max land needing to do some vehicular combat, it'd be perfect.
In the real world it's a very niche weapon, but it could be useful. It won't replace the shotgun, and as your average dude, I don't see it ever really satisfying my needs for home defense.
That being said, in experimenting and shooting the Shockwave a ton I've learned a thing or two.
How to shoot the Mossberg Shockwave
The technique is the most important thing. You have to be able to control the gun. I've found using standard shotgun reduced recoil techniques work pretty well, but without a stock, it's all on the upper body. That's where strength comes into play.
Technique wise it's all about pushing and pulling. There are two main ways to handle the gun. Both do require you to be aggressive with it. Manhandle it from the moment you pick it up.
The first technique is one advocated by Gabe Suarez of Suarez International. He's an expert with these weapons and produces some very high-end models known as the Stakeout Series.
His method is to pull the rear of the Shockwave Raptor group towards you, while at the same time pushing the weapon forward. He refers to the technique as a dance. You have to learn the rhythm of tensing up, firing, relaxing, and reloading.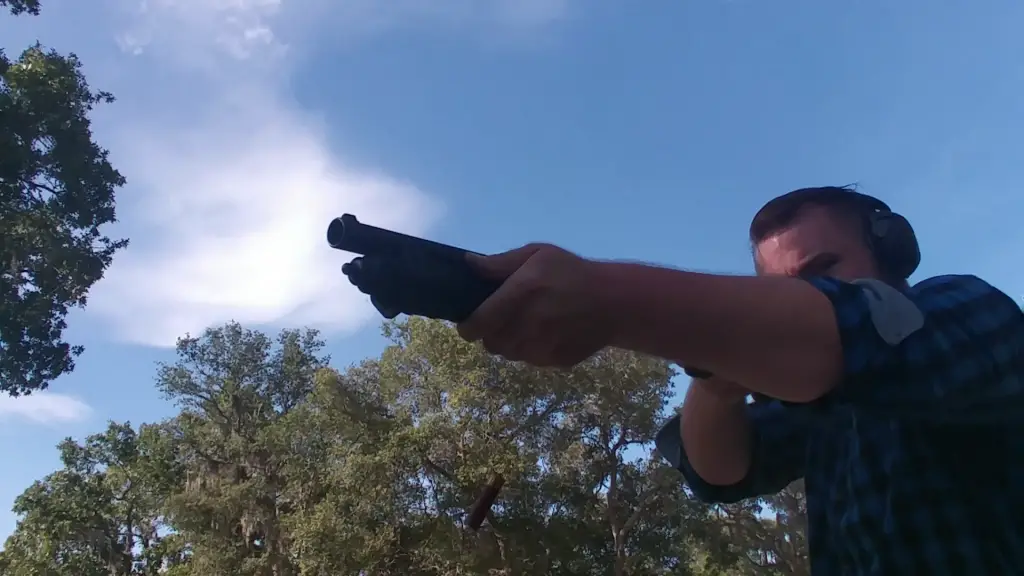 The second technique is one I learned with shotguns in the USMC. It uses a similar principle but gives the arm different tasks. With the firing hand, you are pushing forward, and the non-firing hand is pulling rearward at the pump.
The tension created helps manage recoil and lends control to the weapon. It builds in an instinctive pumping motion too. So as soon as you fire, your rear hand pulling backward allows the spent shell to eject.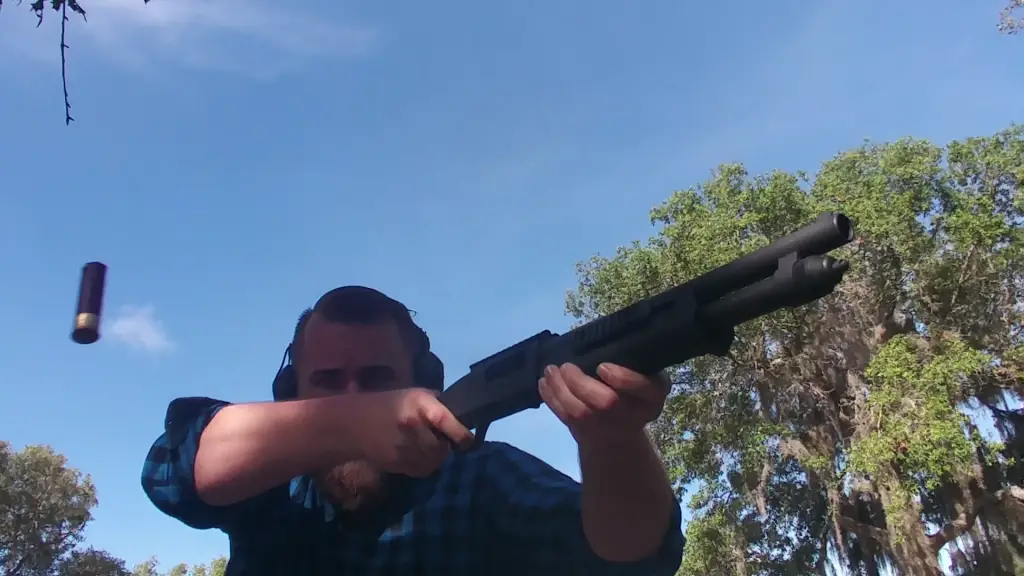 I've found both techniques to work well. The second does work better with a stocked shotgun a little better than the un-stocked Shockwave.
The Suarez style seems to be the better technique for overall stability, but it's a little harder to learn. It is a dance, and I haven't gotten the steps down yet, but I'm not stepping on my partner's toes anymore.
Ammo Selection
Of course, the easiest way to control the gun is by choosing the right ammo. Either technique above works for standard buckshot, and I feel confident using some cheap ammo without being scared or flinching.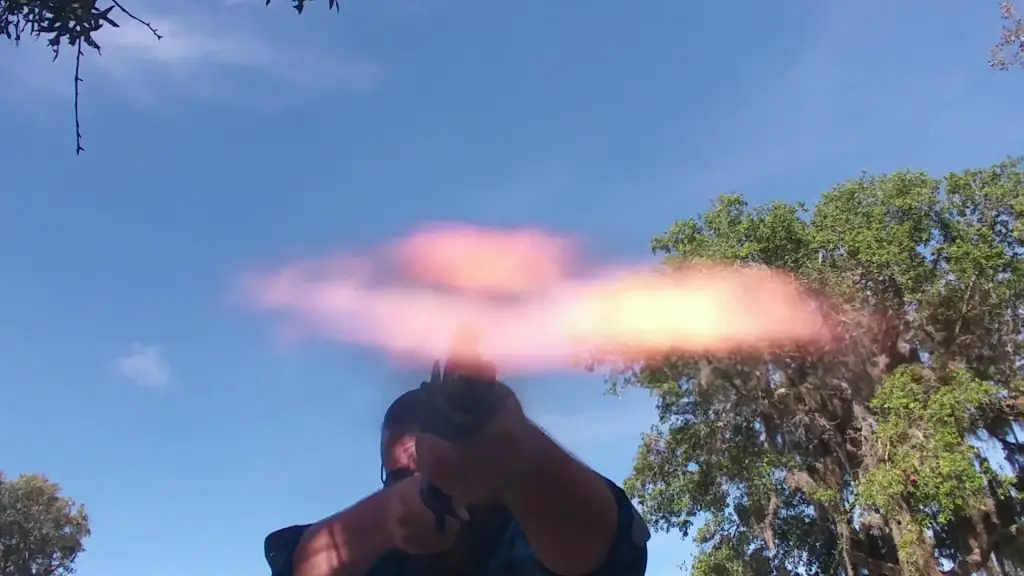 With reduced recoil ammo you'll find it much easier to control the weapon and fire faster follow up shots.
I mentioned before I like the Fiocchi reduced recoil because it's cheap, but it works. With the Shockwave and the Opsol mini clip you can reliably run those adorable Aguila mini shells, but if it were a real defensive weapon, I'd stick to standard buckshot.
I will say the Mini Slugs have some excellent performance and are roughly the equivalent of a 44 Magnum and are light recoiling.
For good practice start with the Mini Shells or birdshot. Either will allow you to practice safely and learn the techniques. If you're having trouble with them, then you may need to up your gym game.
As a disclaimer, I will say these guns aren't for the recoil sensitive types. If you find the 40 S&W snappy this may not be the gun for you.
Riding the Shockwave
I don't have a lot of purpose to learning to use the Shockwave effectively, but I saw it as a challenge I wanted to overcome. Once I was able to put proper technique together, I found I could operate these weapons very well.
Putting all nine pellets of double ought into the head of a silhouette became easy at 10 yards. So did body shots out to 25 and running slugs out to 50 yards. (Admittedly slugs work way better with a red dot.)
If you're in the market for a Mossberg Shockwave, these guys have them in stock.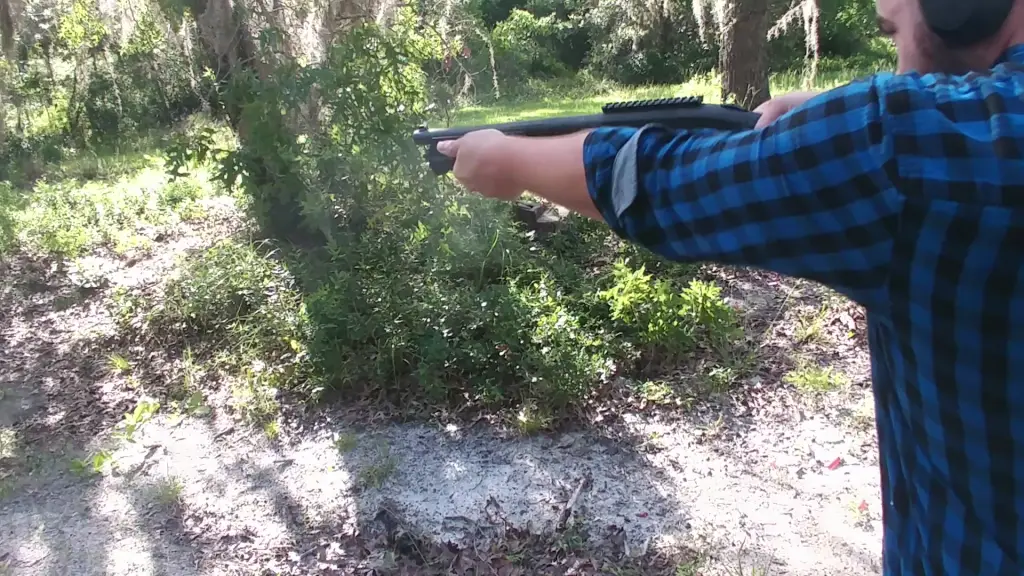 Keeping an aggressive mindset helps, especially when it comes to multiple target engagement and rapid firing. Rapid firing isn't quite as fast as a stocked shotgun, but in under 2 seconds, I can land two shots on two targets 5 meters apart.
I hope to cut that down to about a second. With the Mini-shells it's under a second, and I feel once I learn the dance a little better with standard rounds I'll be doing the tango.
It's not for everyone, and yes I could've spent the time and ammo on a real shotgun, but I like a challenge. If you want a challenge I certainly welcome anyone to try. Hope you found this tutorial on how to shoot the Mossberg Shockwave useful. Let us know in the comments below if it was.
Check out our guide if you're in the market for a new shotgun.