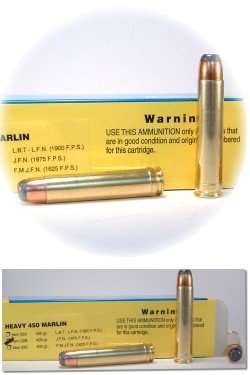 The 450 Marlin cartridge was developed as a "modern" replacement for the 45-70 Government cartridge. It is a relatively recent, and also short lived as Marlin has not made the 1895 Lever action in 450 for a couple years, big bore and big game hunting cartridge.
450 Marlin's Purpose:
Part of the problem, as Marlin and Hornady saw it, was that the 45-70 cartridge dates back to 1873 and was originally used with black powder rather than modern smokeless powder. Chamber pressures were thus not standardized, and there was no guarantee that older rifles could handle the pressure that modern rifles could.
As a result, factory ammunition does not live up to the potential of modern rifles, and hand loaders take matters into their own hands by creating loads that produce more pressure than the SAAMI specification allows.
The creation of the 450 Marlin cartridge eliminated all of this mystery. It takes into consideration the capabilities of modern firearms, and like all modern cartridges, it had an official pressure specification from day one.
The 450 Marlin has the same bore diameter and uses the same bullets as the 45-70.
The two cartridges have nearly the same case capacity. Therefore the 450 Marlin should be able to do anything the 45-70 can do and vice versa.
The 450 Marlin was designed specifically for use in lever-action rifles with tubular magazines, and requires a flat-nose bullet or the Lever Evolution from Hornady with a special tip that won't detonate in the tube.
Externally, the 450 Marlin differs from the 45-70 in that it is a rimless, belted cartridge, whereas the 45-70 is a rimmed cartridge.
Some people will refer to the 450 Marlin as a shortened 458 Winchester, and indeed, it has the same head dimensions and can trace its lineage back to the 458 Winchester.
However, this cartridge was given an extra-wide belt to prevent it from chambering in other firearms.
The development of the 450 Marlin cartridge was a joint effort between Marlin and Hornady (led by Mitch Mittelstaedt of Hornady), and it was introduced in 2000.
SAAMI lists the maximum average pressure at 43500 psi.
What happened to 450 Marlin?
If 450 Marlin was so good when it was introduced, where did it go? Why does Marlin not even manufacture a rifle for it anymore?
Above we said that the 450 Marlin was meant to be a modern 45-70 Gov. But, when you try to be like someone else, you often fail. Even though this hard-hitting big game cartridge has excellent ballistics, there were tremendous uphill battles.
First, it didn't do anything more than the 45-70 could. Yes the ballistics were technically better by a couple hundred feet per second and pound feet of energy. But 45-70 can already take any North American Game.
Second, when you're battling with more than 100 years of history, even though there were no SAAMI regs back then, you're going to lose. There are more 45-70 rifles in existence than any other big bore rifle, and with good reason.
They're just a capable gun/cartridge combo.
This is not me hating on the 450 Marlin. Quite the opposite. The 450 is a capable cartridge if you can find a used rifle and source some ammo from the handful of companies who still make it.
Hornady and Buffalo Bore are two that come immediately to mind.
450 Marlin Ballistics Charts:
This 450 Marlin Ballistic Chart shows Hornady Lever Evolution 325 grain FTX with a barrel length of 24 inches and a ballistic coefficient of .230.
| | | | | |
| --- | --- | --- | --- | --- |
| | Muzzle | 100 YDS | 200 YDS | 300 YDS |
| Velocity (FPS) | 2,225 | 1,887 | 1,585 | 1,331 |
| Energy (FT/LB) | 3,572 | 2,569 | 1,813 | 1,278 |
| Drop (Inches) | -1.7 | 3 | 0 | 21.3 |
450 Marlin Uses:
The 450 Marlin can be used to hunt just about any medium to large game animal found in North America, and does so with ease.
Conclusion:
The 450 Marlin is a capable cartridge, but you'll have a hard time finding a rifle and ammo for it. A better option would be to choose a rifle in 444 Marlin or 45-70 Government, which will do most of the same things as the 450 would.