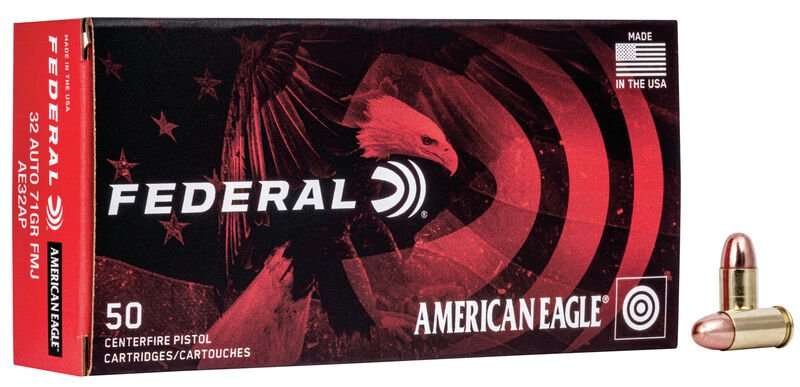 The 32 ACP is an old cartridge dating back to the late 1800s. It was developed by genius inventor John Browning in 1899 and put into wide use starting with the FN Model 1900 pistols.
It is also sometimes referred to as the 7.65 Browning.
The 32 ACP was a very popular cartridge with hundreds of thousands of pistols being manufactured both overseas as well as here in the United States.
It remains relatively popular today, even though it has lost some of its appeal to the lion's share of concealed carriers to other options like 380 ACP and 9mm Luger.
32 ACP Ballistics:
This first 32 Auto ballistics chart is for Hornady 60 grain Critical Defense, which is one of the better options for self-defense ammo for this little round.
| | | | |
| --- | --- | --- | --- |
| | Muzzle | 25 YDS | 50 YDS |
| Velocity (FPS) | 1,000 | 935 | 882 |
| Energy (FT/LB) | 133 | 116 | 104 |
| Drop (Inches) | -1.5 | 0 | -1 |
This next 32 ACP ballistics chart is for Federal American Eagle 71 grain target loads.
| | | | |
| --- | --- | --- | --- |
| | Muzzle | 25 YDS | 50 YDS |
| Velocity (FPS) | 900 | 872 | 846 |
| Energy (FT/LB) | 128 | 120 | 113 |
| Drop (Inches) | / | 0 | -2 |
Is the 32 ACP good for self-defense?
It can be but should likely not be your first choice unless out of necessity. While the 32 Auto wouldn't be my first choice for self-defense, having a small, easily concealable gun like those made by Seecamp work for those who value their comfort, but still want to be armed.
The little L.W. Seecamp pistols chambered in 32 ACP have a grip width of only .86″ and a slide width of just .725″ meaning that they all but disappear on your body.
And that really is the key for these smaller cartridges. The people who carry these types of guns want to be able to conceal them.
While we say that 380 ACP would usually be the smallest you'd want, with the exception of a magnum cartridge like 327 Federal Magnum, the 32 ACP will still get the job done with the right self-defense ammunition.
380 ACP only shows moderately better ballistics over 32 ACP.
Can a 32 ACP Kill?
Yes the 32 ACP round can kill a person, just as much as any other caliber fired from a gun can. All it takes is proper shot placement and the person on the other end can die from his wounds.
Stopping power is largely a myth, anyway.
I'd also like to say here that killing an attacker is not the goal for self-defense. The goal for self-defense is to stop an attack from continuing so you can live. IF that person dies from the result of their stupidity then that is their fault, not yours as the defender.
Don't misunderstand, you want to put well placed center mass shots on your attacker. But, personally, as a concealed carrier my goal is not to kill the person, just stop them from continuing their attack. If they die, that's on them.
Still, it is recommended for self-defense that you use the biggest caliber you're comfortable shooting. This means that if all you can accurately and effectively shoot is a 32 ACP pistol, then that's what you use for self-defense.
After all, it is a lighter recoiling cartridge if all other things are the same (like the size of the gun).
If it's a bigger caliber and you can comfortably conceal the pistol, then use that one.
At the end of the day, it comes down to you.
Conclusion:
The 32 ACP is an old, once popular handgun cartridge. There are still enough guns chambered in 32 Auto that it makes sense for the ammo manufacturers to keep making this ammunition. Guns are still being made for it, though not as many as other calibers.