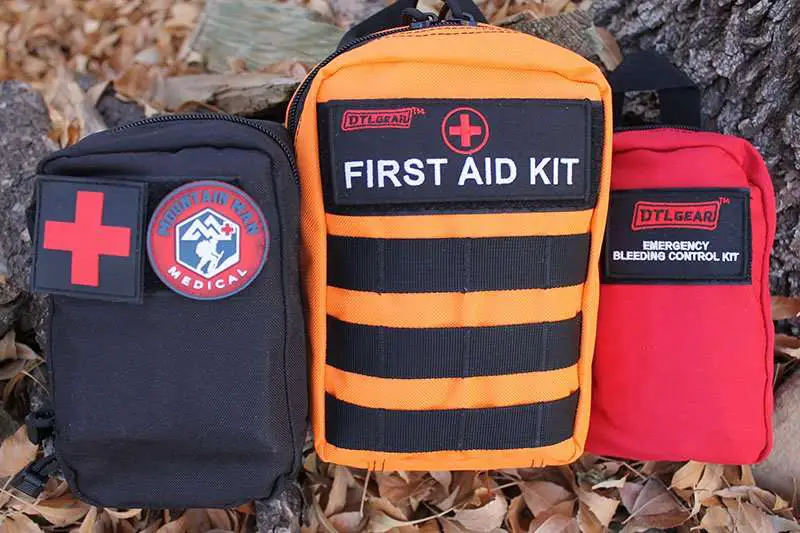 Do you like to hunt, fish, hike, camp, boat, target shoot, travel, or just be outdoors? If so, I hope that you have seriously considered real world first aid training geared towards medical emergencies that often occur in austere environments.
While I would encourage everyone to take a basic first aid and CPR class, here I am talking about a higher level of training and preparedness.
The techniques and lessons from Tactical Combat Casualty Care (TCCC) and its protocols were born on the battlefield have gradually made their way into American law enforcement and now into the civilian world in one form or another.
Training along these lines is highly recommended and can often be found along with credible firearms, self-defense, and outdoor survival courses today.
Essentially the proper use of tourniquets and the different types available today are a core part of "last ditch medical" training. This article is not aimed at the specifics of when and where to use a tourniquet or other blood stopping agents, rather it is intended to raise the awareness of the current tools and concepts available to everyone today.
Recently I had the opportunity to get my hands on emergency medical kits from two different companies that every preparedness minded person should consider having.
The Outdoorsman First Aid Kits from DTLGear and the Yellowstone Trauma Kit from Mountain Man Medical both contain tools that are essential for stopping major blood loss, a leading cause of deaths in outdoors related accidents.
Mountain Man Medical also has a link for online training related to medical issues.
While you may find many items that you would expect in an everyday first aid kit: i.e., bandages, Band-Aids, gauze pads, trauma shears, a CPR mask, antibiotic ointment, and nitrile gloves to mention just a few of the basics in these kits, what I really like about both of the aforementioned med kits is that they address serious bleeding issues … meaning tourniquets and other blood loss control tools.
It is nothing new today to hear of folks carrying a tourniquet as part of their "Every Day Carry", and essentially the tourniquet is the core tool for major blood stoppage and has been for hundreds of years.
What this also means is that some additional training would be in order for anyone wishing to up their preparedness in field expedient medical applications.
Let's take a look the medical kits from these two companies plus an additional carry method for everyday of these lifesaving tools:
DTL Gear –
Designed by an EMT who is also a sportsman. The Sportsman Kit is designed specifically for hunting, fishing, and all outdoor activities
Reduced ultraviolet signature on bandages that prevents animals from detecting the wearer while in the field
Designed to be useable by one person on themselves
Lightweight and compact (8x6x4.25 inches, 1pound, 14 ounces)
Available soft sided kit colors include First Aid Red, Safety Orange, Tactical Black, and would easily stow in a backpack or camp box. A Water-Resistant kit is also offered, ideal for any boating excursion. At a minimum, each kit contains 32 individual first aid items.
Options and upgrades offered for the Outdoorsman First Aid Kit are as follows:
Basic kit: (includes SWAT-T Tourniquet & Compressed Gauze) MSRP $99.95
Intermediate Kit: (includes SOFFT-Wide Tourniquet & Compressed Gauze) MSRP $114.95
Advanced Kit: (includes SOFTT-Wide Tourniquet & Quick Clot Gauze) MSRP $136.95 
The company also offers a bleeding control individual first aid kit (IFAK) that focuses exclusively on serious hemorrhaging, prices start at $79.95.
DTLs position is, "Quality first aid is essential to have on hand, the old adage of better to have it and not need it than need it and not have it comes to mind."
DTLGear has done a good job in providing not only a well-built first aid kit with quality components, it has also raised the bar when it comes to including tools that would really make a difference in a serious bleeding event.
Mountain Man Medical –
The Mountain Man Medical Yellowstone kit was built with compactness in mind by a Navy Corpsman with actual trauma experience bandaging up Marines in combat.
It can easily be repackaged into a smaller pouch, an ankle IFAK, or cargo pocket.
Components of the Yellowstone Trauma Kit include:
·         Black Falcon Pouch with First Aid Patch
·         SWAT-T Tourniquet (CAT Tourniquet can be added at an extra cost)
·         Quick Clot Combat Hemostatic Gauze
·         Hyfin Compact Twin Chest Seal
·         North American Rescue Mini Emergency Trauma Bandage
·         2 Pairs of Large Nitrile Gloves
·         Trauma Shears
·         Black Permanent Mini Marker
·         2X Gauze Roll Bandage
·         1 Elastic Wrap Bandage, Hook/Loop 
All of this fits in the Falcon Pouch measuring 7.5 inches x 4.3 inches. MSRP is $84.99, add the CAT Tourniquet for $27.00.
Mountain Man Medical offers other kits and components to build your own IFAK (Individual First aid Kit). The company also offers other medical kit configurations based on your needs.
Ankle IFAK –
While the kits mentioned above can easily be attached to a back pack or carried in a vehicle, there is also benefit to having a kit on your person for everyday carry.
I have found an ankle carrier to be ideal for this job and one that I have used extensively is the SFD Responder (Safer Faster Defense).
The SFD is essentially an ankle wallet that allows for comfort and packs a more complete, but small, emergency response kit.
In mine I carry a CAT Tourniquet, a flat pack of gauze (wound packing), a pack of hemostatic gauze, and a small cutter or trauma shear.   
Conclusion:
Emergency medical training or last ditch medical as I like to call it, is a concept I firmly believe in and one that is introduced in most all courses I provide.
This includes the use of tourniquets and other core lifesaving skills. After all, it could save your life or the life of someone you know one day.