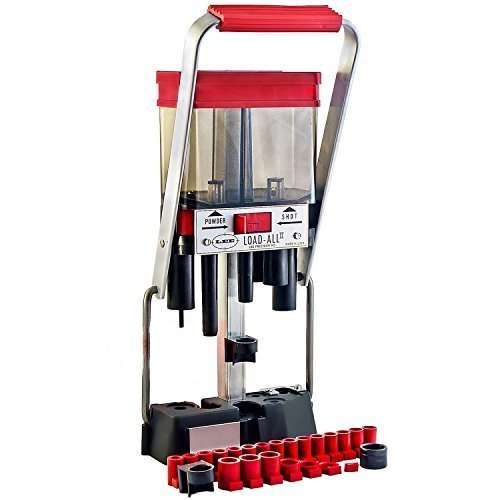 Shotgun Reloading:
The purpose of this guide is for all those who would like to start reloading for their shotguns either for economy or better selection of shot and wad, that don't know where to start when buying reloading equipment. This guide will show you everything that you need to start reloading your own top quality shotshells.
The first press is one that I recommend to all that aren't sure if they really want to reload their own shotshells, but it is one that will last a lifetime for the average shotshell reloader wanting to save money in both finished quality reloaded shotshells and equipment expenditures.
Lee Load-All Reloader
The Lee Load-All (pictured above) loads shotgun shells that look and shoot like new – without a big investment. You can load just as fast as other reloaders and still get all the velocity and uniform patterns. Twenty-four of Lee's famously accurate, molded shot and powder bushings are included.
Features include: built-in spent primer catcher with easy-empty door; recesses at every station for speedy shell positioning; easy and economical gauge conversion; and receptacle for primer feed.

Available for: 12, 16 and 20 gauge.
Recommended add on – The Lee Primer Feed will provide faster, more convenient reloading. Transfers primers directly from box to feeder. The advantage of this add on is quite simple if you handle primers with your fingers it is possible to contaminate the primer with the oil from your skin causing your loaded shotshell to possible hang-fire or not fire at all. The above press and add-on cost less than $80.00.
The shotshell presses below are very good at loading shotshells in volume, and are excellent upgrades from a starter press.
The MEC 600 Jr. Mark 5 can load eight to ten boxes per hour, and can be upgraded at a later date with the 285 CA primer feed. The press is adjustable for 3″ shells, and is available in 10, 12 16, 20, 28 gauge and .410 bore.
Die sets are available in all gauges.

Note: MEC's best selling press.
The MEC 650N works on six shells at once. With every stroke, a reloaded shell is completed. The MEC 650N does not resize except as a separate operation. This is the ideal press for the person who wishes to resize and inspect their shells as a separate operation.
The MEC SuperSizer is recommended for your resizing needs. The Automatic Primer feed is standard. Available in 12, 16, 20, 28 gauge, and .410 bore.
Die sets are not available.
MEC 9000GN High-speed, high-volume reloading plus automatic indexing and finished-shell ejection for quicker and easier reloading. The Auto-Dex™ automatically moves the shells through each reloading stage by simply returning the handle to the top of its stroke. Accurately resized shells are achieved with each stroke. Finished shells are automatically ejected from the shell carrier after final crimping. Finished shells with every stroke. Available in 12, 16, 20, 28 gauge and .410 bore.
Die sets are not available.
MEC 9000E Combines speedy 9000GN with innovative Auto-Mate. With push-button simplicity, shells are produced with unmatched consistency. New MEC Progressive Primer Feed included. Finished shells are ejected and slide into your container where they can be boxed simply by pushing a button.
Available: 12 gauge.
Here are some other shotgun resources: