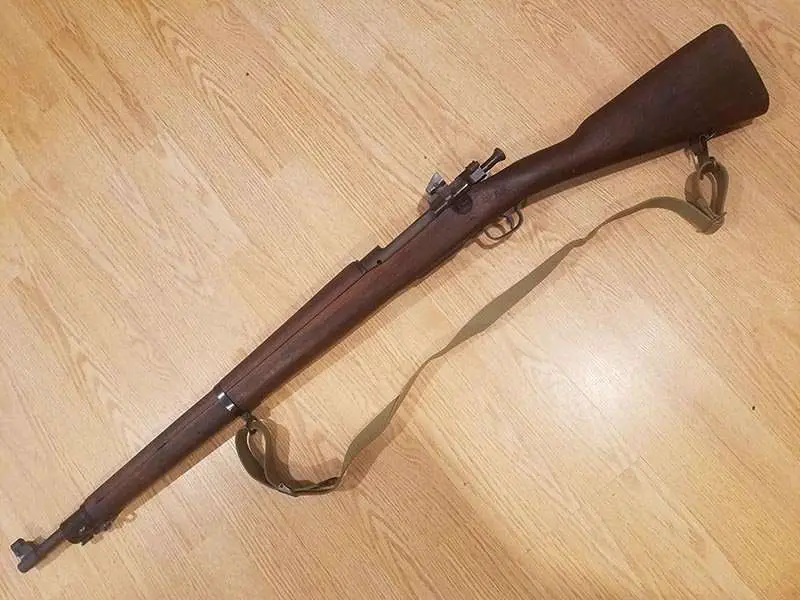 Firearm Value:
While we don't do gun appraisal values, we can offer up some resources to give you a head start on your knowledge. We usually like to do our own research, like we did on Josh's pictured 1903A3 dated to 1943.
Appraisal:
Instant values, information and specs for thousands of firearms. They offer three options for appraisals:

Self Service – Gives you the ability to look up information and find its value yourself for $2.95. 
$10 or $15 Questions – They answer gun questions with a charge of $10 per gun value question, payable by a major credit card. All gun questions are answered on a first-come, first-served basis.
Written Appraisals – Written appraisals will be performed only if the following criteria are met: They must have good quality photos with a complete description, including manufacturer's name, model, gauge or caliber, barrel length, and any other pertinent information.
Self Appraisal:
If you need help with the value of your firearm there is no better way to price your gun than to compare your gun to similar guns currently listed for sale. This option costs you nothing, so it's a free gun appraisal. Check out the gun's for sale on GunsInternational.com for a pricing comparison. They have over 50,000 guns for sale by numerous dealers and collectors alike.

They also offer, for a fee, a personal gun appraisal. A full online appraisal service that includes guns such as handguns, muzzle loaders, rifles and shotguns, enabling customers to learn both the current market value as well as the replacement value of their specific gun based on submitted information.
Collectors:
Browning Collector's Association: The Browning Collectors Association is a forum where collectors exchange information on firearms, historical facts, and a marketplace for rare firearms as well as parts, accessories, and more.
Winchester Arms Collectors Association: The Winchester Arms Collectors Association, Inc. (WACA) is a non-profit corporation dedicated to the preservation of all Winchester produced and related items.
If you have any additional resources you'd like to add to help people with their gun appraisal values, please drop them in the comments below.