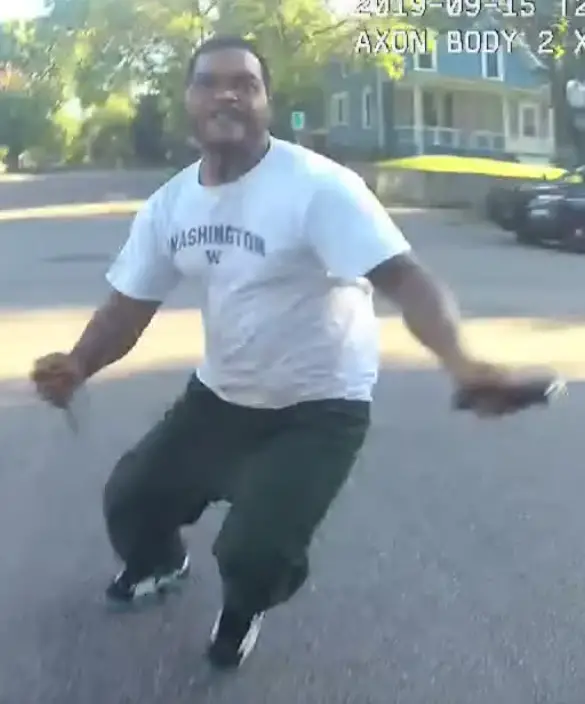 The below video is pretty intense. Imagine you're a uniformed, on-duty police officer patrolling in your vehicle when, suddenly, you feel a tap on your rear bumper. Someone just hit you, so you go out to investigate, take info, or whatever it is you're supposed to do when you're a cop in an accident.
But, instead of all that, what you get is a dude who was clearly attempting to murder you, and bum rushes you with a deadly edged weapon in his hand. What do you do? Do you let him slice you up? Do you let him turn you into a pin cushion?
Do you take a chance at hitting him with a taser? What if it doesn't connect right? What if he dodges at the last second while he's only a few feet from you? Do you take that chance or do you go right for your Glock and the jarring emotional affect it can sometimes have on an aggressor?
It seems to have slowed down the attack just a bit in this video, but it's really hard to tell.
Here's another thought: The bad guy ended up with the cop's flashlight. I can't be entirely sure, but I doubt the police officer just handed it to him to play with. Why did the attacker have the cop's flashlight? Was he reaching for the officer's gun but missed and only got the flashlight?
Sucks for him. He should have had better aiming skills.
I'm going out on a limb here by saying that without knowing anything else, and if put in the same situation, I would have done the same exact thing. I don't see how anyone can question this officer's actions, and yet some are. Here's the video in question:
When your life is on the line, you do things to survive. While many concealed carriers joke around about "bringing a knife to a gun fight," the truth is that a knife is no joke.
A determined bad guy with a knife can really ruin someone's day, and knife wounds are some of the worst out there.
Don't get me wrong, I'd pick a gun 10 out of 10 times if I could. All I'm saying is that a bad guy with a knife is not to be underestimated.
Am I wrong?
Leave your thoughts on this in the comments below.