We have uncertain times ahead, unlike anything any of us have ever seen before. There is a polarizing division in our country that has only gotten worse. The left wants to rule over the right, and the right refuses to be ruled.
I also believe very strongly that we've been in a cold civil war since Obama was in office, which only got worse when Trump took over. (Please note that I think Trump was okay, but I think he failed bigly when it came to gun rights.)
And now that Brandon is in office and the left saw how good they had it under Obama and the right saw how good things were under Trump, we've reached a tipping point of sorts.
This has left a lot of people on both sides calling for divorce, and some say it's the only option left.
If enough people catch on to this idea things could get sloppy.
This sloppiness is the main reason why I'm writing this article about me cutting my gun collection down to only useful guns that are ready to serve me properly.
Succession, balkanization, or divorce
It doesn't matter what we call it at this point. It doesn't matter because it'll happen at some point, or at least people will try.
At least part of what I'm seeing that causes concern comes from both sides calling for a splitting of the states. Red and blue can no longer coexist together.
The left and the right hate each other with a fiery passion.
It's true. I see it in my own personal life. I no longer associate with the progressive liberals in my family, which is hard for me to say. I still love these people, but the less they know about me, where I stand, and the things I own — the better.
Besides, having to constantly defend my views has gotten old.
And the fact that people on both sides are calling for a divorce is a cause for concern. I do believe it is inevitable at this point.
While I hope it is peaceful, divorce rarely ever is.
What I mean, is that some states are a no-brainer in which direction they'll go. South Carolina, for example, is going to go to the right. It's a hardline red state.
States like North Carolina, Pennsylvania, and Virginia won't be so easy to decide, however. They're purple. Granted, the big cities dictate a lot of the politics in those states, but because it won't be easy to decide, it won't end well.
So even in states that are a certain color (red or blue), there will be conflict. I believe that. The reason why, is because we're going to split up because we don't get along. Not everyone is going to be happy with the direction their state goes.
Because of that, there will be small factions of people who are left "behind enemy lines" in states like California or Tennessee from both sides of the aisle who will continue to refuse to be governed by the people in charge, whom they disagree with, fundamentally, about everything.
They'll remain where they are because they can't afford to leave and they'll cause a problem for the area they're in.
There may not be a country-wide fight, but there will be instability across the entirety of states in little pockets.
Preparation
I'm fairly convinced that the above scenario will play out to some degree. I'm not entirely sure how it'll look, and I really hope I'm wrong because we are stronger together. But the powers that be refuse to leave the People alone, so the only thing left is to prepare the best we can for the eventual split.
And again, I don't believe it will be peaceful. It may be peaceful at first, but once the folks behind enemy lines realize that they have no chance of a life they actually want, it'll quickly turn into a problem.
What do I mean by preparation? I mean getting yourself ready to live and thrive because if the US does split it's going to be a mess.
If you live in a state that doesn't produce much food, or if you live in a city, you're going to be hungry. Interstates will be closed down, shipping lanes will stop running, etc.
Food
The price of food is on the rise. Well, to be honest the price of everything is on the rise. But food is something that you cannot live without.
While I'm willing to hunt my food if necessary, it should go without saying that having a certain amount of food on hand in case of a catastrophe is a no-brainer at this point.
And, with all the talk about splitting the country in two (more like three or four because the blue areas cannot physically connect), that will cause a lot of shipping problems. Take a look at this election results map from 270towin.com: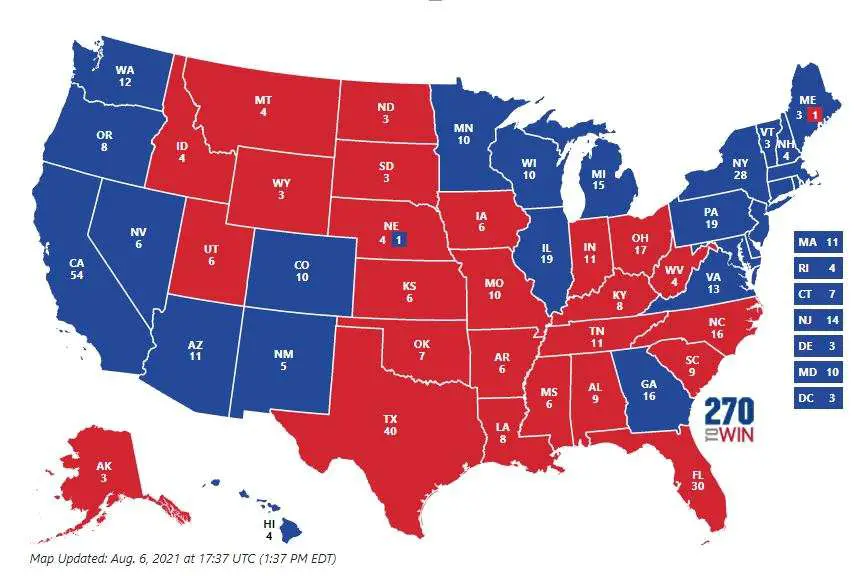 Of course we all know there are lies on that map. Arizona and Georgia are not blue but for our purposes here and used to illustrate my point, it will suffice. There are four pockets of blue:
Colorado and New Mexico
SoCal, Nevada, West Oregon, and West Washington
Michigan, Illinois, Minnesota, and Wisconsin
And the Northeast
How will New Jersey, Massachusetts, or Rhode Island, some of the lowest food producing states currently in the country get their food from California, who is number one? They won't. They may stand a better chance at getting food from Virginia or Pennsylvania, but they'll have their own hungry citizens to feed.
(As a side note, California is number one in the country, but a good portion of the counties where their food is grown comes from up north, which looks like this:
Notice that most of Northern California is red. Also notice Washington and Oregon are also mostly red, and consider the fact that those red areas will become a part of Idaho. Just that fact alone means that California will be a hot mess with people fighting over where Northern California goes and who gets to keep the food. I got news for ya, Northern Cali is armed to the teeth. So hopefully people from LA can get some food from the vast desert of Nevada, currently #42 on the list.)
Or, how is Alaska who is the lowest food producer on the list sitting in 50th place going to get food from Iowa (#2)? They're not. Thankfully in Alaska there are more fish and animals than there are just about anywhere else and the people there are very self-sufficient.
But the people in those blue states may struggle.
Because there will be shipping problems, there will be more food shortages. And with more food shortages comes more hungry people.
Which, I guess brings me to the next point.
Guns
This is hard for me because during the course of my life I've only sold two or three of my guns. Until recently, maybe the last year or so, I've been a bit of a collector.
Over the past year or so I've begun the painful process of cutting down my collection to only have certain firearms in it, some of which I don't even have yet because I'm saving for them.
The point is that with the divorce of a nation, there will be unrest. There will be hungry people. Those hungry people may come looking for my food. I bought my food for my family, and refuse to let them go hungry.
You can read between the lines.
Ammo
This should go without saying. I'm obviously still buying ammo because I'm one of those people who shoots a lot. Mostly I shoot for work and gun tests, but it's becoming more obvious that I need a bigger reserve of ammo for other things, as well.
What things? Well, I'm not sure. But you never know what's going to happen. I may need to hunt for food. I may need to protect my family. I may need to shoot some red coats.
Ya just never know.
Medical
My wife is a nurse with proper medical training and more than a decade of experience.
But something that most people don't think about is having medical gear on hand should the need ever arise where you need to use something to save a life.
One of the companies I like for medical equipment is Mountain Man Medical. They're good friends of mine and only source the highest quality equipment.
Water
I decided to add water as a late entry. The rule of 3 dictates that you can survive roughly 3 days without water. Of course, this depends on your condition and surroundings, but as a rule of thumb this is true.
Sad news for California once again. Where are they going to get their water from once they're cut off from the rest of the country?
It'll be another reason for people to fight.
To prepare for this, have water on hand as well as ways to collect and purify water. This is one of the reasons why I decided to live in a temperate rainforest. It rains nearly every day all year long, but is also sunny most days with a ton of animals.
Conclusion:
I'm over here bringing my guns to the local FFL for consignment because I don't need all of them anymore. I hate this because I've never been a seller of guns. But I think it's time we all figure out what we need and don't need out of this life, so we can be ready for the future, whatever it may be.
The future is bleak.