I recently, as in the last two years, have made the switch from a traditional three dot sighting system to a blacked out (or nearly blacked out) rear sight with a front dot (usually tritium) on my EDC gun.
The reason why I have made this switch comes after years of shooting pistols and realizing that I have a really hard time focusing on the front sight. When I use a rear sight that is less stimulating to my eye, I tend to focus more on the front sight.
And because of this, I actually shoot better and more accurately.
Front sight focus is one of those things that most of the experts have all agreed upon as being an important thing for shooting accuracy. My accuracy therefore goes up when I use sights like these instead of the "U" on the Hellcat (pictured above), big white dots, or the rear sights Glock pistols come with (pictured below).
This is also one of the reasons why gun manufacturers, like SIG Sauer, tend to include darker rear sights on their pistols from the factory. The X-Ray sights, like those pictured in the top on the left, have tritium inserts, so they're darkened night sights.
So they're dark enough that they don't distract my eyes at all from the draw stroke to the shooting, but because they are night sights I can still use them to line up my shot right at night.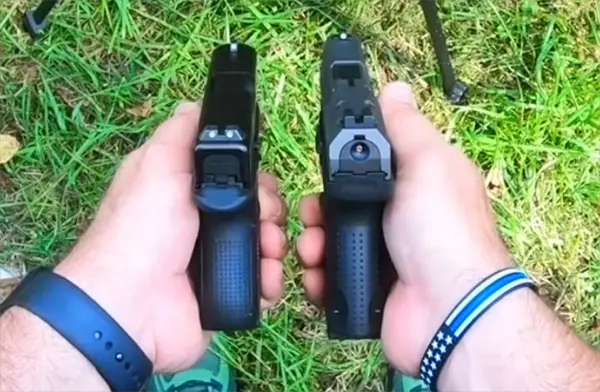 One of the first things that you might want to try and change if you're experiencing accuracy issues at the range, is to try and get darker rear sights because it could really help you focus on the front sight.
Have you tried to use dark rear sights on your EDC pistol? What were your results? Let me know in the comments below.