One of the most important considerations for carrying a gun for self-defense is the holster you use to hold said gun. But, even though it is an important choice, because a bad holster can be dangerous, it is one of those things that many gun carriers don't give a second thought.
They may go to the local big box sporting goods store or, worse, Walmart, and buy whatever they see. Some care must be given to your choice of holster, and your holster must be able to do some things well.
What makes a good carry holster?
Support a correct gun draw
Has good clips
Covers the trigger
Must be safe
Support a Correct Gun Draw:
Arguably one of the most important aspects of a gun holster is that it supports a correct draw during a defensive scenario. At least part of the problem with this, is that many folks don't even know if they have a holster that supports a good gun draw because they don't ever practice.
You should be practicing your gun draw at least during your dry fire training.
I won't beat this up much more, except to say that if your holster comes out with your pistol you either have a crappy holster or you need to figure out if you're doing something wrong.
Either way, the best option for you is to buy a better holster that always stays in the spot you put it when you draw your gun. The reason why, even if it is you doing something wrong, is because under the stress of a critical incident your chances of doing something wrong go up a lot, even if you already fixed your mistake.
You'll want to stack as many winning factors on your side as you possibly can.
Holster Clips Matter:
So, you want your holster to stay in the same place where you originally put it in the morning. This means when you draw your gun, as well as when you walk, run, hop, or whatever you do, around town. In other words, you don't want your gun holster to move at all.
The biggest culprit for this is when a holster manufacturer uses a shoddy clip system. One of my least favorites is the single-wide clip system, as seen here: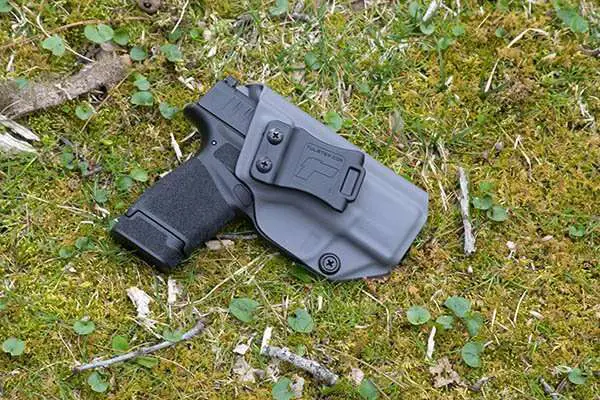 Now, not all single-wide clips are terrible, and there is a reason why the Tulster Holster pictured above still has its attached, instead of soft loops or something like that. The Tulster Clip does work.
But not all of them do and you won't know until you try to get your gun out.
I personally like a holster clip that will attach to the belt and won't come undone unless you want it to, or one that a belt has to pass through so there is absolutely zero chance that it will come out like Joe's holster for his Smith:
I go more in depth on the reason why I hate wide holster clips in that article.
Covers The Trigger Properly:
Using an unsafe holster is a concept that is finally disappearing from existence. However, even though unsafe holsters are showing up in classes less often than before, due to the efforts of many, if we stop talking about it they'll likely rear their ugly faces again.
There was a trend for a while where some holster companies would use paper-thin, cloth-like material to cover the trigger. There were many reasons why holster makers went this way, none of which mattered.
Why? Because people started shooting themselves "on accident" while utilizing these shoddy holsters.
I only recommend using a hard plastic material like Kydex, Boltaron, injection molded or a leather holster for your carry purposes. The main reason why, is because they're proven systems that work well.
Only in rare cases will I recommend something else, like the one I mention in this article, which is what I use when I go for a jog.
A Word About Gear Inspections:
It's never my goal to get preachy with things, so I won't spend a lot of time on this one. But, I do believe that you should inspect your gear at least a few times a year to make sure it is safe to use.
You're looking for excess wear and tear, holes, damage, and malformations in your holster. Specifically, you're looking to make sure that the thing is still safe. One of the biggest reasons why concealed carriers "accidentally" shoot themselves or have otherwise negligent discharges is because of faulty gear.
Regularly inspecting it will help make sure you don't do this.
Conclusion:
Having gear that works right is a necessity for safe and effective carry. You want your gear to not only be safe, but make sure that it won't malfunction when you need it most. Hopefully this article got you started in the right direction.
Read Next: Best Concealed Carry Holsters.