Although I am not what you would consider a serious backpacker, I do get into remote country often. Always on the lookout for just the right day pack for hunting or to just carry some basic gear, I recently took to the Guadalupe Mountains of West Texas to try out the Vanquest Ibex-26 Pack.
The Vanquest Ibex series of backpacks are engineered "Tough Built" and having tried this company's products on a number of other occasions I felt sure I would like the Vanquest Ibex-26 model. In addition, I made use of the 6×9-inch FTIM Maximizer, a nice accompanying Vanquest pouch, as an on board medical/survival kit.
So, what are the core features of this particular pack? A clamshell design that allows rapid access to the main compartment, along with a slim, gray-man look that blends well in both rural and urban environments.
Inside the main compartment are two mesh pockets and a laptop/hydration bladder compartment along with extra-large, lockable zipper pulls making access into those pockets a breeze.
Other useful features include a front shock cord with Hypalon "Duck Foot" for supporting lightweight gear such as a jacket. Bottom tool loops and attachment webbing will support items like trekking poles, a machete/hatchet or trekking poles. 
Moving to the sides of the Ibex-26 you will find, two 3-D side pockets offering Hypalon MOLLE-Air panels for expansion that can store a wide variety of useful tools including communication, medical, and other survival essentials.
The hydration bladder tube can pass through either of these side pockets.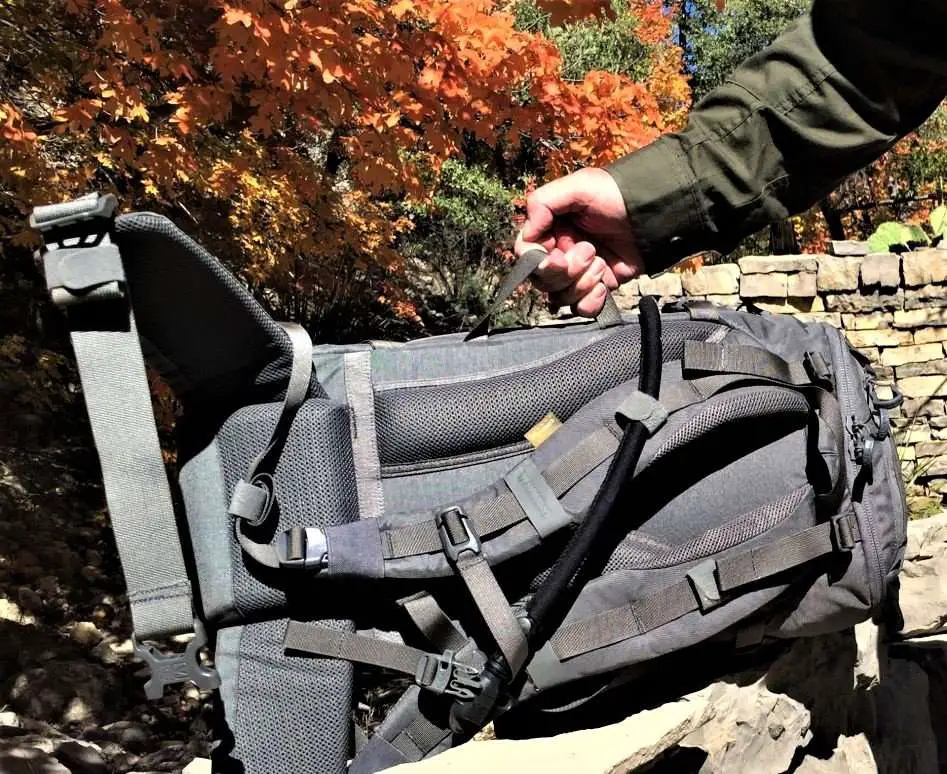 Another useable feature of this pack that I like are the three grab handles on the top and both sides for ease of carry when not wearing it over your shoulders.
The suspension system on the pack allows for carry of heavy loads: EVA foam shoulder straps, stiff frame sheet, breathable mesh back, elastic sternum strap (with integrated whistle), and padded waist belt all add to the usability and comfort of the Ibex-26.
Additional specifications include but are not limited to:
Four compression straps with side release buckles
Pack capacity: 26 liters
High-visibility, lightweight moisture resistant 210-D Ripstop nylon interior
Removable padded waist belt with forward pull adjustment
Padded shoulder straps with load lifters and sternum strap with integrated whistle
Bottom attachment webbing and adjustable loops
1,000-D Mil-grade Cordura fabric on the bottom and 500-D for the body treated with Durable Water Repellant
Finished with high tensile strength bonded nylon thread  
Multiple colors to choose from
Direct order cost from Vanquest: $228.00
The Vanquest FTIM Maximizer ($41.00 in the 6×9 inch model) shares many of the same features as the Ibex-26 pack and is ideal for putting together a survival pouch or medical kit.
It easily attaches to the outside or fits inside to any of the larger Vanquest packs like the Ibex-26. The Ibex-26, like all of Vanquests products really is "Tough-Built Gear" as the company motto proclaims.
Vanquest offers many other packs (including a larger version of the Ibex-26, the Ibex-35), bags, pouches, firearm cases, and other gear. Their designers are military veterans and outdoor enthusiasts with the headquarters based in Orange County, California.
Vanquest's mission statement sums it up: "Build the toughest bag that you'd use every day, and help you stay organized and prepared."
In my estimation and experience Vanquest has done just that with the Ibex-26 and FTIM Maximizer. Find more information at vanquest.com.
Next, read up on my favorite hunting boots.