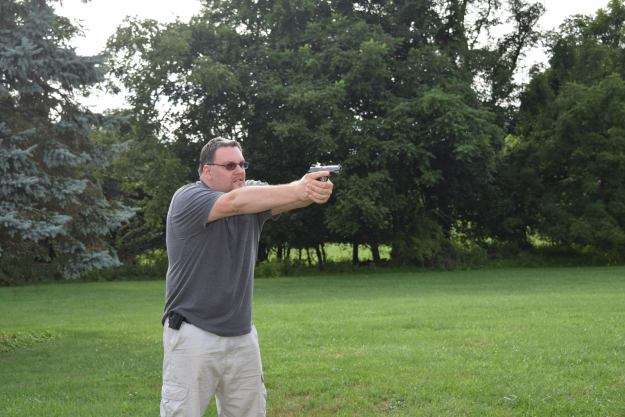 This is not the first time I've spoken about this topic and each time I cover it I catch a lot of heat. I'm okay with that because I believe what I'm about to say is 100% true.
That is, that you need to train the way you are. And when I say the way you are, I mean the way you are most of the time.
If you're like most people, when you go to the range to do some "training" you strap your boots on, put on your thick shirt to prevent hot brass from contacting your body, and tactical pants for whatever reason.
While I think this is fine for your average training sessions, I believe it's a good idea to also go to the range the way you normally spend your time at least a couple of times each year.
What I mean, is that I like to spend my summers wearing shorts and flip flops. Therefore, I make it a habit to go to the gun range at least sometimes wearing these clothes.
Now, if you are always wearing boots and cargo pants, you're already likely training the way you are. If not, then you should change this up a bit.
I'm not talking about just going and shooting statically at the range, but doing other stuff like shooting and moving.
The reason why, is because shooting and moving with flip flops on will be an entirely different thing than doing it with boots or other closed toe shoes on.
The last thing you'd want is to have to defend yourself with your pistol, only to have never trained with the clothes on that you're currently wearing. If you don't know how to walk properly with flip flops on you could cause yourself some issues.
This goes further than shooting and moving with different types of shoes, however.
What about if you're a person who wears gloves in the winter? Could you properly defend yourself with your gloves on if you've never shot with gloves on before?
Could you draw with your gloves on? Or, better yet, what if you made the decision to ditch the gloves if you had time to do so — have you practiced taking off your gloves and drawing?
Need another example?
Do you arm yourself while running on a trail? If so, are you sure you can get your gun out after running? Can you get to your gun if you're breathing heavily?
There's only one way to find out for sure and that is to jog around the gun range to simulate being winded before going up to the shooting line and practicing your draw.
Can you hit your target?
Before you do any of this stuff, I have to cover my butt here. I have to tell you that you should only do the above mentioned training at the range if you're totally safe to do so.
Please be careful while shooting at the gun range and don't do anything stupid.
Finally, if your range is prohibitive and won't allow you to do any of the above, then get creative with your dry fire practice.
How do you train for a critical incident? Do you train the way you are? Let me know in the comments below.