I'm a huge fan of the Mossberg MC1SC concealed carry pistol. It's small, easily concealable, reliable, accurate, and very ergonomically correct. But, this isn't a pistol review, you can read that here. Instead, this is about holsters. More specifically, the best Mossberg MC1sc holsters that I've found, to date.
For starters, support was slow from the holster makers of the world.
I guess many people were sort of just blind sided by the fact that a company who has only made shotguns and rifles for the past 100 years just jumped back into the handgun game.
Support is picking up, and I can say that Mossberg has hit a home run here with this little gun. I'm a big fan, and plan to buy the test model Mossy sent out to me.
So, that begs the question, then:
What are the best Mossberg MC1sc holsters?
Best IWB MC1SC Holster —
Clinger V3:
I've got one of these holsters for a few of my favorite guns, and it's a staple in my house. I recently went out to the USCCA's Concealed Carry Expo, and this is the setup I brought with me. It's really comfortable, and makes just about any gun disappear on my body.
This is possible due to the fact that the forward most clip is attached to a piece of flexible leather. Because it's hard Kydex on the other clip, it pulls the holster inward to your body more.
Visit their website for more information.
There are also different cant positions, the Kydex is formed really well, and it offers excellent retention. For the money, you really can't go wrong and they don't pay me to say this.
Best OWB MC1SC Holster —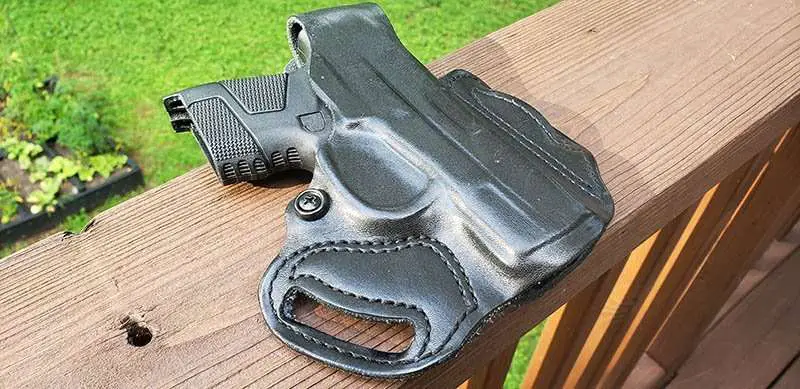 DeSantis Gunhide
I'm a big fan of being comfortable and you really cannot beat the comfort of an OWB (Outside the waistband) setup. I usually get a lot of strange looks when I tell folks that I OWB carry such a small gun in the 3 O'clock position, but it makes perfect sense when you think about it.
The small guns are easier to conceal outside your pants, than the bigger ones are. So, when I'm walking around my house and I'm all about being comfy, I'd rather do it in my pocket or outside my waistband. It's just that simple.
The DeSantis Thumbreak holster works well for this. I have to admit that this is one of the first setups I have had that required a thumbreak, but after practicing with it a few hundred times it has become second nature to me.
That thumb break, by the way, really helps to ensure that some psycho won't steal your gun if they see it on your body.
Best Anything Holster —
JM4 Quick Click Carry:
The quality that comes with JM4 Tactical is second to none and you'll find me wearing one of these holsters on my body any day of the week.
I own several different sizes, but don't have the right size for the MC1SC just yet.
I called this the best anything holster because you can use it to go on a jog, wear it to work, or around town. Doesn't matter. Reason why, is because it's magnetic and doesn't require a belt to attach to your pants.
As an added bonus, the magnetism also helps retain the gun inside the holster. It's a win win, and again, I own multiple of these. It's a staple in my house.
You can read my full review on this one, here.
Best MC1SC Pocket Holster —
Sticky MD-4:
This gun/holster combo is just barely good enough, size wise, to fit in my pocket. I find that the SIG Sauer P938 or a j-frame sized revolver is the perfect size for my pocket, and the MC1SC is just a bit bigger. However, on those days where I'm too lazy to strap on, I have stuck this pistol in my pocket and Sticky's MD-4 works great for it.
Because it's a bit bigger than other micro compacts that fit easier in the pocket, this setup may not work with all pants pockets. I have really big pockets on my clothes because I'm a really big dude. Think, 6'4″ and over 300 pounds. My clothes are bigger than the average and I like and shop for big pockets.
You can read my Sticky Holster review, here.
Best MC1SC Belly Band —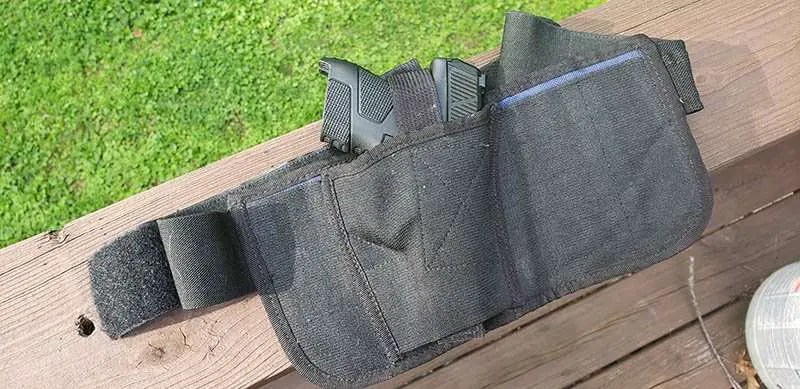 Brave Response Holster:
If ever there was a high quality belly band style holster, it'd be the Brave Response. It doesn't use any sweaty-ass neoprene like ALL of the competitors, and, therefore, cleans up easier. I mean, it is machine washable.
This is my setup for those rare occasions where I go for a run or do other types of workouts as I try to lose this last 85 pounds of post Marine Corps jelly.
If you're into running, you can read up more on the other holsters I recommend for running.
Other MC1SC Holsters I've not tried yet:
Conclusion:
Mossberg makes a great pistol, and I think they're here to stay, as far as making handguns is concerned. This thing is just a winner. As time passes, there will undoubtedly be more support for these guns. Time will tell who jumps on board, but these are the best Mossberg MC1SC holsters I've found, to date.