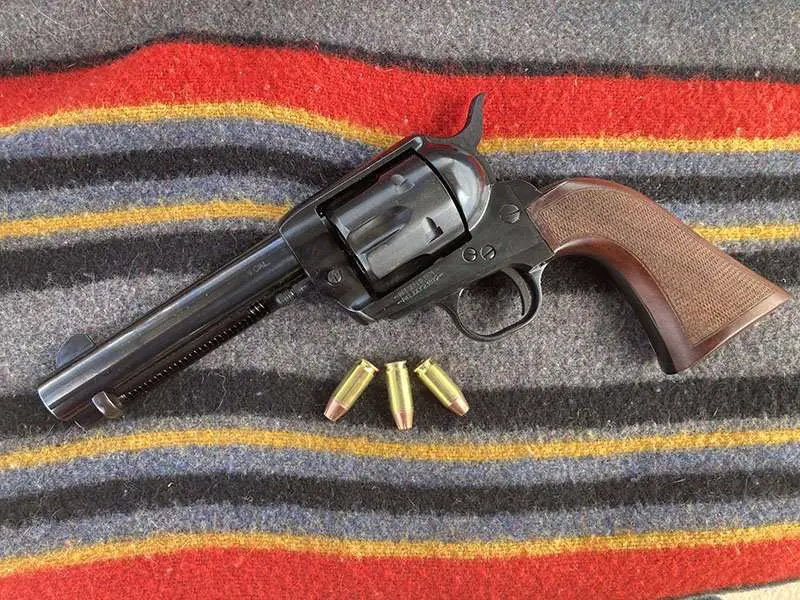 Review:  Taylors & Co. TC9 Single Action Revolver
Taylors & Company, of Virginia, is a well-known importer/distributor of replica guns. In 2022, the company announced a brand new release that's kind of a replica, but better. Meet the TC9 9mm revolver. 
On the outside, the TC9 is a nostalgia-inspiring copy of the iconic 1873 Colt Cattleman. But when the loading gate is opened, it holds a surprise: 9mm Luger-sized chambers. Single action fans on a budget or who simply can't find 45LC ammo can now rejoice; this is, in my view, a perfect substitute that allows us to spend more time shooting. 
The TC9 is make in Italy by Pietta. All of the fine detail and smooth operation that "Italian made" implies in the American market is real with this revolver. In the 75-rounds-so-far trial I've done with it, it's been flawless. The hammer has a traditional Colt four-click pull.
There's no play in the consistently smooth rotation of the cylinder. The extractor works as it should. The trigger has the correct crisp and light pull associated with a fine single-action wheelgun. 
The model I have in hand for testing represents one of four possible barrel length/finish/grip combinations. Buyers have a choice of traditional walnut grips. These are paired with blued finish on the frame and barrel. There are also black plastic Navy grips, which many people find easier to use.
These grips are paired with color case hardened steel. In addition to grip/finish choices, there are two barrel lengths. The sample gun I'm using has a 4.57-inch barrel. A 5.5-inch model is also offered.
Because the TC9 is purpose-made for 9mm, loading the cylinder involves none of the fiddling often associated with revolvers that accept cartridges without a protruding rim. Rounds drop right in with no fuss.
And it seems that the TC9's designers got it all right on the post-firing end; I've not had an issue with ejecting cartridges/brass either. 
Keeping with the 1873 design, the rear sight is a simple channel and the tall-ish, fixed front sight is a bit of curved steel. On a black target, there are easier sights for aiming. But on anything else, they work just fine and unlike some other modern interpretations which shall remain nameless here, they're perfectly centered.
Point of impact is about 2.5 inches low at seven yards using perfect alignment (no, I did not anticipate recoil and induce a low group). I would consider these sights to be a 25-yard zero, with a bit of a hold-over required for closer distances if one needs to be super-accurate.
Our testing included shooting for five-round groups from seven yards using three different types of ammunition, which yielded some interesting results. 
Ammo included:
Hornady Custom 124 grain XTP JHP
Hornady American Gunner 115 grain XTP JHP
Feral aluminum-cased 115 grain FMJ
Of these, Hornady Custom and Federal Aluminum produced comparable and tight groups. Hornady American Gunner left much to be desired in the precision category, producing a spattered group with no two holes touching.
All three groups were fired by this writer in the same shooting session. I'm not perfect by any measure, but I'm not as inconsistent as the American Gunner performed.
As with any gun, it's wise to experiment with different ammo types to ascertain which performs best in a particular barrel. As these results show, it's friendly not the most budget-friendly ammo that performs most disappointingly.
No misfires have occurred yet with this gun, though I'm admittedly keeping round counts low on these tests in the name of ammo conservation. 
Taylor's & Co. is the distributor of the TC9. It should be available on order by your favorite gun dealer with delivery to your local store. Suggested retail price is $546.39 for black grip/case hardened of either barrel length, or $588.14 for Walnut/blued in either barrel length. 
Specifications: Taylor's & Co. TC9 Single Action 9mm, 1873 Cattleman Replica
Caliber: 9mm Luger
Capacity: 6
Barrel Length: 4.75 inches or 5.5 inches
Overall Length: 10.25 or 11 inches
Weight: 2.3 or 2.4 pounds depending on barrel length
Finish: Blued (with wood grip) or color case hardened (synthetic grip)
Grip: Checkered walnut Army size or black checkered plastic Navy size
Much appreciation to Hornady and Lucky Gunner for the ammunition used in this review.