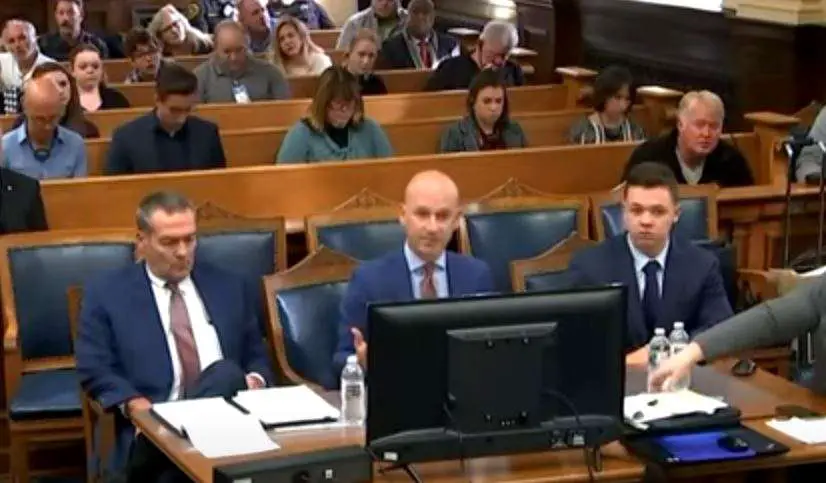 I've had the opportunity to watch several clips from the Rittenhouse trial currently taking place, and have been watching it live on and off as my time permits. I can say that there are some interesting things taking place that are important for us to learn from as defenders.
Before I move on, I want to say that this isn't an argument about the efficacy of his defense, whether or not it was a legal defense, or anything like that. At this point, any of us are just armchair quarterbacks and, while I strongly believe based on the videos that I've seen that he acted out of defense for his life, the court has to decide.
I also want to point out that I am not a lawyer and nothing I say during any point in this article or anywhere on my blog, YouTube Channel, or any of my other social media accounts can/should be taken as legal advice.
Having said all of that, we can learn things here.
What can we learn from the Rittenhouse trial?
We can learn about the aftermath of a defensive gun use, how the things we say even before an incident takes place can come back to haunt us, and even some tactics.
We can also see that the prosecutor will do everything in his power to make you look guilty as if you making the choice to defend your life is somehow greedy or that you just wanted to kill someone.
I don't have enough time or space to cover everything in one article, but do want to point out some things. First —
Everyone is a cameraman or woman:
To start, I think it's important to note that everything we do, every aspect of our lives is, or has the potential to be, on camera. After all, with the advent of the cell phone camera, many phones can record video in 4K and at the minimum 1080.
This isn't necessarily a bad thing because if you are legitimately using self-defense, and if our court system is properly functioning, everything should work out for you.
But, as we all know, things don't always work out the way they should. This is truer now than ever before in that there is a major war against guns and gun owners as the leftists do all they can to demonize us.
That, coupled with the simple fact that the prosecutor will without a doubt try as hard as he/she can to make you look like you just wanted to kill someone–it could be a disaster.
And they will do that. It's almost a guarantee at this point. They will try to trip up your words to make you seem guilty in the eyes of your peers. We saw that yesterday.
Example:
For example, any reasonable person would want to defend himself in the position Rittenhouse was in. Imagine yourself getting kicked in the face and hit with a skateboard and getting to the point, mentally, that you believe the only way you would be able to live is if you shot another person … or three.
You believed you had to shoot someone to live, even though the camera evidence shows extreme restraint on your part only to have the prosecutor ask you repeatedly why you fired if you weren't fired upon.
Does that prosecutor believe a kick to the head or being hit with a skateboard doesn't justify the use of deadly force? I wonder how he'd react if the tables were turned?
Before that even started during that portion of the trial, the prosecutor didn't seem to think that the first guy, who tried to take Rittenhouse's AR-15 rifle, was a big deal. Usually, when a bad actor tries to take a gun it's because he has bad intentions.
That's why police tend to shoot bad guys who attempt to take their guns from them in the line of duty or during an arrest. They know, because they've seen first hand, that bad guys shoot people when they take the guns from the good people.
It's what they do.
Your words:
All of the above was said for one reason: To make Rittenhouse look like he overreacted and just wanted to kill people, even though he said numerous times that he didn't want to kill anyone and showed extreme restraint, waiting until the last possible moment each time.
That's important for you and I because no matter what, if you ever have to defend yourself you'll likely have to go through the same arguments.
They proved their goal to me when they went on about things that he said to others. They were trying to use his words from another point against him because he, at some other time, jokingly said to someone that he was going to kill him.
You know, that thing that people tell others when they're mad. Did I think that my grandmother was going to smash my face in whenever she told me she was going to? It never actually happened because that is something people say out of anger or jest to get their point across.
But that doesn't matter because anything that you say can be used against you at any point in time. This includes things you say on social media or in person days before. You must be careful.
This is one of the reasons why I always tell defenders to watch what they say on social media. Your words can and will come back to haunt you.
Conclusion:
The Rittenhouse trial continues on and I'll be sure to have an in depth analysis after the trial is over.