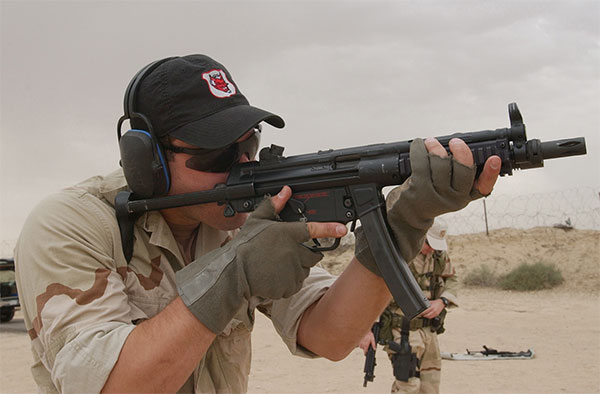 Courtesy US Navy
A few years back there was this large declaration that the submachine gun was dead. It had been replaced by shorter rifles like the MK 18 in military use and the law enforcement world going away from the classic MP5 to the M4 and its variants.
It seemed like the age of SMGs was long gone. Then something funny happened. The civilian market became enamored with the pistol caliber carbine. SIG and CZ both released what I call SMG-lites to the civilian market in the form of the CZ Scorpion and MPX. Not to mention we now have HK, Zenith, PTR, and PSA now producing MP5 clones. Plus countless AR-15s in 9mm.
These pistol caliber carbines aren't SMGs, but they are the closest most of us will ever get to owning one. Sure it's great for civilians, but does the SMG really live if LE and the Military have long since strayed away from the concept?
Is the Submachine Gun Reborn?
Earlier this month the Army released an interesting Request for Information, or RFI, regarding what they call Sub Compact Weapons questions. The RFI is vague, but asks the industry the following questions:
The US Army Contracting Command-New Jersey (ACC-NJ) on behalf of the Project Manager Soldier Weapons (PM SW), is issuing this Request for Information (RFI) to obtain information and feedback from industry regarding Sub Compact Weapons (SCW). These systems will require a potential contractor to be able to supply all components for the SCW to include the weapon and accessories.
The Government is seeking the following information for planning purposes only.

I. General
1. Delivery schedule of SCW to include but not limited to functional weapon, magazines, cleaning kits, suppressors, specialized tool kit (if required), spare parts, slings, carrying cases, manuals.

II. Ammunition for SCW – Compatibility with 9×19 mm military grade will be required.
Given the conditions above, how many proposals (SCW systems) would you consider submitting?




2. Given the possible submissions that the vendor may decide to submit please provide technical information for each sub compact weapon.




a) Will your sub compact weapon be ambidextrous?




b) What safety testing has been conducted on your sub compact weapon system?




c) What is the price of your sub compact weapon and do you provide economy of scale?




3. Where are your production facility location(s)?




4. Please elaborate on each of these areas:




a) Past repair/refurbishment experiences with other state or federal Government agencies




b) Technical manual development experience




5. What is your warranty coverage?
It's pretty clear the Army is at least interested in a submachine gun. Why? Who knows. What role is gun going to serve is certainly unknown at this time. Let's not forget the Army releases RFIs all the time that often go nowhere.
Why?
Why is the big question. I know the Army was still issuing the M3 Grease Gun up until the first Gulf War for tankers, dozer drivers and for other vehicular based troops but that gun has long been replaced by an M4.
Is this for a Special Operations role? That seems to be the most obvious answer, but how many times have we seen pics of Special Ops troops toting anything but rifles? You'd think if they needed SMGs we'd see some old MP5s still kicking around.
I think the best answer is because we don't know where the next battlefield will be, or how the next wars will be fought. The Army is most likely just keeping their options opened and since they haven't adopted a Submachine gun since 1943 maybe they're just curious about their options.
What Gun Would Win?
HK is certainly going to keep pimping the MP5 to any force who wants it, and why not? It's a modular design that still serves across the world in military and police forces. It's been upgraded and changed consistently since it was first manufactured. Although, the design is becoming more and more dated by modern industry standards.
If you asked me to bet I'd say the SIG MPX would win any Army SMG contest. It's modular, well made, and SIG has been killing it lately with the US Army. The adoption of the SIG P320 and now the SIG Tango6 optic means they are certainly capable of fulfilling the contracts.
The SIG MPX also features some very M4/M16 like controls. This means reduced training time for soldiers. The MPX is also produced in the US already and that's often a major requirement for military contracts.
If the Army does adopt a Submachine Gun, will it give a new lease of life for the concept? Maybe, we'd likely see some new designs making their way to the forefront of SMGs, as well as PCCs. Like always, time will tell.