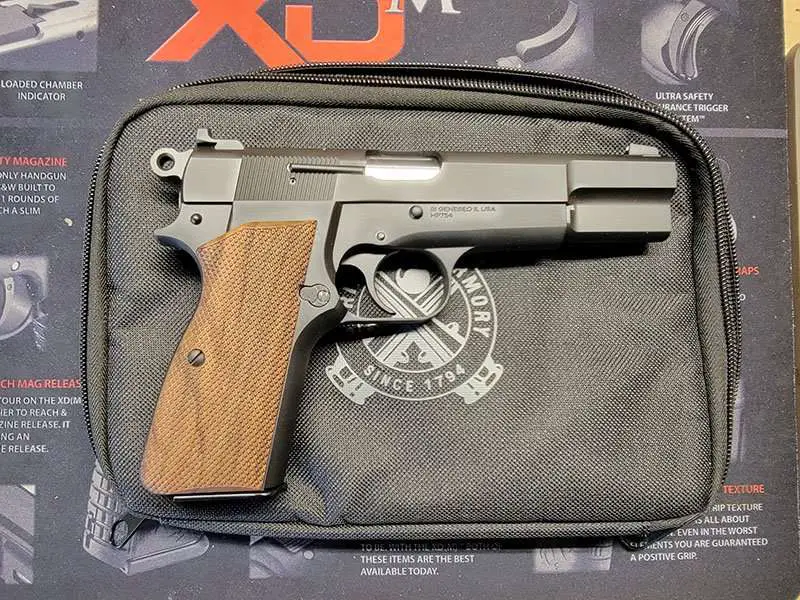 John Moses Browning is a name that almost all firearms fans are familiar with. Everyone who loves firearms is familiar with the M1911/M1911A1 pistol, one of many achievements of the world's most prolific firearms designer.
Most firearms fans are also familiar with his last design, the Browning Hi-power.
A Brief Hi-Power History:
Belgian firearms manufacturer Fabrique Nationale commissioned Browning to design a pistol to meet a French military requirement for a pistol, that stated; the pistol must be compact, have a capacity of at least 10 rounds, be capable of killing a man at 50 meters, be robust and simple to disassemble and reassemble, and have have a magazine disconnect device.
This last requirement has proven to be the biggest complaint concerning the Hi-Power for over 80 years.

One of the most requested gunsmithing tasks for this pistol over the years has been the removal of the magazine disconnect device to improve the trigger on the pistol. Having owned a couple of Hi-Powers over the years I can attest to the effect on the trigger that the magazine disconnect device has.
Browning Hi-Powers ceased production by FN Herstal in 2017 and the foreign made clones are getting harder and harder to find. Original Hi-Powers in like-new condition command a premium on the web, so up until now if you wanted a Hi-Power at a decent price, you would have to purchase a well worn pistol on the internet and have it refinished.
That all changed a couple of months ago when Springfield released their version called the SA-35.
Springfield Armory SA-35 Review:
Springfield Armory got their start manufacturing firearms to give us civilians a chance to own military history such as the M1A (M14) service rifle and the M1911A1 service pistol. They have also branched out into more modern designs like the XD pistol series and the Saint series of AR-15 style rifles.

At first glance, it reminds me of my old FN Hi-Power that I regret getting rid of (more on that pistol below).
The Springfield has what they call a "matte bluing" that really reminds me of the parkerizing on my old FN and walnut grips that are almost identical to the ones my FN wore when I sold it. It is a very handsome pistol to say the least.

What I found most interesting was that all of the issues that I had with my previous Hi-Powers have been addressed by Springfield to make an extremely refined version that has exceeded my expectations for it.
First the sights are very visible, a deep U channel cut in the rear sight with serrations on the back to cut down glare makes it extremely easy to focus on the white dot on the tall front sight.

Springfield also made the decision to go with the ring style hammer instead of the original spur style hammer that used to be the source of "hammer bite" in a lot of shooters.
They also installed a safety that, while not ambidextrous, has a wide shelf similar to the tactical extended safeties seen in the aftermarket for 1911s. This is an excellent refinement as the original safety was small and hard to disengage under stress.

Lastly, Springfield got rid of the magazine disconnect device that I hated with a visceral passion since it is supposed to be a combat handgun. If I have to engage at contact range I do not want an assailant or myself to render my weapon useless by hitting the magazine release. The magazine disconnect also was a hindrance on what I believe is one of the better triggers in the world.
Shooting the SA-35:
The trigger on this pistol is outstanding, weighing in at a relatively consistent 5.5 lbs on my trigger scale. There is no grittiness and it has a very crisp break that only got better the more I shot it. The pistol itself weighs in at 29 ounces empty and 32 ounces with a full magazine installed.

The day after I picked up the SA-35 I was off to the range down the road from my house with a box of Federal, Independence 115 gr hollow-points and a literal mixed bag of 115 gr FMJ and assorted hollow-point ammunition that had been in my carry guns over the last few years.
This proved to be a perfect opportunity to see how the SA-35 worked with different bullet shapes and weights.

After about 150 rounds one thing became apparent, I was going to have to change my finger placement on the trigger. Because I am left handed the big knuckle on my trigger finger kept engaging the slide lock in the middle of a string of fire. The first couple of times it happened, I thought it might be a malfunction of the pistol. But when I switched the pistol to my right hand the issue went away completely.
If you're left-handed that's something to keep in mind.
SA-35 Reliability:
The SA-35 ate everything I put through it that day without any issues with feeding or firing. 115 grain FMJ, both brass and steel case, Hornady TAP 124 gr hollow-point, Federal 147 gr Hydra-Shok, and Hornady 115 gr Critical Defense.
The SA-35 ate them all and asked for more.

The last ammunition to get shot that day was the Federal 115 gr Hollow-Point and that's where things got surprising, this ammo was the cheapest defensive ammunition I had, but it seemed that the SA-35 loved it because it fired point of aim, point of impact and gave the best groups of all the ammunition I tried that day.
As a matter of fact, the SA-35 seemed to prefer the 115 grain ammunition to the heavier bullets when it came to grouping. Day one of shooting definitely ended with a positive note.

Unfortunately life took over and I was unable to get anymore range time until the holidays came to pass.
For my last trip up to the farm (at an undisclosed location somewhere in Appalachistan) I took the SA-35 and a 250 round bag full of 115 gr FMJ from one of my favorite ammunition manufacturers, Fenix Ammunition.
I figured after my brother-in-law and I got tired of wandering around the woods looking for the ever elusive whitetail deer, we could get some time on my personal range.

The last day I was there we blocked the whole day in for shooting and out came the guns. The SA-35 was one of the first to be shot and it proved to be one of the most popular of the bunch. We sat up in the barn about 165 yards from my steel IPSC targets hanging in the far tree line.
We proceeded to burn through another 150 rounds, shooting from a sandbag rest to see who could ring the steel the most.

My lovely wife won that one, which means that she will never get to shoot the SA-35 again (the rule is if you outshoot me with my own gun you don't get to shoot it anymore, sorry I don't make the rules).

By the end of the day the SA-35 had nearly 400 rounds through it with zero malfunctions (that were not operator induced).
It ate everything I can afford to throw at it and asked for more.
We were all able to ring steel at ranges from 25 yards out to 165 yards with the proper holdover which is really a testament to the sights on the SA-35 since the front sight is wide and made for quick acquisition in a combat environment.
At closer ranges the SA-35 does its job as long as you do yours, and it is just a fun pistol to shoot that I would have absolutely no qualms about carrying as an EDC pistol (assuming I could find a suitable ambidextrous safety to install on it).
Final Thoughts:
Springfield Armory is well known for building some outstanding variations of John Browning's masterpiece, and their take on his last design is no less than outstanding. They have refined Browning's last creation to the point of being worthy of the name.
Having the opportunity to shoot a piece of firearms history that won't break the bank is well worth the $699.99 MSRP. Springfield has definitely got a winner on their hands with the SA-35 and I for one am looking forward to some more trigger time with this outstanding piece.
My older Hi-Powers: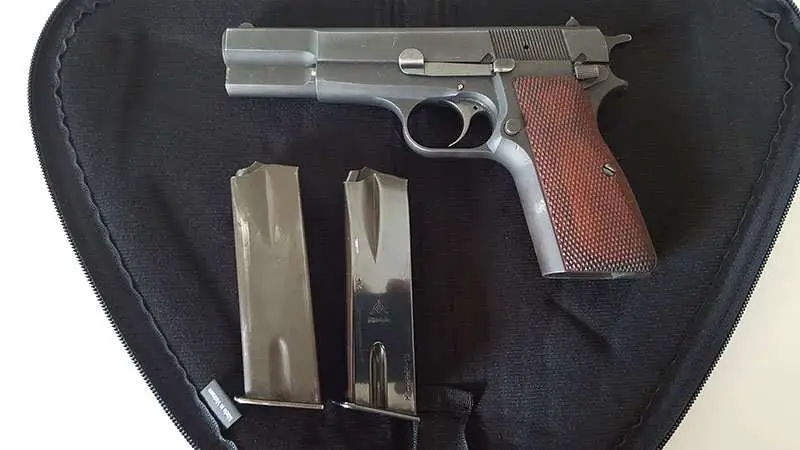 My first Hi-Power was a Belgian FN from the late 60s in 9mm with the spur hammer, parkerized finish, and sights that would make a Colt Peacemaker look modern.
The pistol was an outstanding shooter despite the barely visible sights, and after installing a set of Hogue walnut grips, it was an extremely attractive example of the genre. Unfortunately during a temporary lapse of sanity I sold the Belgian Hi-Power and I really wish I still had it.

My next Hi-Power was a later model Browning Mark III, one of the last ones marketed by Browning before they were discontinued. It had the black epoxy finish, plastic grips, an ambidextrous safety, and much better sights than the FN.
It was also a good pistol but I was dissatisfied with the safety and the finish.

The finish, while tough, was in my opinion very cheap looking, almost as if someone had sprayed it on with Krylon. It never appealed to me like the parkerizing on my FN or the bluing on some of the early Browning models.
The ambidextrous safety had barely any purchase, it was just a sliver of metal that was installed to say they offered an ambi safety. It was unfortunately next to useless if you were in a hurry. Needless to say the Browning Hi-Power also ended up getting sold.
Stay tuned for more gun and gear reviews.
Learn more about this gun on Springfield Armory's website.