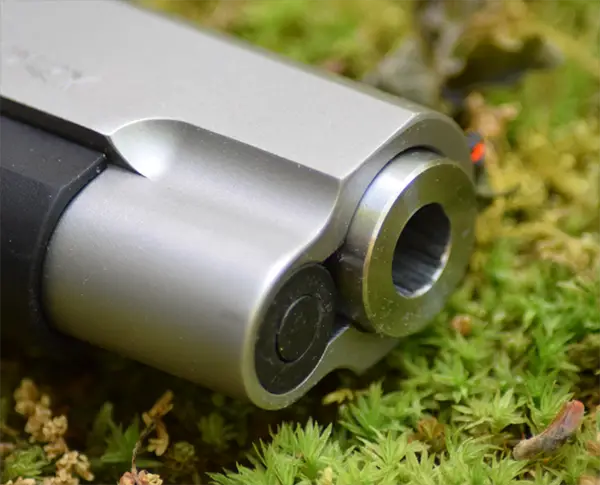 For a recent defensive gun use story I wrote, a social media commentator mentioned that she didn't see a problem with drawing your gun when you're looking down the barrel of a gun yourself. Her language was actually much more colorful than that, but I'll spare you the details.
I thought I'd take a minute to talk about this and explain why I think it's (usually) not a good idea.
The keyword there, is "usually" and every situation needs to be looked at differently. Before we move on, let me again remind you who I am and why I feel as though I'm somewhat qualified to discuss this topic in further detail.
I've been working for the gun industry, writing about guns and in other capacities for almost six years. That's not a lot of time, but I've taken instruction from some of the best names in the industry as a result, and have written about and studied many of these stories.
I'm also a Marine, former corrections officer, and have been into guns for many years.
In addition to this fantastic website that I own, I'm the current managing editor for concealedcarry.com, and have written for tons of other gun publications.
Now that we've gotten that out of the way, let's discuss this further.
It is not usually a good idea to draw your gun on an opponent when they've already got a gun on you. The main reason why this is, is because you'll lose that fight most of the time except under a very small amount of circumstances, as we'll discuss below.
The reason why you'll likely lose that fight should be obvious. In case it's not, let's break it down further.
Almost no amount of fast drawing practice can prepare you to beat someone to the trigger who already has their gun pointed at you.
Why? Because you still have to go through the motions of clearing your garment, drawing your gun, presenting to target, and pulling the trigger. On the other hand, all they have to do is to pull the trigger.
Remember, his or her gun is already out and on you, which is why we're having this conversation to begin with. Chances are excellent that you'll get shot at least once by the time you get your hand ON the gun depending on the guys' reaction time.
Of course, there are other factors here, like the bad guy himself, how far away from you he is, how good of a shot he is, and if his firearm malfunctions.
Moving on …
There is another key that should be spoken about, and that's the bad guy's attention. If his gun is pointed at you AND his attention is also pointed at you, there isn't much you can do besides try to diffuse the situation, comply, and wait.
What you're waiting for is an opening.
You see, when a bad guy is in the act of committing a crime a lot of the time (though, not always) he's looking over his shoulder. His goal with this constant looking is to make sure he's not about to get busted. During one of these times when he looks around, is your opening.
This is where your drawing practice comes into play. This is where he's hopefully distracted long enough to take his eyes off you, not noticing that you're pulling out your own weapon.
And, hopefully, you've practiced enough at home to get your draw and getting onto target down to a "T." There's a part many people forget, however. They practice their draw, get on target, and shoot.
But, then they just stand there with the gun out in front of them like a tree sticking out of the ground.
Here's the deal, even if your draw is perfect he can still get a shot off on you. Heck, even if you make a kill shot he could still pinch the nerve controlling the finger he's already got on the trigger while his gun is pointed at you.
This means that you can't just stand there. You've got to move. And I don't mean move forward or back, but to one side or the other. Where you go will be largely dependent upon the situation you find yourself in.
Suffice it to say, though, that a moving target is much harder to hit than a static one is. Shooting and moving at this point is an option to help you take your survival into your own hands. You get bonus points if you can find cover or concealment to get behind until the threat is over, but we can discuss that in a future installment.
When you've got a gun pointed at you, a fine balance must be found in order for you to survive. But, each situation will have to be played out differently.
There are scenarios when the only option is to fight for your life. Nobody is asking you to bend over and kiss your own ass goodbye. You'll have to look for the best time to defend yourself, and only you will know when that will be.
In the end, you have to go with your gut. Just know that the best time to defend yourself when you've got a gun pointed at you, is when your attacker is distracted by something else. Then, when the moment is right, you defend yourself as quickly, accurately, and efficiently as possible, while preventing yourself from being shot as you move to the side.
Let me know if I said anything stupid in the comments below.