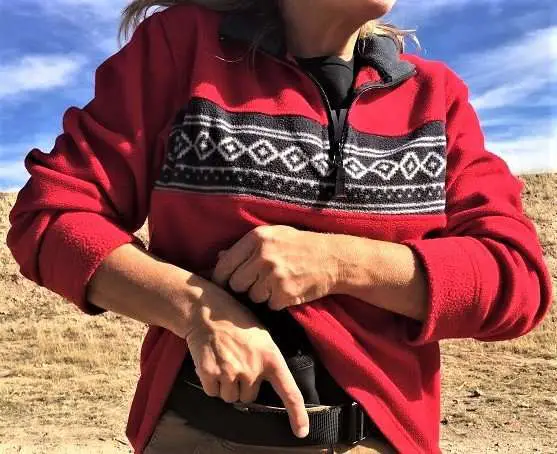 Over time, I've admittedly began to run out of things to write about concerning guns. If you look, our humble little blog has nearly 800 posts on it, most of which are written by me. It should come as no surprise that I've got nothing left to say.
So, it's nice when I can look around the good ol' interwebs and see a topic that needs to be discussed. Again. Still.
I say it like that because I've already covered the topic in question here, as well as on many of the other blogs I've written for, to include where I served as managing editor for more than four years at ConcealedCarry.com.
This time around, I'm going to answer the following question one more time:
Should I carry a gun with a round in the chamber?
Yes, you should carry your gun with a round in the chamber because it enables you to defend yourself against an attack much faster than if you had to rack the slide.
The caveat to this, is that you should only do it when you are ready, and if you are NOT ready you should get to that point as quickly as you can.
I've often heard people say that carrying a gun without a round chambered is the same as trying to put the seatbelt on after you crash your car. And there are plenty of examples where a defender attempts to rack his slide and get on target, but fails.
Attacks end quickly
The main reason why you'd want to carry a loaded gun (AKA a round in the chamber) is because as quickly as an attack starts, it could end. The chances are excellent that it won't end in your favor because you had to chamber a round which is an extra step you have to take before aiming.
Most fist fights end in under a minute. If you are caught off guard your chances of winning that fight go down drastically. If your attacker is armed your chances go down even further.
And because most criminals are going to be armed and look for you to be vulnerable before attacking you, you can be assured that you won't be able to get a round chambered before you get injured or worse.
And if he isn't armed, and beats you, then he will be armed. Then your gun might end up in the hands of an evil person who will hurt someone else with it.
What if you're not ready to carry a loaded gun?
There is a segment of gun folks who'd suggest that you don't carry a gun at all, if you don't carry with a round in the chamber. I'm not to that point. While I believe that you should carry a loaded gun, I'm a firm believer that an unloaded gun is better than not having one at all.
That said, you should work up to the point where you're confident enough to carry chambered, and that only comes with carrying and training.
I would strongly suggest that you take a more advanced class from a qualified instructor.
Your gear plays a part
A lot of folks won't want to hear this, but if you've done everything else and should be confident to carry a loaded gun, but you're afraid that you're going to have some sort of unintended discharge, then you might need to look at your gear.
Here's the deal, your gun is not going to just shoot itself. While I suppose anything is possible, the chances of that happening are virtually nonexistent.
I can't remember a time hearing that a gun went off by itself. Just about every unintended discharge I can recall was due to negligence on the part of the gun carrier. Those times where the gun carrier (or police officer) said that the gun went off on its own probably wasn't telling the truth or had a gear malfunction that they didn't notice.
You should inspect your gear on a regular basis. You should always look for holster damage to make sure you won't have something inside that'll pull your trigger, make sure that you won't have anything that'll cause a barrel obstruction, and make sure you're always taking care of your gun.
Conclusion:
Should you carry your gun with a round in the chamber? Yes you should. If you're not ready to do so, you must train until you are ready to do so. It is irresponsible to carry without, because you could end up losing your gun to your attacker who probably won't have a difficult time carrying it loaded.
And then hurting others with it.
The best thing for you is to find a qualified instructor so you're ready to defend yourself, stacking the most wins on your side as you possibly can.