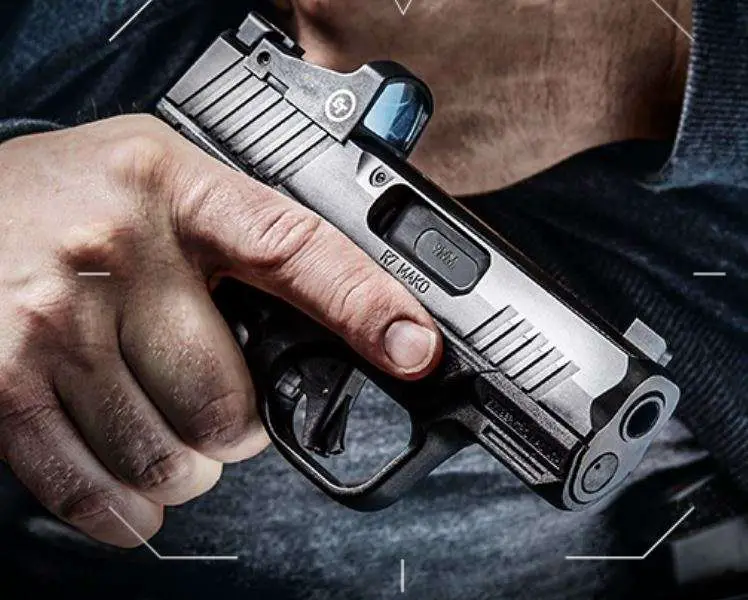 The pistol red dot is all the rage these days. You can kind of consider it a revolution. What was once considered to be sort of idiotic, reserved only for range toys or competitors, and out of reach for the average concealed carrier, is now well within reach.
It's the new normal.
In fact, any gun, holster, or other gear manufacturer is considered out of touch if they don't offer an option for a red dot.
Some folks I've spoken to have said that any serious defender should have a red dot on their carry gun, and learn how to shoot a pistol with a dot, first. Then, only after the dot is mastered should the defender move to learn iron sights.
I'm not sure how I fee about that one.
But something I can say with absolute certainty is that the red dot craze is not going anywhere. That can be seen by the sheer amount of folks who carry this way. It's even moving into the law enforcement scene, with some cop friends talking to the chief about it.
The red dot is here to stay. Don't even try to fight me on this. You don't have to use one if you don't want to, but I do think that having at least one pistol that is ready to accept it should you decide to try it, is a good idea.
Something else that is more prominent now, are guns coming from the factory with a pre-installed red dot on them. That is really what this article is all about. You can read my previous installments about red dots below.
Pros and Cons to A Pistol Red Dot
Should I Put A Red Dot On My Pistol?
Should you buy a pistol with a pre-installed red dot?
I would avoid this most of the time. Many of the pistols that come with a pre-installed red dot usually use the cheapest option available to maximize their profit. A lot of folks regret this decision later, and replace the red dot with a better unit.
A good example of this, is SIG's Romeo Zero unit pre-installed on their 365XL pistols. I love my 365 XL, and it is my daily carry piece. However, there are a lot of very mixed reviews on that red dot model.
Here is our coverage on that from SHOT Show 2020:
About half of the people I know have removed the Zero and installed a Holosun 507 on the slide, instead.
The main issues I've heard quoted were bad battery life, loss of zero (ironic because of the name), or that it breaks or gets scratched up really bad.
Please know that in the interest of fairness, there are other folks who swear by the Zero and say it's a great optic. I don't currently own one and am only going off other opinions as of right now.
Of course I used SIG as an example, and they're putting their own name on the red dots they sell. There are other companies who don't do that, like the above pictured Kimber with a Crimson Trace Red Dot, that are similar.
The Crimson Trace red dots, similarly, have very mixed reviews. Personally speaking, there are only a couple red dots I'd use: Leupold and Holosun are two of them. I wouldn't buy anything else because I've tested several extensively and those are who I trust.
When a pre-installed dot makes some sense
There are times when this makes sense, however. For example, when you're not sure how you feel about a red dot and you want to try it out. If you're going to buy a gun anyway, and it comes with a red dot already installed you can try it out and see if it is for you or not.
This prevents you from spending close to 500 bucks on a Delta Point Pro from Leupold (linked above) only to find out that because you have astigmatism, the dot is blurry. You can take it off and there is no harm done.
The main plus to this is that it is (hopefully) installed properly and zeroed correctly. If not, then there really is no point, not that you'd know until it was too late.
Another thing to consider is that you may not want to install the red dot yourself. In this case, having it pre-done at the factory can make more sense. Then again, buying a good red dot with a proven history, like Leupold, and have your local gunsmith install it is an even better option.
Conclusion:
I'd personally never recommend that someone buy a red dot pre-installed from the factory. But, to each their own. Maybe you're just testing the waters. And if you can afford that, go for it.
Otherwise, I'd just buy a better dot and install it later on down the road.