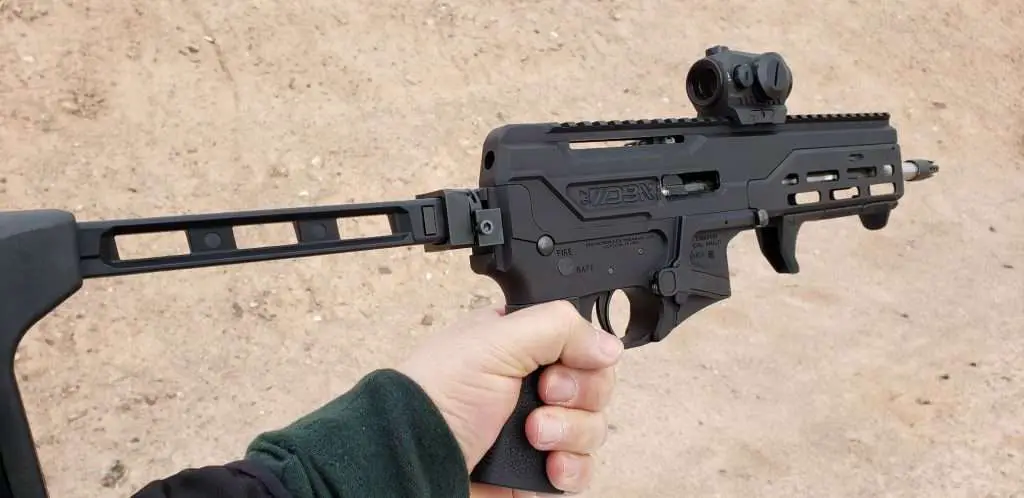 It's that time of year again, Shot Show 2020 is upon us and this year brings with it some exciting things going on in the firearms world. 2020 seems to be a good year for innovation and for bringing back some of the classics.
Industry Day at the Range is my favorite day of Shot Show, because you actually get the chance to sample some of what the manufacturers bring to the table. I usually have a pretty good idea of what I want to try before I get there and then when the day comes something unexpected really pushes everything else aside and this year was no different.
So without further ado, here are my top 5 from Range Day in no particular order.
Diamondback DBX
Diamondback Firearms has been around since 2009 when they produced their first pistol the DB380. Since then they have branched out with their DB9, DB9R, DB15, and DB10 rifle series.
For 2020 they kicked in the door with a pistol that is sure to be a hit, the DBX. I don't know if a patent expired in the last year or what is going on but I am seeing a lot of movement in the 5.7x28mm realm.
Diamondback jumped into the pool with both feet. (
Here's Josh's article on it
)
The DBX is a pistol in 5.7mm that weighs in around 3.7 pounds with a folding forearm brace and an 8-inch barrel that is small, and I mean small. The DBX is only about 1 ¼ inches wide if you exclude the side charging handle which is reversible for us southpaws.
It uses a standard "mil-spec" AR-15 fire control group and lower parts and it feeds from 20 round FN 5-7 magazines.
The DBX is one quick handling little pistol/PDW that has about as much recoil pulse as a 22LR.
I liked it so much that I went back to shoot it again, this thing would be equally at home as a backpack or a truck gun, heck it would almost fit in the console. Diamondback states that the DBX will be available to ship on May 7th, now I just have to figure out how to justify this one to "House Six."
Colt Python
Last year Colt reminded me why I have been a fan most of my life by continuing to bring back the "Snake Guns" with the new King Cobra. If you read either my Top 5 from Industry Day at the Range 2019 or my Colt King Cobra Review, then you know that I love this revolver.
Well Colt did it again, and I would like it noted for all of history that I called this last year (but Josh called it a couple years ago). That's right folks, the thing that smart people said Colt would never do, happened.
Available in both 4-inch and 6-inch barrel lengths in stainless steel with very attractive wood grips, this Python really lives up to the name. I didn't think it was possible but the engineers at Colt actually made the trigger on the Python smoother than the King Cobra's.
To say that it's as smooth as butter really doesn't do this trigger any justice, and I couldn't detect even the faintest stacking while squeezing the trigger. It was a very crisp break with little overtravel. My only regret with the Python is that I had to give it back.
Glock G44
When the boss told me that Glock had some big news coming back in December I was thinking, or maybe hoping, for a G19 sized .45 ACP. When the day came and the news broke on the G44 in .22LR I was a little deflated.
But after missing the G48 last year I wasn't about to skip out on Glock again this year. I am glad I didn't as the G44 was worth waiting in line to see.
A G19 sized .22 with a 10-round magazine doesn't really sound earth-shattering, I know. But you really have to get your hands on this pistol to see what Glock has done.
The familiar polymer frame feels like you are handling a 5th Gen G19 but the G44 is a complete feather-weight, with a slide that is a hybrid of polymer and steel.
And the barrel is set low in the chamber block helping the G44 have the mildest recoil pulse of any .22 semi-auto I have ever fired. It is perfect for training or teaching young or novice shooters the fundamentals.
Geissele Super Precision Optic
Last year Geissele Automatics broke new ground by unveiling their Super Duty line of AR-15 rifles. For 2020 Geissele has done it again by unveiling their line of Super Precision Optics. The Super Precision 1-6 with the DMMR-1 reticle is built with the AR platform in mind, and is an outstanding patrol rifle optic.
With a 26mm objective and a 30mm tube the Super Precision gives the user a crisp clean sight picture and the illuminated center of the reticle draws the eye in on the spot where you want to focus.
The Super Precision is available in your choice of black or DDC (Desert Dirt Color) and the DMMR-1 reticle has a built-in range estimation feature that gives the user that ability to quickly range a standard target at 300, 400, and 500 meters using shoulder width or shoulder to waist ratio.
I found that it was easy to drill the steel silhouette at roughly 175-200 yards. I definitely prefer this optic to the Trijicon ACOG that I was issued on my last government sponsored vacation.
Ruger 57
2020 must be the year of the 5.7×28 as Ruger has entered the foray with the Ruger-57. When I first picked up the Ruger-57 all I could think about was how light it felt at 24 ½ ounces. It feels good in the hand and comes equipped with an ambidextrous 1911 style safety and good stippling on the grip that keeps the 57 firmly planted in your hand as you shoot the pistol.
With a fiber optic front sight and an adjustable rear sight, I found that it was easy to get hits on the target at closer ranges as the front sight really draws your focus.
The 57 is really fun to shoot, and I decided to attempt to engage the steel silhouette at 100 yards to see if I could make the magic happen. Unfortunately, I am pretty sure that I didn't quite cut the mustard, but I am certain that the Ruger is more capable than I am, especially since the American Eagle ammo from Federal is still supersonic at 100 yards.
The Ruger-57 is an outstanding entry into a market that FN has owned for the last 20 years and I would expect nothing less from a company with Ruger's history of innovation.
That's my top 5 for Industry Day at the Range 2020, and I can tell you there was so much to see and shoot that it was hard to nail it down to just 5. My hat is off to NSSF and all of the firearm manufacturers and firearm accessory companies that come out every year to give us a glimpse of what they are bringing to market.