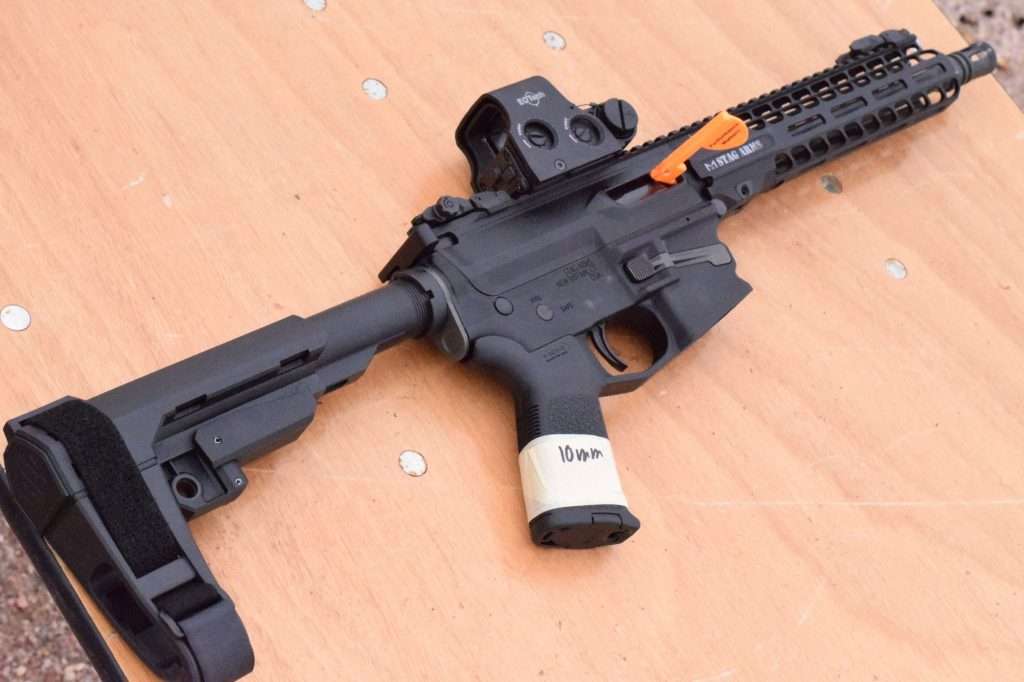 Stag Arms 10mm Pistol Caliber Carbine
January 2020 update. The Stag 10mm is sill not shipping, but this one from CMMG is.
We were out at SHOT Show's Industry Day at the Range and were able to catch up with Stag Arms who introduced us to their new offerings for the year, and I've got to say that I'm pretty stoked for what they showed us.
While pistol caliber carbines aren't anything new to the gun industry, something that many folks have been asking for is a pistol caliber carbine in 10mm, looking for something with a bit more power than some of the current offerings.
Stag Arms showed us their new PCC carbines and pistols, with an available 10mm option.
Also coming available in 9mm, .40 S&W, and .45 ACP to help round out the different models being offered, they seem to be higher quality AR-15 pattern carbines (and pistols).
The one I paid particular attention to is the 10mm braced pistol model. It was a blast to shoot and the recoil in that platform was very manageable.
We were told that there will be a few different models available for the public, to include a carbine and a pistol model available in the above listed different calibers. I don't have an MSRP just yet on these, but will update this announcement once I do.
Take a look at the video of me shooting the
Stag Arms
PCC in 10mm, and then me bumping into one of my old buddies on the range. And no, for all you social justice warriors out there I was not actually threatening to buttstroke him.
Check it out here:
The 10mm PCC is something that many folks have been asking for, for a long time, and it looks like Stag Arms has finally answered that call. It's nice when gun manufacturers listen to what their customers are asking for, isn't it?
Let us know what you think about this new offering from Stag Arms for SHOT Show 2019, in the comments below. Will you be buying one? Keep in mind that Stag Arms does allow direct buying from their website, to ship to an FFL. Here is their store.