A couple months back I was contacted by a rep at Safariland to see if I'd be willing to do a review on one of their holsters, the 575 GLS Slim, for my micro compact Springfield Hellcat.
Safariland is known as being one of the best holster makers for people who seek an active retention device.
What is an active retention device?
An active retention device is a part of your holster that secures your gun inside of your holster. It is separate from friction or how tight your holster is over your trigger guard. An active retention device is something that has to be undone by the wearer before the removal of the gun.
This is great for people who don't want to have their gun stolen off their hip or for those who want to feel like they have a bit more security. There are documented incidents where bad guys steal guns off the hip of unsuspecting gun carriers.
This is bad for hopefully obvious reasons.
When most people think of this type of system, they think of a big, bulky holster that is hard to conceal.
Enter the 575 GLS Slim, to prove those folks wrong.
What is the 575 GLS Slim?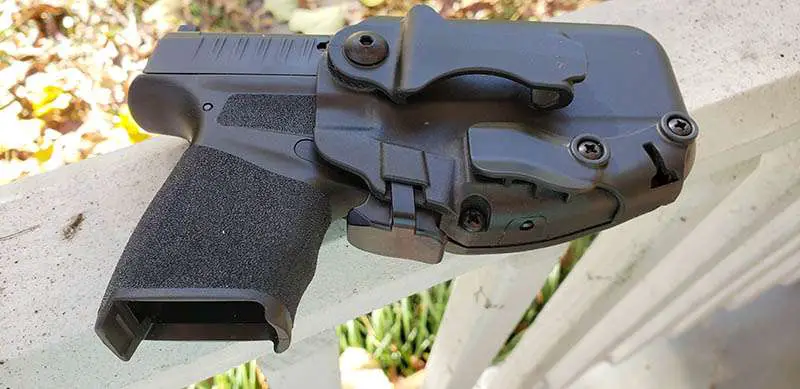 The Safariland 575 GLS Slim is an IWB concealed carry holster with an active retention system called "GLS." GLS stands for "Grip Lock System." Basically, the active retention device is defeated when you grip your gun.
The Grip Lock System release mechanism sits directly underneath the trigger guard, and I can say that with my testing so far that the GLS does engage the trigger guard like it is supposed to. It does actively retain the gun inside the holster and it does release it when the GLS is pressed by the middle finger of your strong hand.
More on this a bit later.
There is a retention screw that sits under where your rail would be that allows the user to adjust just how tight the gun sits inside the holster. When it is too loose, the pistol moves around excessively. It is therefore important to turn the screw to the right spot which can be done slowly to test the sweet spot.
575 GLS build quality:
The holster is not a traditional Kydex holster. It looks to be a molded plastic by injection material, but the edges are refined without any roughness.
The quality of the holster and all of its components are what you'd want them to be. It has a small wedge to help aid in concealment by pushing the grip inward, and the holster is cant adjustable by way of the screw on the clip.
You can loosen up the screw and re-align the clip to your preferred angle.
How to draw from the GLS:
Drawing from the GLS looks a little different than your regular holster draw, and that could be an issue for some folks.
Before I tell you what the issue is, I want to say that Safariland does address it in the owner's manual under the how to draw section. But, as we all know, people don't always read their owner's manual.
If you grip the gun with your normal method, like wrapping all of your fingers around the grip at the same time, you may end up getting something similar to what I show you in the below pictures — which ends in a massive gap between your trigger guard and your middle finger.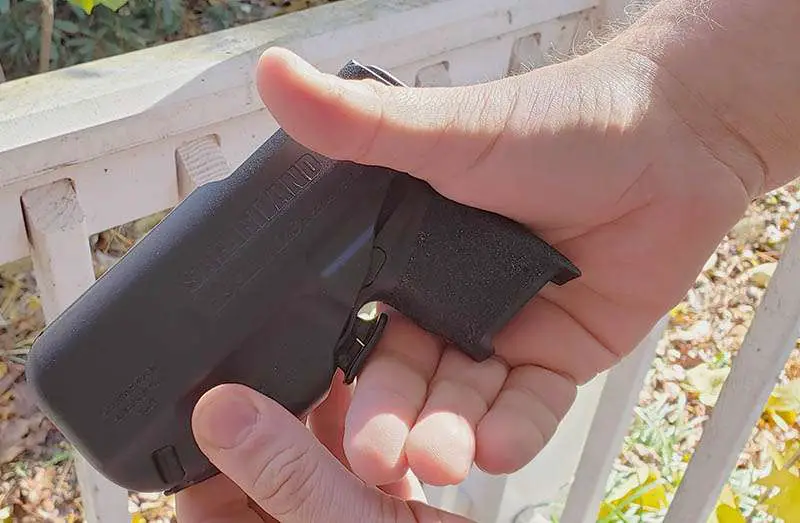 Again, gripping the pistol with this holster is a bit different than with a regular holster.
The owner's manual outlines the way you are supposed to draw by gripping your gun with the middle finger last. So you wrap your ring finger and your pinky first, and then the middle finger last.
As a result of this your middle finger should hit the mechanism that releases the gun, while still getting a nice, high grip to eliminate the gap pictured in the final photo.
And hopefully we all know that you have to get your hand up as high as possible for recoil control and fast follow up shots without malfunction so gripping the gun as the manual suggests is important.
If you grip your pistol the normal way, without doing what the owner's manual says to do, you might get a massive gap between your middle finger and the trigger guard. I illustrate this in the below pictures.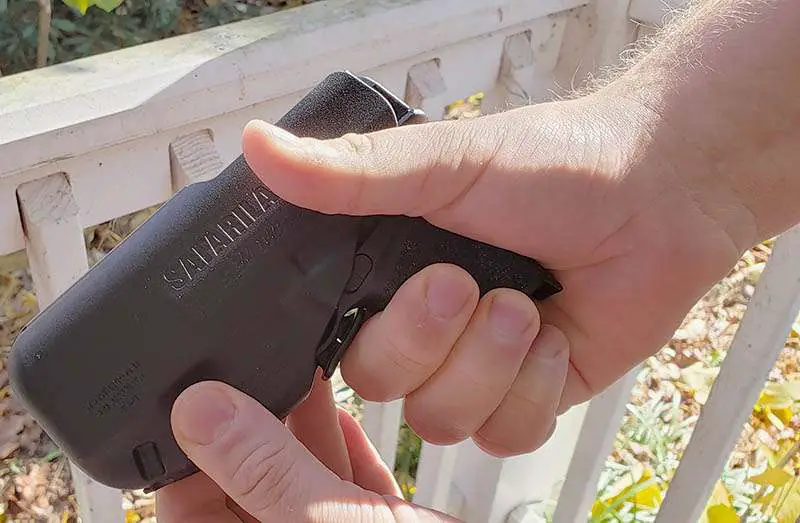 I struggled with this a little bit during my tests. I've been drawing from my holster a certain way for years, wrapping all of my fingers around the grip at the same time.
When I focused on doing it the way Safariland suggested it worked well.
When I forgot, I got the below gap, or something similar: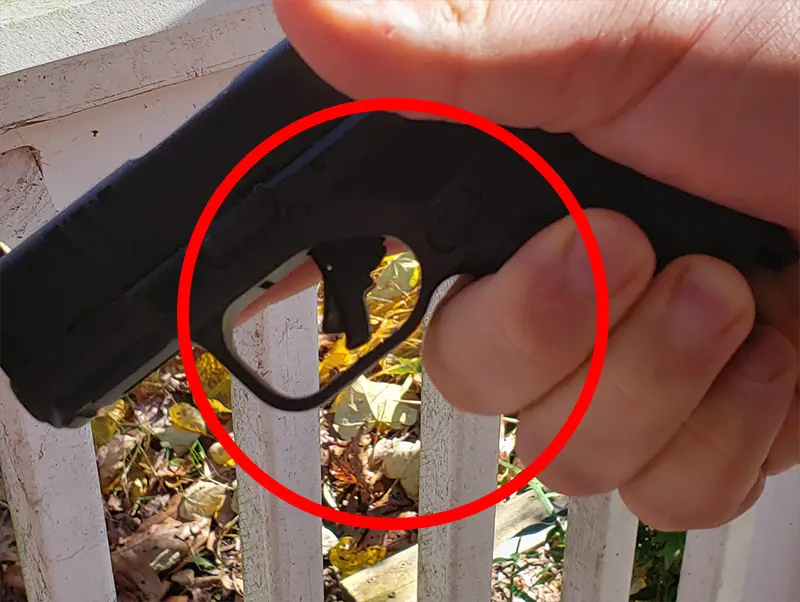 And of course, if there is a gap between the middle finger and the trigger guard, there is also, more often than not, a gap between the beaver tail and the the meaty part between your forefinger and thumb.
That is a disaster waiting to happen to your recoil control, and is also potentially a malfunction causer.
Always grip your pistol the right way to prevent this no matter which holster you're using. And in the case of this holster, read the owner's manual and practice.
Because, as someone who has worked for the industry for many years serving as the managing editor of two big gun publications to include ConcealedCarry.com for four years, most people don't read their owner's manual or practice their draw the way they should.
In my experience, most concealed carriers are woefully unprepared to defend their lives against an attack, and I'm no different. I also don't practice as much as I should/could.
And really, none of us do.
Conclusion:
The Safariland GLS series are great holsters for people looking for an active retention device for their small concealed carry guns.
The retention device works great to secure the gun and disengages just as it should.
Find out more on their website.
Read next: Why does my pistol keep jamming?