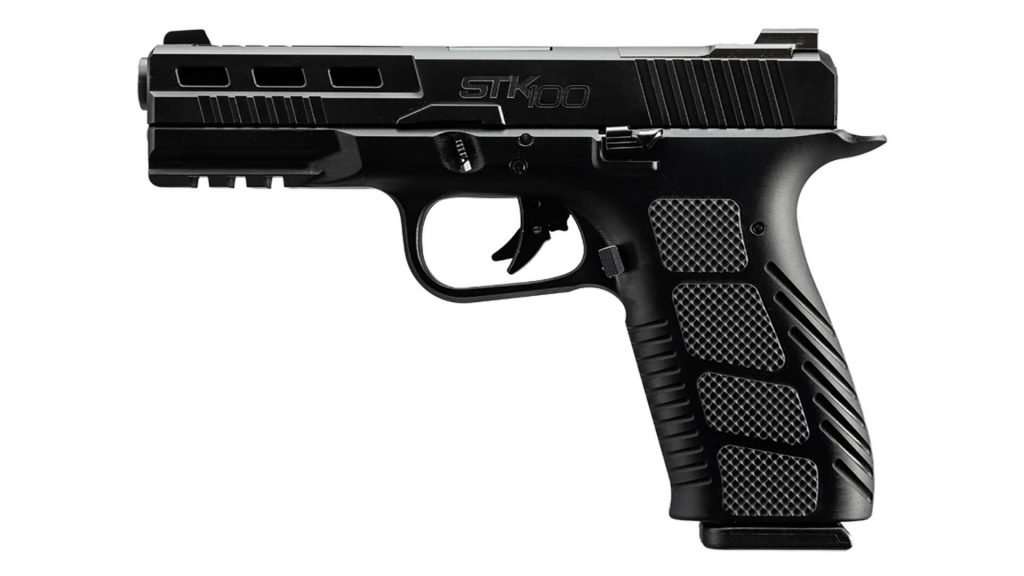 In a strange turn of events, Rock Island Armory, one of the biggest 1911 manufacturers in the world, has recently announced their newest addition: A 17 round, striker fired 9mm pistol.
The gun is called the STK 100 and is an aluminum framed handgun that weights 28.8 ounces, unloaded, and comes with a 4.5″ barrel.
The purpose of this pistol is as a carry piece, even though it is on the bigger side. Martin Tuason, Armscor President and CEO had this to say about the new pistol:
We think shooters are going to be excited about the STK100. It really does give shooters all the advantages of metal for the price of polymer. It's perfect for recreational shooting, self-defense, and even law enforcement, which makes it incredibly versatile.
Standard on the STK100 looks to be a ported slide as well as an optic cut from the factory, which is always a nice addition.
This pistol has a 1911 angle grip that takes 17 round Glock magazines and seems to have an MSRP in the $600 range, though that is unconfirmed as of right now.
Learn more about it here, on their website.