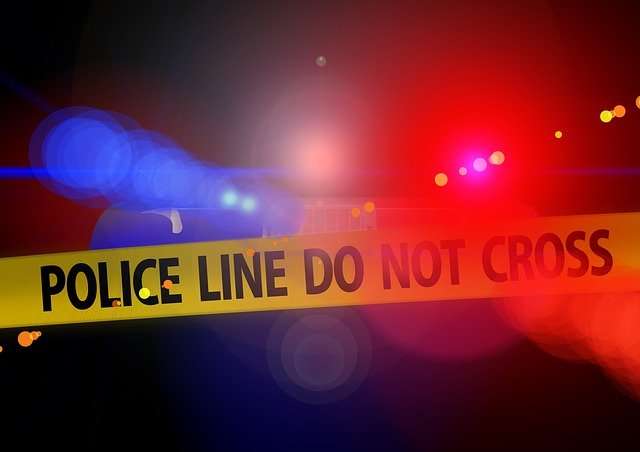 Aurora, CO — A robbery, followed by a quick scuffle with guns, was caught on camera in a Colorado convenience store. The incident occurred when the suspected thief entered the PJ Mart at the 900 block of South Peoria Street on November 2nd, grabbed a drink, and then pointed his handgun at the clerk behind the counter.
Not backing down, the clerk walked around to the front of the counter with his own gun pointed at the suspected robber.
Upon seeing the armed clerk the robber put his gun down on the ground and raised his hands.
The clerk must have felt brazen because he walked over to where the robber was, and looks like he attempted to kick the gun away from the suspect.
That's when the scuffle broke out. A lot happened that is off camera, or barely on camera, but you can see the video below.
Sadly, the clerk was shot, perhaps with his own gun but we aren't sure at this point, and then the suspect can be seen running out of the store, gun in hand.
Analysis:
While sad, this is an excellent example of a defensive gun use we can all learn from.
On one hand, we say things like "is it wise to draw your own gun when looking down the barrel of a gun yourself?"
We cover that topic more, here, but suffice it to say that each situation is going to be different and at least a part of the key is finding the point when you can act.
That's what it seems the criminal has done in this instance. He didn't put the gun down and slide it out of reach, he put it down next to him and was looking for an opportunity — a distraction — on the part of the other armed person.
He saw his opportunity and took it.
This brings us to the next point, which is that it's ideal to not only put some distance between you and a bad guy, but it's also good to get behind something that you can at least hide your exact position making yourself a harder target.
You may not be able to get behind something sufficient for cover (i.e. something that will stop bullets) but hiding behind something is better than standing out in the open, or worse — walking over to the bad guy.
If there is one thing that I can unequivocally say, it's that walking over to the bad guy is probably going to be a bad idea more often than it is a good idea.
Why? Because you are opening yourself up to an attack and making yourself more vulnerable in the following ways:
Walking over to the guy who wanted to potentially hurt you does nothing but close the gap between you, giving him a better chance to actually hurt you.
When you start to kick the gun with your foot you put all of your balance on the other foot making you an easier target.
You also need to take your eyes off the bad guy even if only for a split second, so you can see the gun you're trying to kick away.
Lastly, having confidence is a great thing to a certain point. But, once that point is past, stupidity tends to take over. At some point, it is no longer confidence but ego.
While I was not there and cannot say for sure, I bet the clerk walked over to kick the gun because he was over confident in his abilities. After all, up until that point he had been successful.
Up until that point, the bad guy was in submission, on the ground and with his hands up. He was giving up until he saw his next move.
His confidence turned into pride, and his pride got him shot.
Conclusion:
At the end of the day, your survival is important and why you carry a gun. Having a good understanding of how you'd react to the best of your ability is a good idea, even if your scenario will almost certainly play out differently in your head.
You can find more DGU stories and other breaking gun industry news, here.
Nothing I say here should ever be misconstrued to be legal or other advice. All we can strive to do is learn from others and try to do better ourselves.