Big game hunters who spend countless hours in the field no doubt have come to realize the value of quality optics. If you have ever hunted the Pronghorn Antelope, an iconic big game species of the American West you soon come to realize just how critical good optics really are.
Pronghorn can be found on prairies that often extend as far as the eye can see or desert terrain that are as hot and diversified as some jungles. The fact that these animals blend perfectly to their environment, run like the wind, and can usually see better than your best spotting scope, means you as the hunter must use a quality set of binoculars before ever stepping foot into the field.  
Recently I was fortunate to try out a new optic while guiding pronghorn hunters in the southern New Mexico desert. Enter Riton Optics' latest addition to their great hunting-based line of optics, the 5 Primal 10×42 ED Binoculars.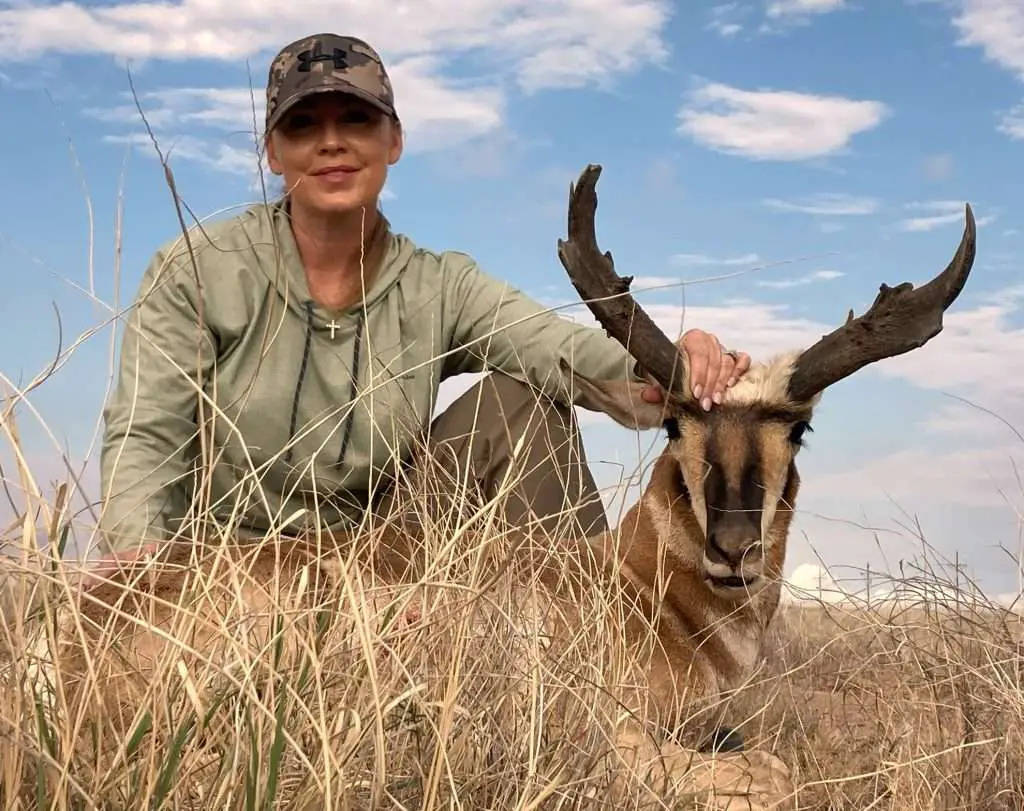 The 5 PRIMAL 10×42 binoculars are built with Riton's premium ED (extra-low dispersion) glass to provide excellent glassing capability when searching for any game species.
Additionally, they provide fully low light enhancement/multi-coated, full wide-band lens coatings that are waterproof. These features further enhance resolution and color accuracy.
While guiding on our New Mexico hunt in August of this year, the glassing of pronghorns at all distances became a reality. With the adjustable eyepieces and center focus wheel, using the 5 PRIMAL 10×42 ED binoculars was a breeze.
When you combine the lightweight, compact, and ergonomic aluminum-alloy body along with rubberized coating the 5 PRIMAL 10×42 ED binoculars were a pleasure to use during many long hours in search of pronghorn antelope.
Providing an exceptionally wide field of view, 348 ft at 1,000 yards, the 5 PRIMAL 10×42 ED binoculars also offer substantial light transmission.
All of this means, these binoculars are designed for the most demanding needs of serious hunters and shooters.
Product Features and Facts:
Magnification: 10x
Objective Lens Diameter: 42mm
Close Focus: 9.84 ft/300cm
Field of View at 1,000 yds: 348 ft
Length: 5.7 in/145mm
Width: 5.12 in/130mm
Weight: 1.67 lb/760g
Material: Aluminum Alloy
IPX7 Waterproof Rating
ED (Extra Low Dispersion) Glass
Lens Coating: Fully multi-coated, full wide band, waterproof coated, low light enhancement
Prism System: BaK4
Light Transmission: >90%
MSRP: $649.99
While hunting pronghorn this year we found a solid approach was to be positioned on any elevated hilltop when available and then begin glassing in the early morning with the sun at our back.
Once the sun began to rise over the eastern horizon all pronghorn to the west of our position would literally shine with the morning sun reflecting back off of them. 
As you might imagine quality binoculars became critical during these early morning glassing sessions and essential when trying to determine horn length.
Searching thoroughly when the grass is high in some of these prairie regions, I would often find a good pronghorn buck bedded by spotting those black horns sticking up above the grass line and not even seeing the whole animal.
The 5 Primal binoculars provided optimal performance in these circumstances.
Overall, I found the 5 Primal Binoculars to perform above my expectations and were a pleasure to carry when on long foot stalks. By the end of our New Mexico pronghorn hunt my two hunters had each taken excellent goats, as pronghorn are sometimes called … these new Riton binoculars were pivotal in helping us find good mature bucks.
All magnified optics from Riton including the 5 PRIMAL 10×42 ED Binocular are fully backed by a Limited Lifetime Warranty and Promise.