While the Glock vs 1911 debate is about as old as gun forums it still rages. It's likely to never end, and we'll always hear 17 rounds versus 8, or how many World Wars did the Glock win? We aren't settling that debate today, instead, we are going to revamp and talk about building Glocks vs building 1911s.
These two guns are insanely popular, which has led to a rich and robust aftermarket, which has lead to an 80% frame market. This allows non-ffls to create the Glock or 1911 build of their dreams.
An 80% frame is an unfinished firearm receiver. As an 80% part, you can order it direct to your door, without the need for an FFL. You then have to mill the firearm out to accept the necessary pieces to become a real gun. There are offerings for both Glock and 1911 builds and we are going to talk about the pros and cons of both.
The 1911
The 1911 is as American as baseball, the cheeseburger, and childhood obesity. This gun was one of the longest-serving handguns with the US Military and is a favorite of gun guys and gals everywhere. This platform runs from a single stack magazine and is most commonly chambered in 45 ACP.
When it comes to a 1911 build the sky is the limit. Kits are available in most common calibers, including 9mm and 45 ACP. There is also the standard 5 inch Government build and the 4.25 Commander frames. Builders also have the choice of railed frames or classic smooth dust covers.
Advantages of a 1911 Build
The first advantage is going to be the ability to customize every single part to your liking. The 1911 has been around for over a century and has been a popular gun throughout its lifespan. This has created an impressive aftermarket that can cater to anything you want. A search of Brownells shows over 1,300 parts tagged 1911 parts versus the Glock's 1,100 parts. The 1911 is also capable of being customized to an extreme degree, from tactical to race gun.
Because the market is so expansive you can also find parts at a wide variety of price levels. This allows for both a budget 1911 build kit or something rivaling a true custom build. Speaking of variety, the metal frame does allow you to go all stainless which is easily a +2 for the style.
A 1911 build is going to allow me to build a 45 ACP, 38 Super, or 10mm gun, something I haven't seen available for 80% Glock frames. As a lover of retro calibers, a 38 Super build just sounds amazing. There is also more frame options from a wider variety of companies available.
The Glock
The Glock is plastic fantastic defined. These polymer wonder guns shifted an entire industry forward. The Glock is the leading law enforcement firearm and is a favorite for the modern shooter. Anywhere you see guns you'll see Glocks.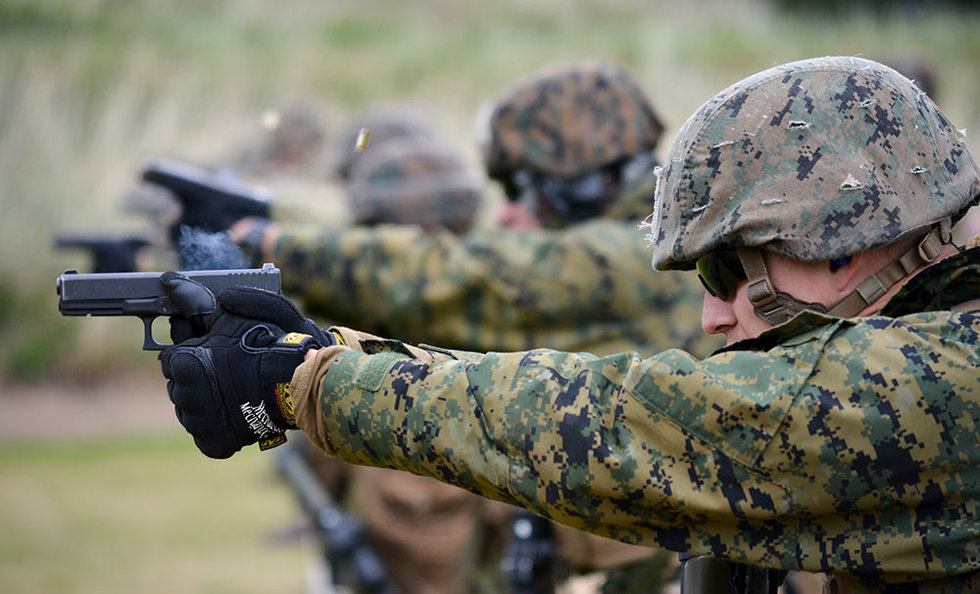 Glocks are limited to a few frame options from a  company known as Polymer80. These are standard medium frame Glocks compatible with 9mm, 357 SIG, and 40 S&W. They are available in compact (think G19) and full size (think G17). After the frame is established you can build almost anything thing you want.
Advantages of the Glock build
As the more modern pistol, you have a great number of modern options. It's easy to find slides cut for optics, as well as some truly interesting serration options from companies like ZEV and Agency Arms. The Glock options for triggers, magazine releases, and more is also impressive.
The polymer frame is much easier to mill than a metal 1911 frame. The Polymer 80 Glocks aren't as refined as the 1911s, but the ease of building one makes it perfect for a beginner. There are also fewer tools required, and the tools that are required are a little cheaper.
Polymer 80 does offer the latest tactical colors for frames as well. This includes Black, FDE, OD Green, and Gray. Who doesn't love a little variety?
How to Decide on Glock vs 1911?
A 1911 build offers you old school cool, a grip to die for, and of course, that single action trigger we know and love. A Glock build offers a simpler and more affordable build. The Glock is more modern, but the 1911 is more customizable. It's certainly a difficult decision to make.
I'm bringing you this debate as almost a way to help me decide which route to take. This is something I've been wanting to do for some time, and need help deciding. Let me know what you'd build, and why: Glock VS 1911.