Whether you're a 1911 lover, a Glock lover, or are somewhere in the middle … one thing we can all agree on, is that training with your carry gun of choice at the range is paramount.
If you've never been to a gun range before, or even if you have and need a refresher, there are some things that you should know and practice. Here is some gun range etiquette:
Know and follow the safety and range rules:
Before you go, each time you go, recite the basic rules of firearms safety. I do it while on the drive in, or I'll repeat them in my head. You know the ones right?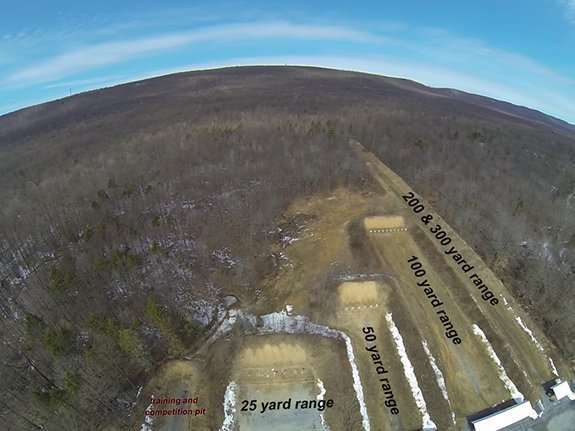 Treat every weapon like it's loaded.
Don't point your weapon at anything you don't intend to kill/destroy.
Keep your finger straight and off the trigger until you intend to fire.
Know what your target is, and what is around it.
It doesn't matter how long you've been shooting guns, this one is first on the list because it is that important. It cannot hurt to recite the rules, but it can hurt if you have an ND (negligent discharge) at the range.
It may also be a good idea to look at the range rules before you start your shooting session just to make sure you know what is expected of you.
Be courteous:
There is a 100% chance that you've got no idea what the other person is doing while at the range. Granted, he/she is there to practice shooting, but why? What is their goal for the day?
One time about a year and a half ago I was trying to get my Springfield to malfunction. I was testing its limits to see how it performed before I wrote an article about it over at guns.com. A man came up to me to offer me some advice on what I was doing wrong and proceeded to tell me I was limp-wristing it.
While I'm pleasant at the gun range, not everyone is. I told him that I actually knew what I was doing, and why I was doing it. He backed off.
Unless that person is doing something unsafe, it's usually a better bet to let it go because they may be doing something like I was.
Of course, if they ask you for help, that's fine, too, but the firearms world is strange and everyone is an expert in their own mind.
Ask for advice if needed:
While offering up advice may not be a good idea, if you need help, ask. Most gun-owners are the friendliest group of people you'd ever meet and they genuinely want to help. Though there are bad apples in every bunch, many of them believe in the one hand washing the other rule.
Case in point, some time last year I was testing a Coonan Classic 1911 chambered in .357 Magnum/.38 Special+P. I had many malfunctions, and needed help.
I asked my friend Scott what I was doing wrong (he had one of these for several months), and after some troubleshooting, the malfunctions stopped.
The problem, by the way, is that the gun was too dry. The point, is that even though I have several years (decades, even) of experience, I knew that someone else had more experience so I nutted up and asked for help.
Don't be the brass eagle:
Ah, the brass eagle. You know the type, right? The dude at the range who has eagle-like vision for all things shiny and metallic?
This is the guy who can't even wait for you to finish your shooting session before he starts picking up your brass so he can reload it. What's even worse, is when he doesn't ask if he can pick it up and just helps himself to it, assuming that it's on a first come, first serve basis.
If you feel like picking up someone else's brass, make sure you ask, or wait for that person to leave before you do.
While it may not be bothersome for everyone shooting, it will irritate others.
Hands off your gun while people are down range:
This should be a no-brainer, but you should not be loading your gun or otherwise handling it while there are people down range. This is just common courtesy for your fellow shooters. It's unsafe.
Clean up afterwards:
Most gun ranges have rules about cleaning up after yourself. It's not a good idea to be the person who doesn't listen. Also, if nobody else is picking up your brass, or you are shooting aluminum or steel casings nobody wants, pick it up after you're done.
Use a case or holster:
Some gun ranges have a rule against transporting a gun to the range unless it is in a case. A case is good for a few reasons. First, it protects your guns. Second, it ensures that there aren't any loaded weapons off the firing line.
Once you pull up to the firing line, you may pull the weapon out.
Never shoot at someone else's target:
There was this one time when I was writing a firearm review for TTAG, and I was accuracy testing on target at 50 yards. To my surprise, when I went to collect my target at the end of my shooting session, there were multiple different sized holes all over it.
Of course, I was trying to correct for dropped shots. Only, they weren't mine and I had no idea and had to start over again.
Shooting on someone else's target is a horrible way to make friends at the range. You can assume that, while you're not 100% sure why that person is there, the most popular reason why that shooter is at the gun range, is to become a better shot. If you're screwing them up with your own holes, it's bound to piss that person off.
RSO:
If there is no Range Safety Officer, someone needs to be comfortable calling the shots. When the range needs to go cold, someone needs to call a cease fire for safety purposes.
The shooting line is for shooting:
There is no reason for a spectator to be on the line, unless they are there for a specific reason (like learning). Otherwise, when you shoot you are on the line. Not in front of it. Not behind it. On it.
Don't hover:
While it's perfectly acceptable to glance over at someone else's target, it isn't good to hang out behind them with binoculars watching where every shot is placed, unless they ask you to.
All this talk about going to the range, and shooting makes me think about hearing protection, and keeping your ears safe. My good friends from Smoking Barrel USA put this infographic together, and I think it represents why we need hearing protection so much:

Source: The Smoking Barrel USA