With Father's Day right around the corner, you may be wondering what to get dad. This is where I toss out my generic list of sponsored items right and in a Top 5 gifts for dad. Unfortunately, I don't have sponsors, so instead my idea for your Dad and Dad's everywhere who shoot is build them a range bag.
What goes in a range bag you may ask? Well, I've picked out a few items I own and love in my range bag and present them to you. They may not be perfect for your dad, but hopefully, they get the creative juices for gift giving flowing.
The Range Bag
Well, of course, we have to start with a Range Bag. There are lots of options out there, but I'm going to throw a more affordable model at you. The Blackhawk Sportster. It's no Vertx or Grey Ghost gear, but it's a big, reliable, and well-made bag. I've had mine going on 4 years now and it shows no signs of wear. Since I've gotten it I've used it countless times to carry and store just about everything I'd ever need for shooting.
It features one massive front pocket, and two side pockets, plus a few super small pockets for the little things in life. It's well suited for the gear needed for handguns, shotguns, and rifles. It can easily hold over a thousand rounds of rifle or pistol ammo, and still have room for guns, cleaning kits, magazines and more.
The Ear Pro
The new Peltor 500s have quickly become my favorite set of hearing protection. This ear muff style ear pro is incredibly comfortable and I've been using extensively for months now without any comfort issues. They are electronic of course and even have Bluetooth capability. It makes blasting a little WuTang Clan while shooting possible.
Of course, you can use it to make phone calls if you're the practical type. They provide great sound balance and make conversations, instruction, and education possible with guns going off behind you.
The Targets
Ditch the old Bull's eye targets, they're boring and there are so many better options out there. For self-defense training, I've become a big fan of the Modern Warrior T1 targets from MyReadyRoom.com. These anatomy targets feature a life-size male armed with a handgun. There are X-Ray sections that display the target's pelvic bones, heart, and brain.
These targets aid in learning and making proper shot placement a habit. They are high-quality targets printed on nice thick paper. The contrasting colors make spotting hits easy, and the targets are thick enough to be used with pasters for repeated use.
Multi-Tool
Every range bag needs a multi-tool. Some form of multi-tool complete with at least a knife, pliers, and flat head screwdriver. I've become a big fan of the SOG Batons. These ultra small and lightweight tools are perfect for the range bag. The Q3 baton being my go to. That being said any quality model of multi-tool will work.
Companies like Gerber and Leatherman even produce purpose built firearms multi-tools that might work well. I don't have much personal experience with these tools, but they were becoming popular with the Marines I served with near the end of my enlistment.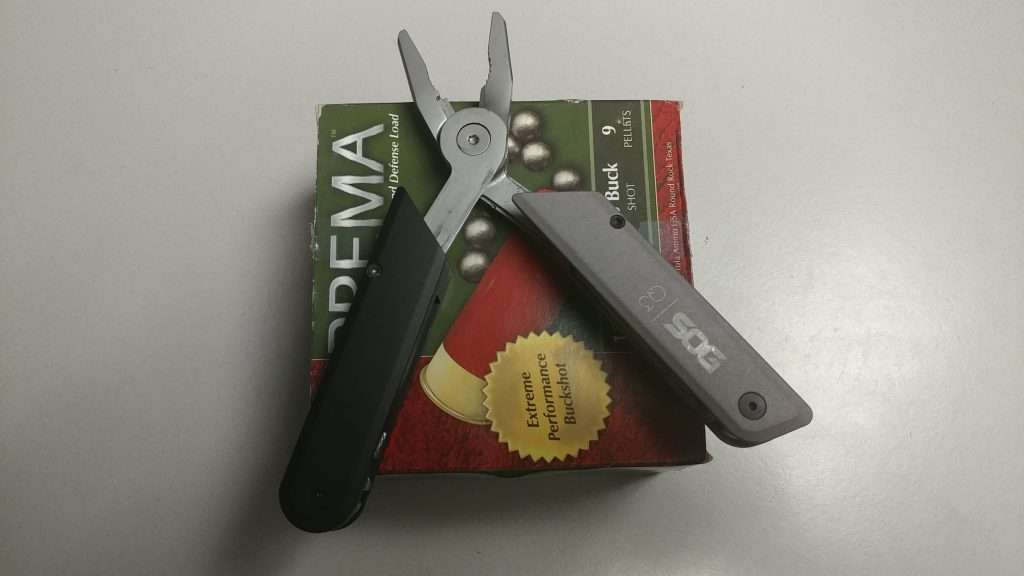 Magazine Loaders
If your dad is a high volume shooter consider giving the gift of a magazine loader. Models from companies like Uplula are some of my all-time favorites.  They make loading and unloading rifle and pistol magazines a breeze. If I didn't have these, I would barely ever load my Colt SMG magazines.
Even easy to load magazines get tiresome after several hundred rounds. If your fingers are fatigued from loading magazines, you'll likely see a performance degradation on the range. So be a good kid and pick up a mag loader or two for his favorite guns.
General Range Bag Must Haves
So we covered the sexier stuff, let's take a look at a few other must-haves for the range bag that aren't so specific.
Target Stapler – A light duty hand stapler is perfect.

Ammo – It's high on the list, but hard to be specific for. Know your dad and know his calibers

Cleaning Kit – Like ammo its a must have, but hard to be specific for. Get a nice, purpose-built kit from Otis or even Hoppes.

Mini Flashlight – Something mall, simple and affordable. Any of the hundreds of mini Cree LED flashlights on Amazon will work or for major points snag a Fenix headlamp.

Lens Cloth – For wiping those filthy optics down.
So that wraps up what I like in a range bag, and hopefully, you have an idea of what your Dad will love. If you're still lost on what to get dad, then the best gift to give is time. If he's a gun nut, maybe buy him some range time and go with him. Learn a thing or two about dad and his hobby, and you'll be better prepared for next Father's Day.