Utilizing the right kind of gear for your defensive purposes is a good idea. This is true for holsters and the gun you choose, as well as how you keep it all together with your belt.
Anyone who is serious about their self-defense purposes is going to seek out the best equipment they can afford and put it to good use. Run of the mill gear, like a belt you'd find at the local big box store will not cut it.
We've already covered some of the other components, like your concealed carry holsters and mistakes people make with them. Now, let's discuss gun belts more in depth.
Do I need a gun belt for concealed carry?
Yes, you do need a gun belt for concealed carry. There are several reasons why, but the most important reason is because it will hold your gun up around your waistline better than your average designer belt will.
But I wanted to go a step or two further and give actual pros and cons to utilizing a gun belt for your your defensive purposes. Let's discuss the pros and cons to wearing an actual gun belt for concealed carry.
Pros to a gun belt –
There are more positives to wearing a gun belt than there are negatives. We'll start here.
Greater stability: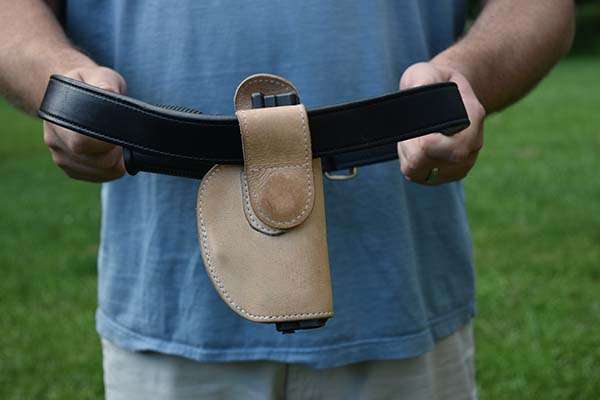 The biggest positive to wearing a gun belt for concealed carry is that it provides you with greater stability to actually carry your gun on your waist.
The truth of the matter is that even the most average of gun belts is sturdier than the average designer belt that you'd buy at your local big box store.
The reason why these are sturdier is because they are reinforced or thicker than the average belt is. They are designed to hold the extra weight, which is key for the following reasons.
Prevents sagging and printing:
Because it is sturdier, there are some side benefits. First, it prevents sagging. What I mean by sagging, is that your belt can be looser around your waist without the fear that your gun and holster will sag downward.
Because it doesn't sag downward, and it doesn't roll back, it won't print as much. And because it doesn't print as much you run less of a chance at losing the tactical advantage your concealed carry provides you.
Consistency:
When you use a belt designed to hold extra weight, you'll end up with a more consistent setup. Your gun won't move around on your waist and each time you practice your draw to the time when you ever need it for self-defense, the gun and holster will be in the same spot.
This means that it helps your muscle memory because the gun is always in the same spot. A regular belt can allow the gun and holster to move even just a bit which can throw you off during the draw.
Confidence:
This is bigger than you may think. Confidence plays a big role in your effectiveness as a defender. When you use a belt designed to hold a gun you can be confident that it's doing its job, that it's preventing the dreaded print, and keeping your gun in place.
When all of the above is true, it helps you NOT to do the little reaches and brushing up against your gun to make sure it's still there. At some point, you just know it's there. It didn't magically fall off because you're using good gear that you trust.
Cons to a gun belt –
There are some cons to a gun belt. These are things that other articles don't always discuss.
Uncomfortable:
The biggest con to the gun belt is that because they're sturdier than the average belt is, they're also less comfortable. This is truer for the leather gun belts than it is for the nylon ones.
But, both types can be less comfy than your average belt is.
One of the reasons why they're not as comfortable is because they're thicker. The extra thickness of the belt can really put a damper on comfort whenever your back is up against something, like a chair.
This is less prominent with the nylon belts, but it is still there. I personally find the nylon ones, like this one from Klik Belt, to be more comfortable than the leather belts.
I do own a couple leather belts, however, because on those days when I need to be dressed in nicer clothing, the leather belts make a lot more sense.
Expensive:
One of the biggest drawbacks is that a decent gun belt will be more expensive than your big box designer belt will be. I do want to say that this isn't as true as it used to be, however, as the costs are coming down.
For example, there are several leather gun belts on Amazon that can be found between the 30-40 dollar range that will do a much better job than the belt you bought at Wally World.
The only caution I have for you, is that if you're planning to buy one of the nylon "tactical" belts, that you should only buy one with an authentic Cobra buckle, if that's the style of buckle it comes with.
There are plenty of cheap Chinese knockoffs out there, and they break really quick.
Conclusion:
At the end of the day, the cons are not as important, or big, as the pros are. If you're serious about self-defense you'll find a way around the cons and make it work.
The use of a gun belt is one of those things that people don't understand until they actually do it. They don't get the "why" until they put one on.