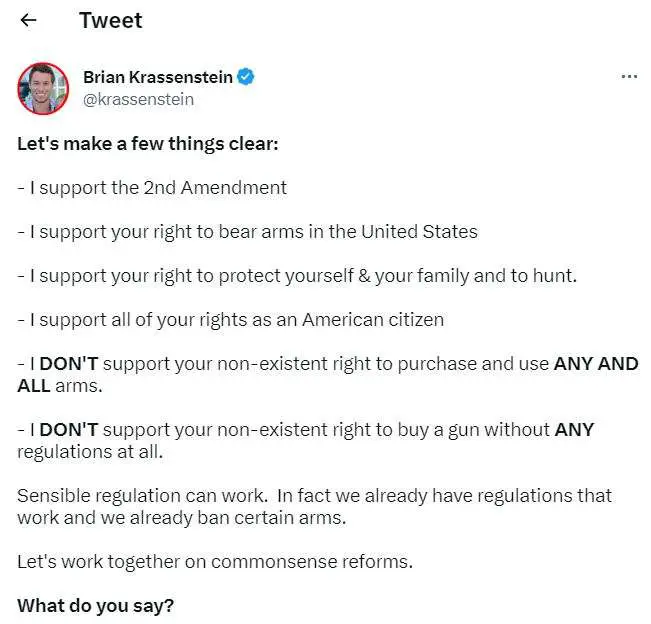 In the world of gun control and gun rights, there is one simple fact that most gun grabbers miss (or downright ignore), that cannot be explained away no matter how hard they try. I just witnessed another idiotic tweet from a confused individual that caused quite a stir to the point where even billionaire Elon Musk replied that he agreed with some forms of gun control (which isn't all that surprising, btw).
The one thing that will never be explained away by any leftist, gun-grabber, or anti-freedom socialist is that the Constitution was written to limit the power the government has over the people.
It was NOT written to limit the people.
That's it. That's the fact. I could stop there, but I clearly cannot. How do I know the 2A fits into this power restriction for the gubmint?
All of the other Amendments share the same feature. They're all meant to be restrictive to the amount of power the government has. Why would the 2A be any different if it sits at number 2 in the Bill of Rights?
Then, when the system put in place fails, when they have taken too much power, we have the Second Amendment to fall back on. That way, we're never under tyrannical rule again.
In fact, I'd go as far as to say that politicians fearing an armed populace (by the grace of God) is one of the main reasons why we haven't succumbed to tyrannical rule since we won our independence. Why? Because there is always the chance of a successful rebellion if the people are sufficiently armed.
In other words, we keep the tyrants in check because they're afraid of being shot.
I make no apologies for that statement.
The 2A is a freedom fail-safe that they're actively trying to strip us of in the name of safety. I can assure you that nobody is safer when the only people who have guns are employed by the government.
It isn't for hunting, target shooting, or anything else. It exists for the defense of self and the defense of the nation. That is literally what it says.
… necessary to the security of a free state …

… shall not be infringed.
The founders wrote it down after brutally winning their freedom against tyranny.
In order to be successful against a tyrannical government of any type the people need to have capable guns. Back in the 1700s people DID own cannons (yes, Biden is wrong about this). People also owned warships fitted with cannons on them as well as their muskets used in close-quarters combat.
The people had the same arms the government did, which is why they were successful. They want to take that from us, and clowns like the one featured in the above tweet are all too happy to help.
I responded to the tweet with a simple "no." For more reading on the Second:
Why red flag laws are unconstitutional
Gun rights according to our founders
More proof that Americans don't want gun control
No, I won't be losing my guns in a boating accident