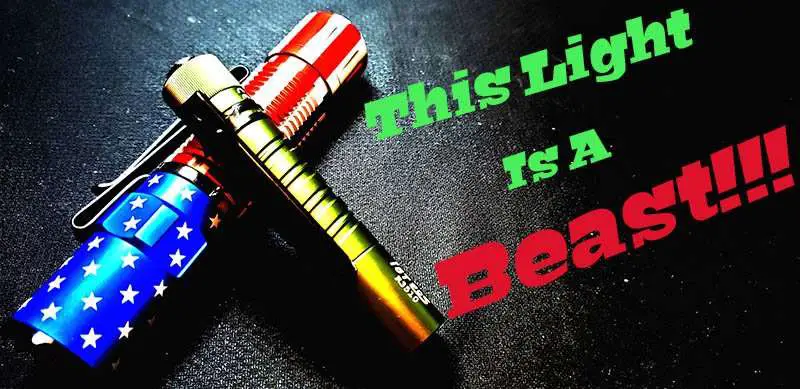 Every so often I get sent some pretty cool gear to test out. This time around, the nice people over at OLight sent out a pair of tactical flashlights that are really sweet.
So, while I technically received two tactical flashlights from them, I'm really only going to talk about the bigger, beefier one in this review, but know that they're, as of this writing, conducting a flash sale on both of these if you click on this link, it brings you to the right page.
This M2R Pro is a beast.
It's capable of throwing 1,800 lumens about 300 meters in what they call "turbo" mode and features a total of five different levels of light output ranging from "moonlight" which is a softer beam meant to not disrupt your adjusted night sight, to the above mentioned "turbo."
To access this brightest setting, simply double click the side button, or use the flashlight's memory to use the tail cap switch.
There are also two medium settings and a high — as well as a strobe feature that is utterly jarring to look at even when pointed away from you (I believe it strobes at the full 1800 lumen setting). To enable the strobe, simply hit the button quickly three times.
The M2R Pro Warrior from OLIGHT is a capable light that can be operated from one of two switches and is yet still small enough to be a pocket flashlight with the added pocket clip that also attaches to the brim of a hat.
It has a tail switch that doubles as the magnetic charging dock for the rechargeable 5000mAh 21700 3.6 volt lithium battery that plugs into any USB charger or computer, and a side button. Getting the light into each mode is intuitive enough. Simply holding the button down for one second puts it into moonlight mode.
Holding the button down in two second incremental steps steps it up each time, ending at the max 1800 lumen setting known simply as "turbo."
Make no mistake, turbo mode is effing bright.
Of course, having to do all of that if you wanted to get straight to turbo to incapacitate an intruder at night would be ridiculous, so it's great that OLIGHT also made it programmable so you can get right to the setting you want by using one of two configurations concerning the tail cap.
The M2R is substantial enough that I'd feel confident using it as a blunt object if needed, and the edge along the bezel would only help aid in an attacker getting knocked senseless.
Finally, is the quality of finish on the light itself. The patriotic, American theme is really cool and I can say that the finish looks to be high quality. I haven't had the light long enough yet to really test its durability, but it looks pretty solid for my first impression.
This is all topped of with a 30 day guarantee, a 5 year warranty, and free shipping. I own a few of their products, and I'm impressed every time.
You can find this limited edition run in their ecom store, here.
Here's another article about flashlights, when you're done buying.