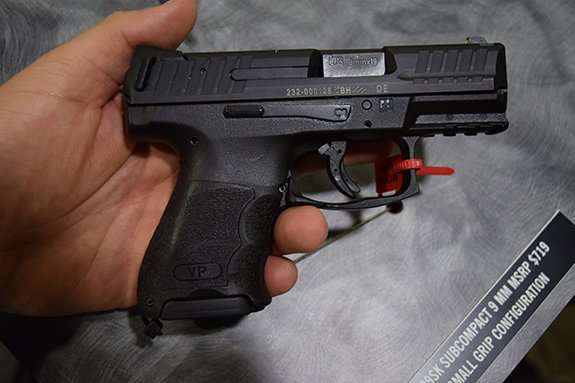 Heckler & Koch brought their new sub-compact VP9SK to the NRA's Annual Meeting at the end of April, 2017. I had a chance to get a company representative on camera to talk about it a bit, and I'm glad I did because it looks like they've got a winner on their hands.
Of course, it isn't that different than the current, full-size pistol they've had on the market for the past several years. Still, this is an evolution in the pistol that's been asked for by many HK enthusiasts.
The pistol comes with two magazines, one with an extended grip, and one flush. Both hold 10 rounds of 9mm parabellum. MSRP for this pistol with those magazines and regular sites is set to $719.00.
There is also the option to get another magazine, for a total of three, with the Law Enforcement Package along with some night sites installed for another hundred bucks. While clearly not the cheapest pistol on the market, when you're a diehard fan, or just in need of getting one of the best pistols on the market to trust your life with, $719.00 is chump change.
I suppose I've rambled on enough, so now I'll hand it over to Jeff Swisher from Heckler & Koch, to show it off in video:
What do you think? Is the VP9SK in your sights? Do you own any HK guns? Let me know in the comments below, and then make sure you take a moment to subscribe to our
YouTube channel
to keep up to date on all our videos.