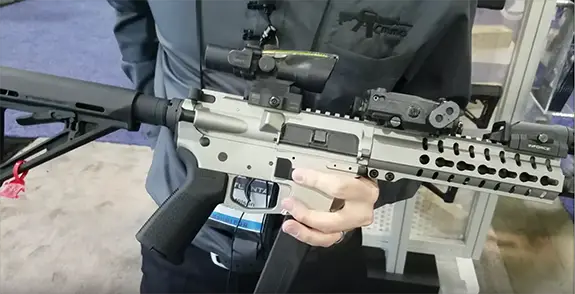 CMMG .45 ACP Guard
CMMG was in attendance during the NRA's 2017 Annual Meetings, showing off their new .45 ACP AR-15 carbine, officially called the MKG45. From what I've seen so far, I can say that something like this is long overdue.
In a world dominated by 5.56 and 9mm parabellum rifles, another option chambered in .45 ACP is bound to fill a market gap, from what I can tell, in the home-defense sector.
Now, before you go thinking I'm nuts, hear me out.
We all know that 9mm and 5.56 go through things when they're fired. So, let's say someone breaks into your house in the middle of the night, and you retrieve your 9mm handgun or 9mm AR-15. You put the bad guy out of commission, but the bullet doesn't just stop there (or you miss).
It can, and usually does, keep traveling in both of those calibers, causing the dreaded over penetration.
To make things more interesting, these projectiles, except those that break apart upon impact, generally travel through several walls, too. Many have said that something like this would only happen when using ball/target ammunition, and that it wouldn't generally happen if you use hollow points.
Well, that isn't entirely the case, either. See, hollow points are designed, usually, to expand when they hit something wet, like the inside of a human body. So, if your first shot misses your target and hits a wall, it won't likely expand, unless it's designed to. So yes, even hollow point ammo over penetrates.
If it hits a person first, it should expand as it's designed to, and slow down considerably.
Any way you slice it, though, while the .45 ACP can still over penetrate as any self-defense round can, it is already moving at a much slower speed than 9mm and 5.56 NATO. Therefore, it doesn't require as many barriers to bring it to a halt.
Enter the CMMG .45 Guard, or MKG45. No, this isn't the first time a .45 ACP carbine was done, but I can say that their new Radial Delayed Blowback operating system looks promising, and I hope to get one on the range at some point in the very near future. Also, it's configured in different sizes, ranging in size from an 8″ barrel to a 16″ barrel.
The gentleman in the below video does a much better job explaining the rifle and their new operating system, so make sure you check it out:
What do you think? Is the CMMG MKG45 Guard something you see yourself buying? Let me know in the comments section below, and make sure you stay tuned, because I've got two more days of videos coming your way. Subscribe to our YouTube channel to stay up to date.
Check out my CMMG Banshee in 40S&W review, next.