I'm a firm believer that people should have and be able to use life saving tools if ever necessary. Whether you're on the gun range doing some training, or you find yourself in a car wreck and need to patch up yourself or another person, having this gear is important.
But there is a trick that many people don't think about when purchasing this gear, and that is this: Trauma gear found in many places, including on Amazon, is often counterfeit.
This counterfeit medical equipment rarely works.
And one of the most important things for any medical equipment is that it actually work when you want it to. For example, you'll see in the below video that cheap tourniquets don't work right.
They either break or stretch out to the point where they don't stop the blood loss.
Mountain Man Medical Review:
Mountain Man Medical is a reputable company who sells high quality gear — which is a necessity for medical gear.
Because when it comes to such important equipment and gear, there is no way you should ever trust a company who may sell you fake stuff that won't work right. And trust me when I say that there are well-known companies who sell Chinese tourniquets.
In contrast, Mountain Man Medical only sells kits with products sourced from reliable companies like NAR, Dynarex, and QuickClot.
How do I know this? Because I was in the meetings when they decided which gear to put in their kits. I was there when they made the commitment to only stock real gear from the right companies.
I'm actually really good friends with the owners of this company, as well as the guy in the above video, Brian. Brian is the guy who designs these kits and he has verifiable experience delivering first aid in the field.
This experience is important for a couple reasons. First, he knows what should be in the kits and doesn't need to make any guesses.
Second, there are several other kits out there put together by people and companies who just want to make money.
Those companies tend to take shortcuts in dangerous places to maximize their profits.
Mountain Man Medical helps to supply their trauma kits to the first responders who use them at cheaper prices. Making money is not their first objective.
I'm not saying that there aren't other reputable trauma kit companies, because I know there are. It's just that you need to do your research to make sure you're not getting ripped off, or may do more harm than if you just left the injury alone.
Wind River Trauma Kit Review: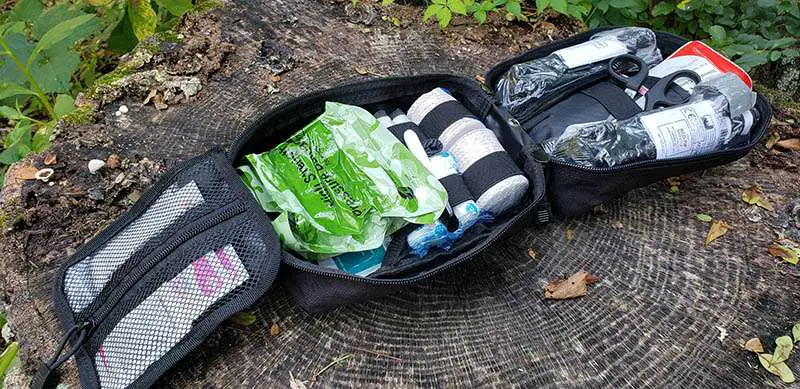 The Wind River is a hybrid kit with first aid and trauma in mind. This is the kind of kit you want to bring with you to the gun range because it has the chance of fixing the most kinds of injuries.
Everything from a small cut to a major bleed can be treated from the contents of this Wind River kit.
It has everything you could ever need from small bandages to big bandages, a couple of CAT Tourniquets, a SWAT T Tourniquet, Quick Clot, and tons more stuff as shown in the pictures.
Here is a full list of the stuff it comes with:
The Osprey Molle Pouch with First Aid Red Cross Velcro Patch
2x North American Rescue C-A-T Tourniquets
1x SWAT-T Tourniquet
1x North American Rescue 4″ Mini Emergency Trauma Dressing
1x Dynarex 4″ "Israeli Style" High-Pressure Dressing
4x Pairs of Black Nitrile Gloves*
1x Compact Trauma Shears
1x North American Rescue Hyfin Compact Twin Pack Chest Seals
1x Mini Black Permanent Marker
1x Dynarex Emergency Rescue Blanket
2x Dynarex Self-Closure Elastic Bandages
2x QuikClot™ Rolled Dressing
2x Dynarex 4yrd x 2″ Rolled Gauze
4x Dynarex Burn Cream Packet
4x Dynarex Triple Antibiotic Ointment Packet (Compare to Neosporin)
4x Ibuprofen 200mg 2 Packs (8 total 200mg tabs)
4x Acetaminophen 325mg 2 Packs (8 total 350mg tabs)
2x Diphenhydramine 25mg tabs
4x Dynarex Sting & Bite Wipes
1x Stainless steel Tweezers
8x Dynarex Antiseptic Wipes
10x Dynarex Adhesive Bandages (Compare to Band-Aids)
1x Dynarex Triangle Bandage / Cravat
2x Dynarex Non-Toxic Instant Cold-Packs
Everything comes in its own spot in the bag, but you can re-arrange things as you see fit if you don't like the spot the stuff is in.
I wish I had this kit with me one day a few years ago when my pops got a nasty case of the slide bite. Instead I used an oily rag.
Wind River Bag:
The bag that the medical gear comes in is nothing to really write home about. It's not meant to be an impressive thing, though. It's meant to hold the impressive things.
It serves its purpose well and has enough compartments that everything is kept in a nice, orderly fashion.
The bag seems to be a canvas material with average zippers. It's strong enough for what it needs to do, hold medical gear, but I wouldn't go dropping it off a cliff and expect it to stay together.
The best part about this bag is that you can open it up all the way and lay it out flat so you can work out of it as needed.
That's important for a kit where you may need to get stuff with one hand as you're putting pressure with the other hand.
Have I used this trauma kit?
Yes, and no. I guess it depends on what you think "using it" means. I have not had the need to use any of the bigger trauma gear in it, but I have had to use some of the first aid stuff in it.
In fact, we like the Dynarex bandages it came with so much for cuts and scrapes on my kids that I ended up buying a bulk lot of them.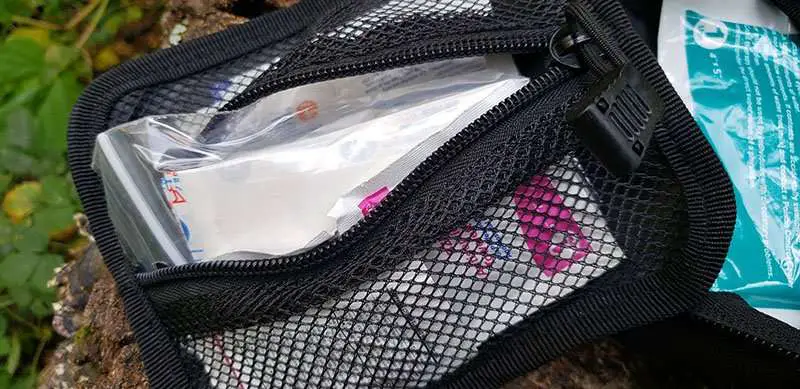 Usually little bandages (like those from Band Aid) fall off my kids, but the Dynarex bandages that this kit comes with don't.
We won't be without those again. Dynarex is known for high quality stuff and several of the things in here are from them.
If I ever have to use any of the major trauma gear in this kit, I'll be sure to update this article appropriately. Until then, I trust this company and the gear in the kit with my life.
Conclusion:
I highly recommend you get some sort of trauma gear to keep in your car. If you can put one in other places and buy a couple, even better.
Just having the kit isn't enough, though. You should have some sort of training to go along with it. Thankfully, the guy in the above video also has a free training on the Mountain Man Medical website, found here.
Again, it's totally free and is also very in depth.
You can buy the Wind River Trauma and First Aid Kit by pushing on that link.