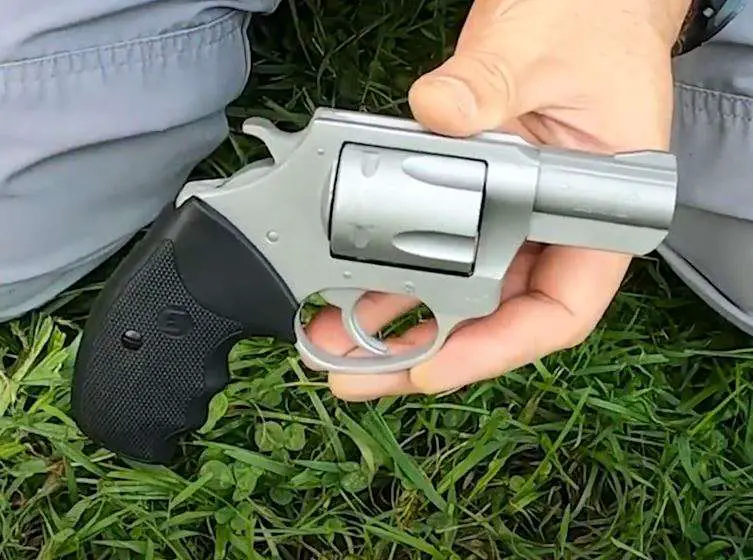 I'm getting ready to upset some of you and I'm totally okay with that because it needs to be said. If you ever uttered the words to someone to "just buy her a revolver" this article is for you.
Reason being, that is wrong. A revolver may be totally fine for some women. Other women, like my wife, cannot shoot a revolver to save her life. And last time I checked, saving her own life (or our children) is the goal.
I'm not a woman, nor am I writing this from the point of view as a woman. Instead, I'm writing this as a husband to a wife who cannot shoot a revolver because she lacks the finger strength to pull the double action trigger in an accurate fashion.
Why do they say a revolver is best for women?
Before we move on, we really need to come to the understanding of why they say that getting her a double action revolver is the best thing.
I've heard numerous times from people that a double action only (DAO) revolver is the best gun to buy for a woman.
Why? Because —
Woman are too weak to rack a slide:
There is certainly some truth to the fact that a lot of people cannot pull back a slide effectively. However, this should never be a deal breaker–especially when you consider that if they're too weak to pull the slide back, they're also probably too weak to pull a DA trigger.
There are also plenty of options in the low recoil, easy to rack category. I go more into detail on some of the better options in the article that links points you to.
But, suffice it to say that gun companies have picked up on this and continue to give us new options. In fact, that article needs to be updated because several new options were introduced just this year.
In addition to easier to rack guns, a new technique can be learned by an instructor to help her out if needed.
Therefore, this argument is no longer a reason to buy a woman a revolver for self-defense out of necessity, unless it's what she wants. This leads us to the next argument, which still has some validity.
A revolver is easier to manipulate
It is also said that a revolver is easier for a woman to manipulate. They say that all she needs to do is point it at her target and pull the trigger.
It is true that a revolver is a simpler-operating device with less to worry about. There is no slide to pull back. There is no safety. There is no magazine. Etc.
Then again, a revolver only holds five or six rounds, is harder to reload, and the long trigger pull can be hard to accurately shoot.
For the sake of this article, and the problem my wife dealt with, we'll just focus on that last point, which is the long, hard trigger.
The trigger acts as a safety:
You've heard this. I've heard this. And, we've both probably said it a few different times. The theory is that men want the women in their lives to have a safety on their gun because they don't trust them enough to not have a safety.
I won't comment on that specific part, but the trigger acting as the safety, because you have to deliberately mean to pull it to fire, is one of the reasons why many husbands buy their wives a double action revolver.
But, it also just happens to be one of the main reasons why many people cannot accurately shoot a revolver. Your wife would likely be included in this.
The issue here, is that some women (and plenty of men, as a point of fact) lack the finger strength to pull the trigger. Or, they can pull the trigger but cannot do so without over gripping the gun with the rest of their hand while they pull it.
That, by the way, causes accuracy issues. The actual industry term for this is isolating the trigger finger. And, in this case, it is being unable to isolate the trigger finger from the rest of the grip that causes problems.
What is isolation of the trigger finger?
Your trigger finger should move independently of the rest of your hand. Or, your grip should NOT continue to tighten down as you press the trigger. When it does, it can push your front sight off target.
The isolation of your trigger finger from the rest of your hand is paramount to shooting accuracy. This is something that most concealed carriers struggle with to some degree, but the harder the trigger is to pull (or the weaker the finger) the worse it usually gets.
There are solutions for this for many people, like hand strength training exercises and some good old fashioned range time or dry fire.
But not all people will benefit. My wife, for example, has arthritis in several of her joints because of a medical condition. Her fingers and hands will never get stronger.
So the only option is for her to pick out her own gun that is comfortable for her to shoot, that she also just happens to shoot well.
And because nobody picks up a gun for their first time as a master of that weapon, man or woman, continuous training is required to achieve some level of mastery.
Training factor
This is where many of us, me included, turn into a colossal hypocrite. Husbands often want to buy their wife a revolver because it is just a "point and shoot" firearm, implying that we don't think she will train.
We want her to have something simple because "she'll never learn how to use it." This condones the fact that she won't train which is a mistake.
When you give someone something that is "easier" to use, they won't practice with it as much because it is technically easier to use.
I want to make something perfectly clear: All weapons should be trained with, regardless of function. You should also never carry a gun until you've shot a few boxes of ammo through it, including some of your self-defense rounds.
And no, you going to the range for your wife to make sure the gun and ammo combination works does NOT count. She needs to go shoot it herself.
Conclusion:
If you've skipped forward, the issue is that if a person doesn't have the hand strength to manipulate the slide of a semi-auto, they won't likely have the finger strength to accurately shoot a double action revolver, either.
Some women will have zero problems shooting a revolver. Others will. Then again, there are pros and cons to using a revolver VS a semi-auto that should be considered.
And, ultimately, it's not up to you which gun she shoots best. If it's the revolver, great. If it's something else, that's fine too.
All that really matters is that she's armed, willing, and able to protect herself and family should that dreaded time ever come.
Leave your thoughts on this in the comments below.
And, while the above can be overcame with training and hand-strength exercises, I'd argue that if the woman in your life will start to train on how to use a gun effectively for self-defense, that she may want to pick out her own gun, revolver or semi-auto.