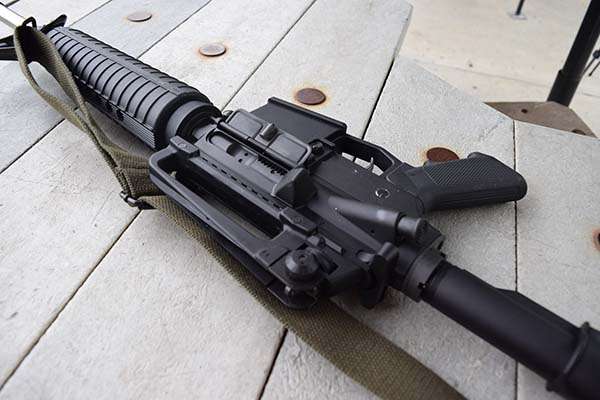 The days of the $300 AR-15 are likely gone. While I can't say if those days are gone forever, I can say that this is the case for at least the foreseeable future.
And in all reality, things may never return to normal — especially with the constant threat to our liberties and Joe Biden all but promising that he was coming after our guns.
Is it still possible to find an affordable AR-15?
Yes, it is still possible to find an AR-15 that is affordable. It may take you some time and you may need to piece them together a part at a time, but you can do it. The only difference, is that the definition of what is affordable may have changed.
For me, as of right now in the current climate, an affordable AR-15 is one that can be found or put together for under $600. But of course, I'm looking to spend even less than that if my budget comes into play.
How to find a budget AR-15:
It used to be that if you wanted to find or build a budget AR-15, that you could just hop on over to the PSA website. You could find all of the goodies they had in stock, and buy what you needed. That's not really the case anymore.
Don't get me wrong, they still have the most stuff. They probably always will. But things are different now with the current climate.
PSA has been able to raise the prices on their own products because everyone else is consistently out of stock. Because they're a powerhouse in production they will always have stuff in stock.
They may not have as much, but there are always at least a few options for the AR-15. But, PSA may not be the best option for budget AR-15s, depending on what you're willing to spend.
Who makes a good budget AR-15?
For the sake of this article, we're saying that a budget rifle is one that you can put together for about $600. But before we get there, I wanted to show you what saving up for a slightly better rifle looks like. The below figures should only be taken into consideration as of this writing.
The below upper and lower are higher end Aero Precision parts that, when used in conjunction with their 10% off deal for new customers, can be bought for about $730.
Of course, you'd also need a bolt carrier group and charging handle which will up your price a bit more, but Aero Precision is solidly in the higher mid-tier as far as AR-15 manufacturers go.
Of course, if money is tighter than that would allow, you could also peruse the Palmetto State Armory website, as well. I have a couple of ARs from PSA and they run just how they're supposed to.
Their Quality Assurance used to leave a lot to be desired. But I've bought anonymous things from them as recently as a few months ago and I have no complaints.
Right now on PSA, as of this writing, you can find the following:
That's one option. This one comes to $680 with the bells and whistles of Magpul furniture and the backup AR-15 Sights.
There are cheaper options, as well, if you'd rather spend even less money. In fact, I saw an upper with no features that still has the BCG and the charging handle for $359.99.
That'll put together a solid budget AR-15 for under $600.
By the time you read this article, even the same day as publish, chances are excellent that the above-mentioned products will be out of stock. Therefore, timing and patience are key.
A few months back I was able to piece together a decent gun over the course of a few months by shopping sales and waiting until things came in stock.
A recent example of mine:
I recently took advantage of both of those websites to build an AR-15p ("p" is for pistol).
For the lower, I was able to find a complete one from Aero Precision for $175 in November. Because I was a first time buyer off their site, I was able to take 10% off my purchase. I was also able to source a PSA complete upper in March for $350. All I had to do was mate them up to each other and add an optic.
There was an optic laying around my house that I was able to use, so I essentially have a $525 AR-15p.
I just brought that AR pistol to the range two days ago for the first time. The tolerances were a bit tight, probably because I was using two different company's parts, but the gun worked for the most part.
Are polymer lower receivers any good?
You may be tempted to save money however you can just so you can have an AR-15. One of the ways some people like to try and save money is by using a polymer lower. I'd like to advise you against doing that.
While the polymer technology has come a long way, there are still weaknesses present during the cycling of the gun.
One area in particular that is a huge weakness is the buffer housing area. At first it will likely be fine but after a while of steady cycling, the buffer, spring, and bolt carrier group will put a tremendous amount of stress on the polymer.
Eventually, it will crack.
I've shot numerous rifles made of Aluminum and have yet to experience this area cracking under that stress. Polymer, almost always cracks in this spot.
Don't get me wrong, all AR-15s can break at some point, but the key is to get something that is as strong as possible.
If there is a chance you'd bet your life on this rifle functioning flawlessly, you'd be better off just spending a bit more for an aluminum lower, even if it is from a company with mixed reviews.
What about hybrid lowers?
Some companies, like American Tactical, build lowers with reinforced polymer. These also have very mixed reviews. In fact, we have a review on our website that you can read, where the author had a horrible time with her ATI Omni Hybrid Maxx rifle.
I would avoid that specific rifle at all costs. In theory it is better than a plain polymer AR-15 lower, but still nowhere near as good as an all-aluminum lower receiver.
Conclusion:
Is it still possible to find a budget AR-15? It is, but the definition of "budget AR-15" has changed dramatically. The days of being able to put together a $300 AR-15, like I talk about in that article, are long gone.