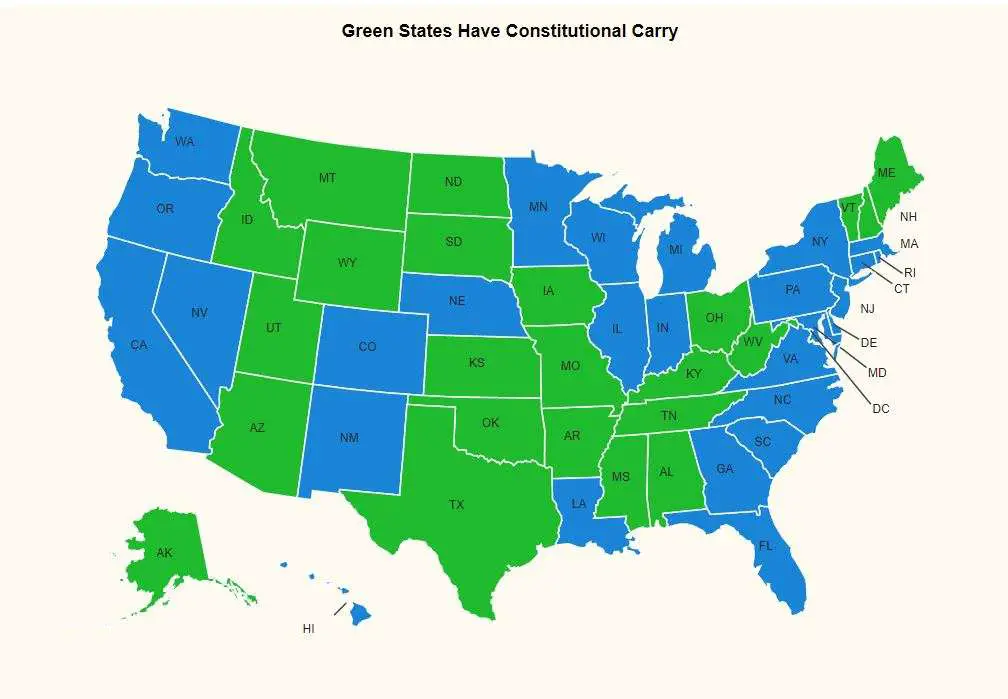 It's being reported that Indiana just became the 24th permitless carry gun state, helping us inch ever toward the halfway mark. I don't have the details on when it becomes law as of this writing, but this is great news for the people of Indiana.
Even better, is that there are more permitless carr states on the way with legislation currently in the works. The latest states to join the ranks, just before Indiana, are Ohio and Alabama. Both of those states passed Constitutional Carry legislation to become law later this year, in 2022 or January 2023.
This is great news for hopefully obvious reasons. And, in case it isn't, I have no problems spelling it out for you.
Most Americans don't want more gun control:
The fact that there are more pro-gun laws being passed is just more proof that the People don't want more gun laws. We don't want more gun control. In fact, as we approach the halfway mark in terms of freedom of the people to carry a gun without a piece of paper telling them it's okay to do so, we can see that it is exactly the opposite.
It's easy math. There are 50 states, and currently 24 of them have passed legislation loosening the restrictions on the bearing of arms. And while some may say "but it's only 24" I say that the number is growing.
And it's almost half of the states. That is a big deal because against all odds, nearly half of the states have passed pro-gun legislation saying that you don't need a piece of paper to carry a gun on your person.
Or, they're saying that the legislation was already passed back in 1791 with the Second Amendment.
The halfway point is important:
Several states were added to the ranks last year. We're only to March 2022 and we've already added three. I would be shocked to hear if we didn't get to the halfway point by the end of the year.
Yes, the halfway point is important. But even more important is the 26th state. Once we can say that more than half of the country doesn't want gun control, to the tune that 26 states have put forth pro-gun legislation, is kind of a big deal.
Each time a state decides to go with the 2A and freedom, a little piece of the anti-gunner dream dies.
It's lovely.
Why does this seem to be changing so much?
Well for one, politicians are lying sacks of dog crap. Nancy Pelosi, Joe Biden, AOC and the rest of the squad, and all of the other anti-gun politicians have been lying to the American People for a very long time.
And the People are starting to realize it.
They've been lying about us and how dangerous they're convinced we are. They make it sound like we're all a bunch of nut jobs bent on hurting others. Nothing could be further from the truth.
We don't want to hurt people, but protect ourselves and the ones we love from those who do have evil intentions. It's not about hurting people, but saving them.
Obviously there are countless millions of us and if we were as bad as they say we are, we would have been a much bigger problem.
I'm not a fool, there are plenty of guns used in crimes. Most of those crimes are committed by people who cannot pass a background check to save their lives.
These crimes are not committed by law abiding people.
In other words, they want to use criminals to punish the law abiding. It really is asinine.
There are more gun owners than ever before:
A major blow to the gun grabber scheme is that there are more gun owners now than there ever have been in history. Starting with the pandemic and leading up to the publication of this article, there are estimates in the tens of millions when counting new gun owners.
And those are just the new gun owners. When you take into account all of the other gun owners, the only conclusion that you can come to is that they have been lying to you.
I mean, if guns and gun owners were the problem, the rest of the world would know it because there are countless millions of us.
The war in Ukraine proves the importance of the 2A:
If the pandemic brought on tens of millions of new gun owners, the war in Ukraine solidified the necessity of the Second Amendment.
The 2A exists for the security of a free state. In order to defend the country the countrymen must be sufficiently armed. Ukraine proved this to be accurate in real time for many Americans. The only difference, is that we're already sufficiently armed, whereas Ukraine's citizens had to get armed.
Many of us are already proficient with our arms, whereas their citizens had to get trained up quickly.
That is a massive deterrent to any foreign (or domestic) tyrants who want to steamroll the American People. We won't allow it and there is an armed citizen behind nearly every blade of grass.
And if Ukraine can repel Russia for as long as they have, I have no doubt that the will of the Free People of these United States will be able to do the same.
AKA: "Eff you and the gun control horse you rode in on."
Stay up to date on the ever changing Constitutional Carry Map.